Podcast Episodes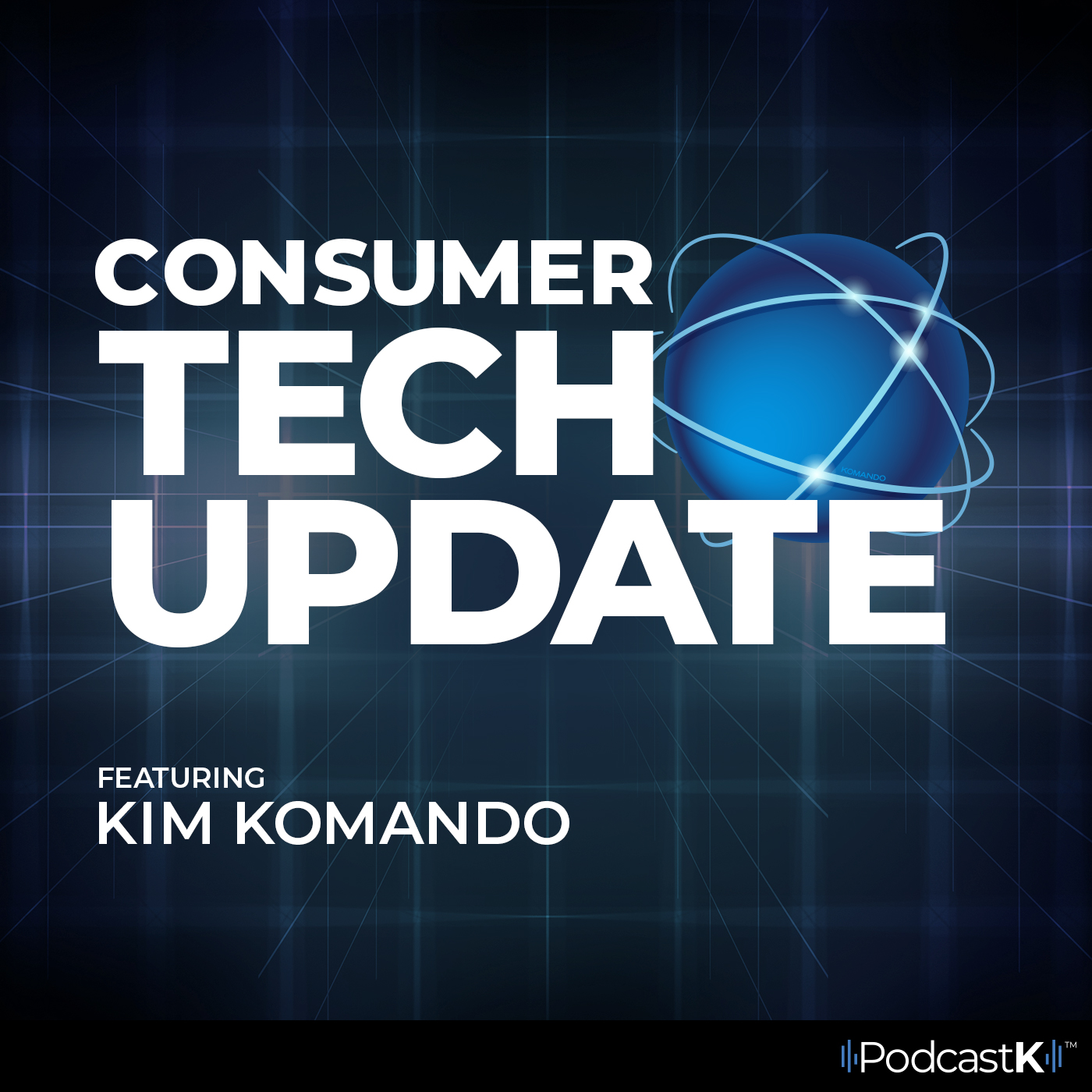 Consumer Tech Update
Kim Komando is your tech expert. Listen to her take on real topics you care about every weekday. You'll hear facts, opinion and the latest tech information underneath the surface. Don't miss your daily tech update in just one minute.
Podcast 101: Are you new to podcasts?
MOST RECENT EPISODES
3 iPhone life hacks every user will love

In this episode of Consumer Tech Update, we're continuing Digital-Life-Hacks Week by sharing 3 hidden gems for iPhone users. Looking to charge your phone in a hurry? Want to be able to see the screen more easily? How about keeping your phone secure? You'll use these iPhone life hacks time and time again.
Emergency medical information on your child's phone

It's Digital Life-Hacks week and in this episode of Consumer Tech Update, Kim shares with you ways to keep your child's vital medical information available to first responders in case of an emergency. With kids back in school, these tips will give both moms and dads peace of mind.
Alex Jones, the First Amendment and Big Tech

The First Amendment states that our government can't regulate our right to free speech but what about Big Tech? Facebook, Twitter, Apple, and other tech companies have been cracking down on conspiracy theorist and radio show host Alex Jones. In this Consumer Tech Update podcast Kim explores the topic of free speech and Big Tech.
More Consumer Tech Update Episodes
Play
Episode Title
Runtime
Date
Download
00:01

08/09/18

00:01

08/08/18

00:01

08/07/18

00:01

08/06/18

00:01

08/03/18

00:01

08/02/18

00:01

08/01/18

00:01

07/31/18

00:01

07/30/18

00:01

07/26/18

00:01

07/25/18

00:01

07/24/18

00:01

07/21/18

00:01

07/20/18

00:01

07/19/18

00:01

07/18/18

00:01

07/17/18

00:01

07/14/18

00:01

07/13/18

00:01

07/11/18

00:01

07/10/18

00:01

07/10/18

00:01

07/06/18

00:01

07/06/18

00:01

07/04/18

00:01

07/03/18

00:01

07/03/18

00:01

06/29/18

00:01

06/29/18

00:01

06/27/18

00:01

06/27/18

00:01

06/26/18

00:01

06/23/18

00:01

06/22/18

00:01

06/21/18

00:01

06/20/18

00:01

06/19/18

00:01

06/18/18

00:01

06/15/18

00:01

06/14/18

00:01

06/13/18

00:01

06/12/18

00:01

06/09/18

00:01

06/08/18

00:01

06/07/18

00:01

06/06/18

00:01

06/05/18

00:01

06/02/18

00:01

06/01/18

00:01

05/31/18

00:01

05/30/18

00:01

05/29/18

00:01

05/26/18

00:01

05/25/18

00:01

05/24/18

00:01

05/23/18

00:01

05/22/18

00:01

05/19/18

00:01

05/18/18

00:01

05/17/18

00:01

05/16/18

00:01

05/15/18

00:01

05/12/18

00:01

05/11/18

00:01

05/10/18

00:01

05/09/18

00:01

05/08/18

00:01

05/05/18

00:01

05/04/18

00:01

05/03/18

00:01

05/02/18

00:01

04/30/18

00:01

04/30/18

00:01

04/27/18

00:01

04/26/18

00:01

04/25/18

00:01

04/24/18

00:01

04/23/18

00:01

04/20/18

00:01

04/19/18

00:01

04/17/18

00:01

04/17/18

00:01

04/15/18

00:01

04/12/18

00:01

04/12/18

00:01

04/11/18

00:01

04/10/18

00:01

04/09/18

00:01

04/06/18

00:01

04/05/18

00:01

04/04/18

00:01

04/03/18

00:01

04/02/18

00:01

03/30/18

00:01

03/29/18

00:01

03/28/18

00:01

03/27/18

00:01

03/23/18

00:01

03/22/18

00:01

03/21/18

00:01

03/20/18

00:01

03/19/18

00:01

03/16/18

00:01

03/16/18

00:01

03/14/18

00:01

03/13/18

00:01

03/12/18

00:01

03/09/18

00:01

03/08/18

00:01

03/07/18

00:01

03/06/18

00:01

03/05/18

00:01

03/02/18

00:01

03/01/18

00:01

02/28/18

00:02

02/27/18

00:01

02/26/18

00:01

02/23/18

00:01

02/22/18

00:01

02/21/18

00:01

02/20/18

00:01

02/19/18

00:01

02/16/18

00:01

02/15/18

00:01

02/14/18

00:01

02/13/18

00:01

02/12/18

00:02

02/09/18

00:01

02/08/18

00:01

02/07/18

00:01

02/06/18

00:01

02/05/18

00:01

02/02/18

00:01

02/01/18

00:01

01/30/18

00:02

01/30/18

00:01

01/29/18

00:01

01/26/18

00:01

01/25/18

00:01

01/24/18

00:01

01/23/18

00:01

01/22/18

00:01

01/19/18

00:01

01/18/18

00:01

01/17/18

00:01

01/16/18

00:01

01/15/18

00:01

01/12/18

00:01

01/11/18

00:01

01/10/18

00:01

01/09/18

00:01

01/08/18

00:01

01/05/18

00:01

01/04/18

00:01

01/03/18

00:01

01/02/18

00:01

01/01/18

00:01

12/29/17

00:01

12/28/17

00:01

12/27/17

00:01

12/26/17

00:01

12/25/17

00:01

12/22/17

00:01

12/21/17

00:01

12/20/17

00:01

12/19/17

00:01

12/18/17

00:01

12/15/17

00:01

12/14/17

00:01

12/13/17

00:01

12/12/17

00:01

12/11/17

00:01

12/08/17

00:01

12/07/17

00:01

12/06/17

00:01

12/05/17

00:01

12/04/17

00:01

12/01/17

00:01

11/30/17

00:01

11/29/17

00:01

11/28/17

00:01

11/27/17

00:01

11/24/17

00:01

11/23/17

00:01

11/22/17

00:01

11/21/17

00:01

11/20/17

00:01

11/17/17

00:01

11/16/17

00:01

11/15/17

00:01

11/14/17

00:01

11/13/17

00:01

11/10/17

00:01

11/09/17

00:01

11/08/17

00:01

11/07/17

00:01

11/06/17

00:01

11/03/17

00:01

11/02/17

00:01

11/01/17