Podcast Episodes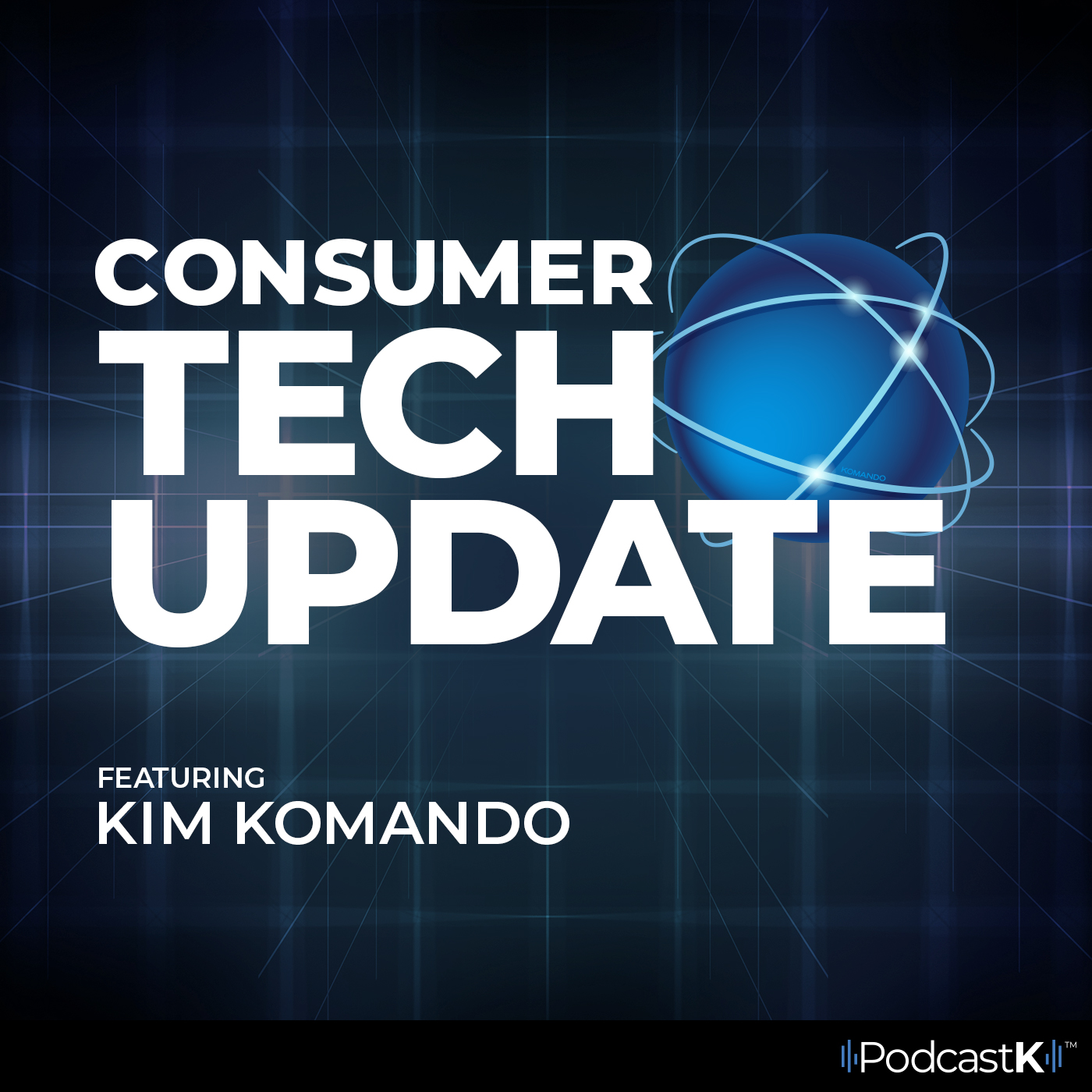 Consumer Tech Update
Kim Komando is your tech expert. Listen to her take on real topics you care about every weekday. You'll hear facts, opinion and the latest tech information underneath the surface. Don't miss your daily tech update in just one minute.
Podcast 101: Are you new to podcasts?
MOST RECENT EPISODES
Half of Americans draw the line on self-driving cars

Americans love their cars. In the past, it was all about style and horsepower. Now, it's all about the technology inside of a vehicle and what it can do. But is there a limit to how much technology is really acceptable? Listen to this podcast for Kim's take on the issue. 
3 Google Maps tricks that only the pros know

With the weekend upon us, here are some cool ways to explore - or work, with Google Maps. Google Maps is the world's de facto navigation app so in this episode of Consumer Tech Update, we're finishing up Digital-Life-Hacks Week with some tricks you can do with Google Maps that you may not be using but definitely should be.
2 unexpected ways to use any smartphone

Did you know your smartphone has all kinds of hidden talents? In this episode of Consumer Tech Update, we're continuing Digital-Life-Hacks Week, by giving you 2 tricks you can do with your smartphone for getting things done faster and better. It doesn't matter, whether you're an iPhone or Samsung holder, you'll love these tricks.
More Consumer Tech Update Episodes
Play
Episode Title
Runtime
Date
Download
00:01

08/14/18

00:01

08/14/18

00:01

08/13/18

00:01

08/09/18

00:01

08/09/18

00:01

08/08/18

00:01

08/07/18

00:01

08/06/18

00:01

08/03/18

00:01

08/02/18

00:01

08/01/18

00:01

07/31/18

00:01

07/30/18

00:01

07/26/18

00:01

07/25/18

00:01

07/24/18

00:01

07/21/18

00:01

07/20/18

00:01

07/19/18

00:01

07/18/18

00:01

07/17/18

00:01

07/14/18

00:01

07/13/18

00:01

07/11/18

00:01

07/10/18

00:01

07/10/18

00:01

07/06/18

00:01

07/06/18

00:01

07/04/18

00:01

07/03/18

00:01

07/03/18

00:01

06/29/18

00:01

06/29/18

00:01

06/27/18

00:01

06/27/18

00:01

06/26/18

00:01

06/23/18

00:01

06/22/18

00:01

06/21/18

00:01

06/20/18

00:01

06/19/18

00:01

06/18/18

00:01

06/15/18

00:01

06/14/18

00:01

06/13/18

00:01

06/12/18

00:01

06/09/18

00:01

06/08/18

00:01

06/07/18

00:01

06/06/18

00:01

06/05/18

00:01

06/02/18

00:01

06/01/18

00:01

05/31/18

00:01

05/30/18

00:01

05/29/18

00:01

05/26/18

00:01

05/25/18

00:01

05/24/18

00:01

05/23/18

00:01

05/22/18

00:01

05/19/18

00:01

05/18/18

00:01

05/17/18

00:01

05/16/18

00:01

05/15/18

00:01

05/12/18

00:01

05/11/18

00:01

05/10/18

00:01

05/09/18

00:01

05/08/18

00:01

05/05/18

00:01

05/04/18

00:01

05/03/18

00:01

05/02/18

00:01

04/30/18

00:01

04/30/18

00:01

04/27/18

00:01

04/26/18

00:01

04/25/18

00:01

04/24/18

00:01

04/23/18

00:01

04/20/18

00:01

04/19/18

00:01

04/17/18

00:01

04/17/18

00:01

04/15/18

00:01

04/12/18

00:01

04/12/18

00:01

04/11/18

00:01

04/10/18

00:01

04/09/18

00:01

04/06/18

00:01

04/05/18

00:01

04/04/18

00:01

04/03/18

00:01

04/02/18

00:01

03/30/18

00:01

03/29/18

00:01

03/28/18

00:01

03/27/18

00:01

03/23/18

00:01

03/22/18

00:01

03/21/18

00:01

03/20/18

00:01

03/19/18

00:01

03/16/18

00:01

03/16/18

00:01

03/14/18

00:01

03/13/18

00:01

03/12/18

00:01

03/09/18

00:01

03/08/18

00:01

03/07/18

00:01

03/06/18

00:01

03/05/18

00:01

03/02/18

00:01

03/01/18

00:01

02/28/18

00:02

02/27/18

00:01

02/26/18

00:01

02/23/18

00:01

02/22/18

00:01

02/21/18

00:01

02/20/18

00:01

02/19/18

00:01

02/16/18

00:01

02/15/18

00:01

02/14/18

00:01

02/13/18

00:01

02/12/18

00:02

02/09/18

00:01

02/08/18

00:01

02/07/18

00:01

02/06/18

00:01

02/05/18

00:01

02/02/18

00:01

02/01/18

00:01

01/30/18

00:02

01/30/18

00:01

01/29/18

00:01

01/26/18

00:01

01/25/18

00:01

01/24/18

00:01

01/23/18

00:01

01/22/18

00:01

01/19/18

00:01

01/18/18

00:01

01/17/18

00:01

01/16/18

00:01

01/15/18

00:01

01/12/18

00:01

01/11/18

00:01

01/10/18

00:01

01/09/18

00:01

01/08/18

00:01

01/05/18

00:01

01/04/18

00:01

01/03/18

00:01

01/02/18

00:01

01/01/18

00:01

12/29/17

00:01

12/28/17

00:01

12/27/17

00:01

12/26/17

00:01

12/25/17

00:01

12/22/17

00:01

12/21/17

00:01

12/20/17

00:01

12/19/17

00:01

12/18/17

00:01

12/15/17

00:01

12/14/17

00:01

12/13/17

00:01

12/12/17

00:01

12/11/17

00:01

12/08/17

00:01

12/07/17

00:01

12/06/17

00:01

12/05/17

00:01

12/04/17

00:01

12/01/17

00:01

11/30/17

00:01

11/29/17

00:01

11/28/17

00:01

11/27/17

00:01

11/24/17

00:01

11/23/17

00:01

11/22/17

00:01

11/21/17

00:01

11/20/17

00:01

11/17/17

00:01

11/16/17

00:01

11/15/17

00:01

11/14/17

00:01

11/13/17

00:01

11/10/17

00:01

11/09/17

00:01

11/08/17

00:01

11/07/17