Good credit equals financial freedom. It allows you to purchase assets like a car or home. What does a poor credit rating get you? A borrowed vehicle and a sleeping area in mom and dad's basement.
One way to avoid bad credit is to be financially responsible and watch your credit reports. When you review your reports, pay attention to late payments, accounts in collections and defaults on loans that can wreak havoc on your credit score. Other detrimental entries include bankruptcy or a data breach.
Unfortunately, data breaches strike often and can destroy your credit. Tap or click to see how bad these breaches can be. One way to prevent damage from this type of exploit is to freeze your credit.
Data breach 101
So, what exactly is a data breach? A data breach occurs when information is accessed, taken or used by an individual, application or service without authorization.
Hackers gain access to a trove of data, and companies are left to clean up the damage. The 3 billion-plus Yahoo records compromised between 2012-2016 earned the company the top spot on the top 10 worst data breaches of all time. Tap or click here to learn more about that awful situation.
The most sought-after information includes Social Security numbers, bank information, credit card numbers, driver's license numbers, medical records, passwords and other sensitive data.
According to Risk Based Security, 2019 is slated to be the worst year on record for breach activity. Its 2019 MidYear Data Breach QuickView Report for the first half of 2019 indicates more than 3,800 breaches took place through June 30. These breaches exposed 4.1 billion-plus records.
The number of breaches increased by 54% since 2018. The report further notes three of the 2019 breaches made the list of largest breaches of all time.
What is a credit freeze? Does it impact your credit score?
This free tool, commonly referred to as a security freeze, restricts access to your credit report and makes it harder for identity thieves to open new accounts in your name. You need to freeze your credit with each of the three major credit reporting agencies: Experian, Equifax and TransUnion.
And no, a credit freeze doesn't affect your credit score. Here's what else you need to know:
You can still obtain your free annual credit report(s).
You are permitted to open new accounts.
Current creditors and their collection agents continue to have access to your reports.
Court orders, subpoenas and search warrants may leave your credit reports accessible to government agencies.
You can lift a credit freeze, temporarily, for specific companies, including prospective employers.
When you're ready to cancel your credit freeze, you can at no cost. Visit each of the credit reporting agencies and follow the steps to unfreeze your reports.
How to freeze your credit
Experian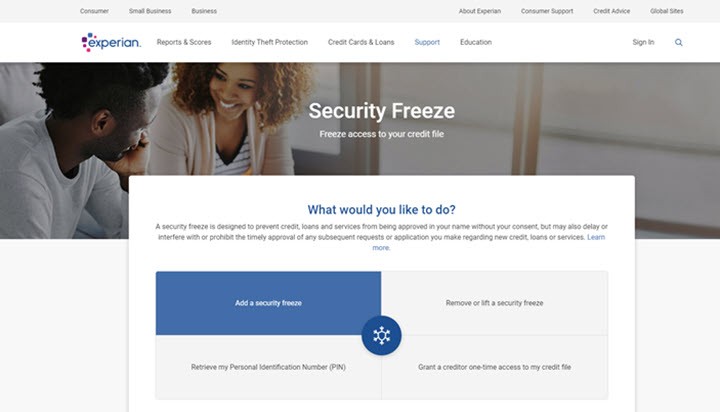 A security freeze is simple with the Experian Freeze Center. Here you'll find the form you need to fill out, as well as additional security freeze resources. You also have the option to call 1-888-EXPERIAN (1-888-397-3742) or you can submit your request in writing to Experian Security Freeze P.O. Box 9554 Allen, TX 75013.
Equifax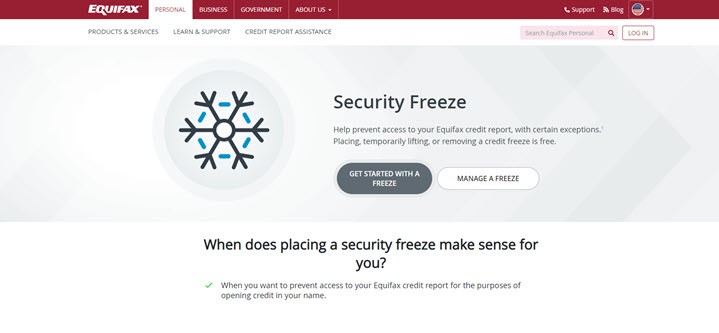 The fastest and easiest way to freeze your credit with Equifax is online. Visit Equifax.com and follow the steps. If you prefer to place a freeze on your credit report via phone, call 1-888-298-0045 (8 a.m. to midnight, EST, seven days a week). For a snail mail request: Equifax Information Services LLC P.O. Box 105788 Atlanta, GA 30348-5788.
TransUnion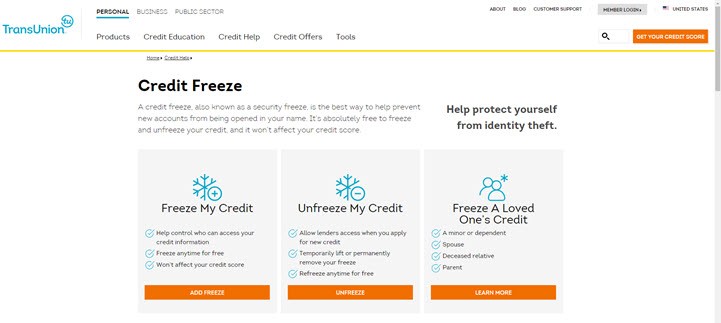 Similar to the other two credit reporting bureaus, the TransUnion website has a section dedicated to the credit freeze. You can fill out the paperwork, or search through the FAQs. Additional options to freeze your credit include by phone at 1-888-909-8872, the myTransUnion mobile app available for both Android and iPhone, and regular mail at TransUnion P.O. Box 160 Woodlyn, PA 19094.
Note: Check each agency for information on what you must provide, such as your name, address, social security and so forth when submitting your request by mail.
Other ways to protect yourself
Because hackers can use your information for any number of transactions, such as filing tax returns and opening bank accounts, a credit freeze may not be sufficient. Here are more steps you can take to protect your identity:
Alert your bank and freeze account(s) if recommended.
Obtain an Identity Protection PIN from the IRS.
It is essential you use two-factor authentication for any online site.
Get copies of your medical records and routinely check for suspicious providers that are listed or for treatments you didn't receive.
Ask your local motor vehicles department for a copy of your driving record (you may be charged a small fee). This record will indicate whether there are bad checks attributed to your account.
To learn how your information can be used in a breach, tap or click here. It's true it takes effort to keep your credit on the right path and protected from data breaches, but your efforts can help save you from high-interest rates, a stolen identity and sleeping on mom and dad's couch.