There are lots of television channels and streaming options in the U.S. This makes it tough to keep track of what is showing and where. For example, DirectTV customers can access more than 330 channels that broadcast over 80,000 shows and movies.
Hulu with Live TV has 73 channels, while other streaming platforms like HBO, Netflix and Prime Video have tens of thousands of titles. So, do you know when your favorite show or movie is available through all the clutter and fluff?
Thankfully, there is a better option than creating a spreadsheet and trying to track things on your own. Keep reading for details on a site that will do the work for you.
Creating a ReelGood account
Wouldn't it be fantastic if you could see all of your favorite shows across multiple platforms on an easy-to-read dashboard? Well, that is precisely what ReelGood is all about.
Serving as a hub of sorts, it lets you add your favorite shows and films to your profile by creating a free account. Then, if you connect your streaming accounts like Netflix or Hulu, you can watch the content through ReelGood without navigating to each service.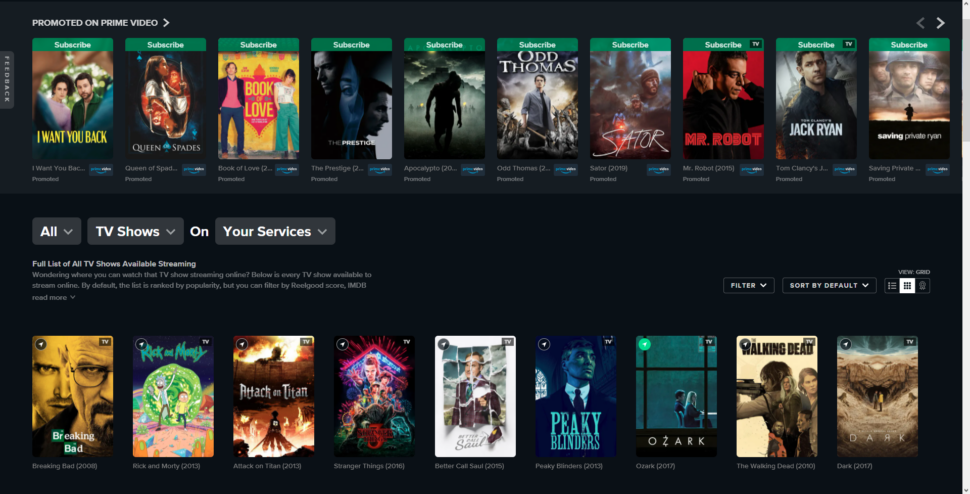 Here's how to create a free ReelGood account:
Go to reelgood.com and hit the 'Add Your Services' button
This will bring up a list of all the platforms ReelGood supports, which is currently just over 150. Then, click on the + next to the channel or service to save it to your profile.
When you are happy with your selections, click Save.
The page will refresh, and then you need to click Sign Up on the top right. You have the choice to create a free account with an email address, or you can use your Facebook, Google or Apple account details.
When the account creation process is complete, you will be shown the main dashboard with everything available for streaming on the platforms you specified earlier. To dive a bit deeper, click on TV Shows or Movies in the top banner.
An overall view of what's available on a few services can be overwhelming. So you might want to track only some of your favorites.
Set up notifications for new episodes
The best thing about ReelGood is the ability to add TV shows and movies to your personal list. By clicking on Your List at the top, you'll see all episodes of shows you track, episodes you still need to see, and ones you have watched already.
Here is how to set up alerts for new episodes:
Click on the Popular Shows button or search for it.
When you see a show that you want to track, hover over it and click Track Series. Here you can specify if you have seen all the episodes, only some or none.
Depending on your answer, ReelGood then wants to know which episode you saw last.
ReelGood will alert you to new episodes if it's an episodic series or when a new season is available for streaming.
You can go through the same process for films, and the service will let you know when a movie is available on one of your streaming platforms. Again, you have the choice to receive notifications on email, mobile push, or both.
To make things simpler, when you want to watch the latest episode, you don't have to move away from ReelGood. Instead, you can watch any tracked content directly in ReelGood's built-in video player. You will have to sign in to your streaming account and link it first, though.
Keep reading
Scammers are impersonating Netflix, Disney+ and other streaming services – Red flags to watch for