There's almost nothing like a good scare. Your heart races, your head fills with fear, and when it's over, you feel both exhilarated and relieved.
There may not be many jump scares happening this Halloween, though. The current pandemic has put a damper on how much Halloween celebration can take place in 2020. But you don't have to miss out on all the fun. This genius DIY project will help keep Halloween fun and safe.
You don't need to visit a creepy haunted house this year to get scared out of your wits, though. There's a way to get your fill of heart-pumping fear from the safety of your own couch.
Horror films guaranteed to get your heart rate up
Want to scare yourself into oblivion this Halloween season? All you need to do is pop in a few movies at home to get the blood pumping through your veins. Your fight or flight response works just as well with scary movies as it does with jump scares at a haunted exhibit.
Don't believe us? You don't have to take our word for it. The folks over at Broadbandchoices.co.uk recently explored the science of scare to find the scariest films around — and the scientific process they used was pretty interesting. Here's how it worked.
While watching horror films, researchers measured the heart rates of 50 volunteers whose normal, resting pulse rate is around 65 beats per minute or BPMs. As participants viewed the films, any corresponding BPM spikes were recorded. These spikes were weighed against the average heart rate to figure out which of the 50 films they viewed kept their hearts pounding.
That data was then weighed to compile a list of the 25 scariest horror films around. There are tons of great choices on the final list, but only one film was crowned the ultimate horror movie. Can you guess which one it was?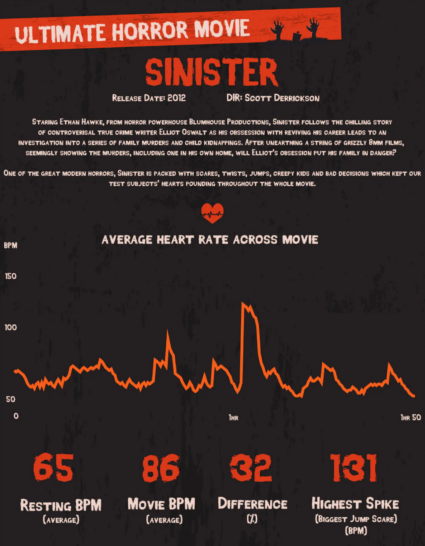 1. "Sinister"
If you guessed "Sinister," you're right. The top film was "Sinister," starring Ethan Hawk. According to the data, viewers' heart rates were elevated to 86 BPMs. So, if you want to scare the heck out of yourself this Halloween, you need to dust off your copy of that film and get your heart rate racing.
2. "Insidious"
The runner up was "Insidious" in the #2 spot, with an average heart rate of 85 BPM.
3. "The Conjuring"
The third-place winner was "The Conjuring," with an average heart rate of 84 BPM.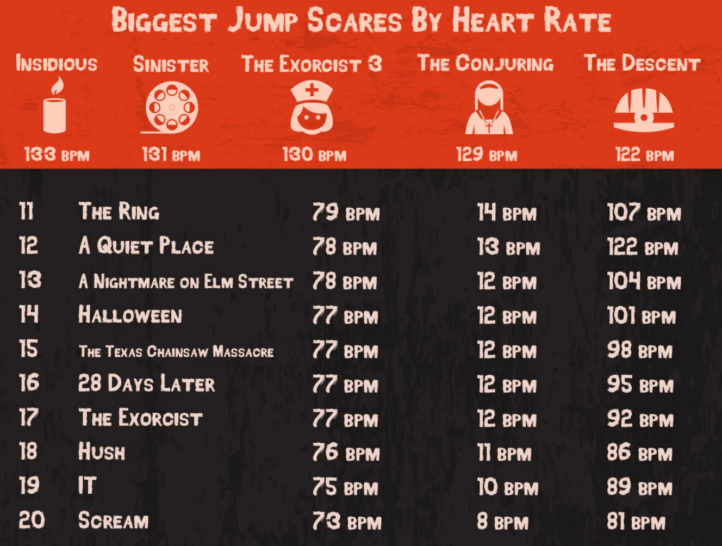 But while "Sinister" was crowned the king of horror films, it didn't prevail as the winner of the jump scares. The jump scare winners were determined by intermittent spikes in BPM during jump scare scenes, and another film took the crown in that category.
Related: There are plenty of high-tech ways to add some spooky accessories to your home this year
Surprisingly, "Insidious" managed to top the overall winner when it came to jump scares. This film had the highest heart rate spike of 133 BPM. "Sinister," on the other hand, had the second-highest spike at 131 BPM. "The Exorcist 3" came in third with spikes of 130 BPM.
There are tons of other great films on the list, too. Take, for example, M. Night Shyamalan's, "The Visit," which kept viewers at an average of 79 BPMs. "It Follows," a supernatural psychological horror film, kept viewers at 81 BPMs.
Want more scientifically scary film options? You can find the full list of winners by tapping or clicking here.