When it comes to Apple's own digital ecosystem it can be tough to find out how to access the content you want: Is it on the App Store? The iTunes Store? Through Apple TV+? We're here to cut through the confusion and explain how Apple TVs work.
Apple TVs can be especially confusing at a glance. Tap or click here for 12 Apple TV tips and tricks to get started.
If you have an Apple TV, or if you were thinking about picking one up, we've got the definitive trick to make sure you don't miss anything on your device. Read on to learn everything you need to know about finding anything on an Apple TV!
How an Apple TV works
After booting up your Apple TV 4K or Apple TV HD, you have immediate access to a number of ways to search for content: using Siri, the Search app, or by searching the catalog of a specific app. On top of this, some content is only available for purchase on the iTunes store, some content is only available on Apple TV, and other content is specific to individual apps.
If this sounds confusing, that's because it is. But, luckily, there's an easy way to search for movies and TV shows, as well as songs if you're an Apple Music subscriber, across multiple apps simultaneously: both Siri and the Search app are programmed to search through all available apps in your region.
Though, it's important to remember searching for content is different from accessing content: chances are whatever you're looking for isn't free, so you'll usually need subscriptions to services or have to pay episode-by-episode or film-by-film.
Apple TV+ and Disney+ are the newest kids on the streaming block. Wondering how they compare? Tap or click here for everything you need to know about Apple TV+ vs. Disney+!
How to search on an Apple TV
To start, simply open the Search app from the home screen of your Apple TV. From here you can type out your search using the onscreen keyboard, or you can use a nearby iPhone or iPad to enter text directly. If you'd rather dictate instead of typing, press and hold the Siri button on your Apple TV remote and speak your search.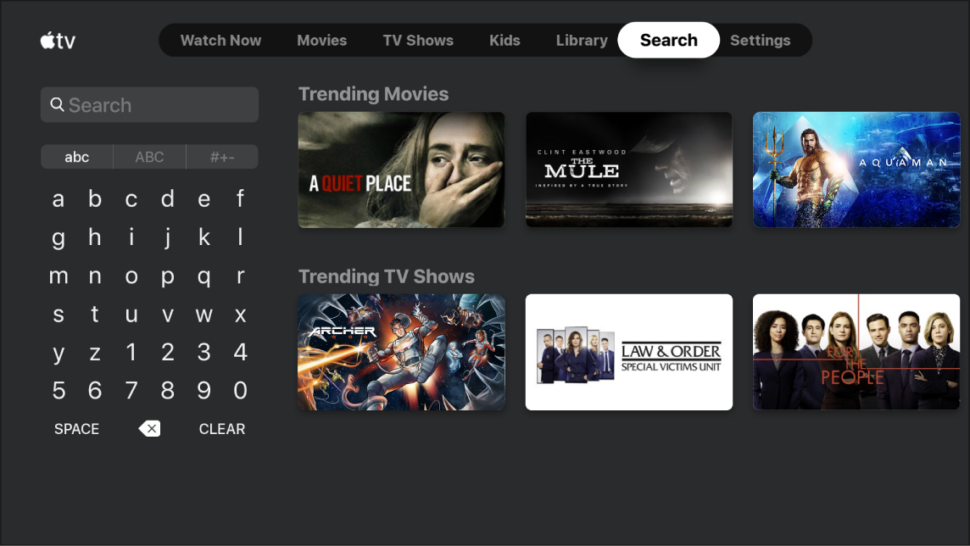 You can search by title, of course, but you can also search by genre, cast, director, rating, age appropriateness, popularity, and more. It's not important you know exactly what you want to watch when searching. After searching, simply select an item to bring up further details, like ratings, descriptions, and viewing information.
Selected items will also tell you what service or storefront has this content available, and from this screen, you'll be able to start watching immediately. That's all there is to it. No longer will you have to search Netflix, then Hulu, then Amazon Prime, etcetera.
How do you know if an Apple TV is the right streaming device for you when there's so much competition from Roku to Amazon and more? Tap or click here for the definitive comparison between Roku, Amazon Fire TV, and Apple TV.