From Disney+ to Netflix to HBO Max and everything in between, there is tons of streaming content to watch these days. Tap or click here for our streaming comparison: These services give you the most bang for your buck.
But how do you decide which streaming services to subscribe to? One of the most significant factors is which service hosts your favorite shows. That raises another challenge: Knowing which services host them.
Thankfully there is a free tool that can help. Read on for details on this helpful service that tracks all of your favorite shows for you.
Plex to the Public: Search for Any Movie or TV Show, No Matter Where It Lives
Few streaming platforms genuinely do it all, but Plex certainly comes close. You can stream more than 50,000 shows and movies, use it as a personal media manager, listen to music and podcasts, and much more, all without a monthly fee.
Plex has always been one of our favorite freemium streaming services, and with good reason. The latest version of the Plex app helps you find something extraordinary to watch in absolutely no time. Now that's service.
In short, this Plex update allows you to search for any show on any streaming service, all from this central Plex hub. Gone are the days of Googling desperately for a title to find which streaming platform owns it.
This new feature makes Plex the ultimate tool for anybody who subscribes to multiple streaming services. Instead of sloughing through 15 different watch lists across a bunch of different apps, you'll be able to maintain one single, universal watch list that has all of your favorite streaming sites covered.
While the notion isn't a novel one, nobody does it like Plex. The UI is slick, the performance is stellar, and it never fails to retrieve precisely what we're looking for.
How to Use the Plex Streaming Guide
If you're already on Plex, open up the web or smartphone app. If it's your first time doing so since the update, you'll be prompted to choose not only your favorite streaming services but also your digital TV service of preference, as well as the channels that you watch most.
AMC, OWN, and The Cooking Channel? You've got it all, alongside the rest of the usual suspects — Netflix, Hulu, Disney+, Prime Video and more.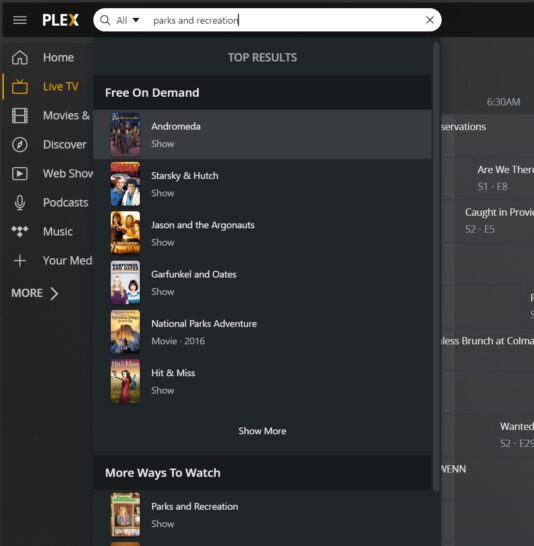 Now, try searching for any premium title under the sun. You'll first see a bunch of hits hosted on Plex itself, but below, you should see exact matches leading to the real shebang.
Make a selection, and you'll see something new on the title's profile page. A Watch from these locations section, complete with buttons redirecting you straight to the show.
You can continue and stream immediately, or you can add any of these titles to one playlist of shows and movies to watch.
You can also use the Plex home page to search for shows. After making your selections, type the name of any show or movie into the search bar. Click through to the one you want, and you're made in the shade.
If you have no clue what to stream tonight, you can also try Plex's new Discover directory. You'll get a glimpse of upcoming releases just around the corner, as well as trending titles and new stuff to check out.
As always, you'll enjoy all of the above seamlessly on any device with the Plex app installed. You can get the free Plex app for iOS and Android devices. Now, your must-watch list goes wherever you do.
At home? At the gym? On the train ride home? Done, done, and done, including any personal media associated with your account. Never find yourself without something to binge-watch again.
Just Plex It: Stream Without Borders
Plex said Americans spend over 600 million minutes nightly flipping through their streaming options, and 44% of these people struggle to find what they're looking for.
The buck stops here. Take your streaming game to the next level with Plex. Signing up is free.
You may also like: 9 streaming service pro tips to save money