Streaming websites are more popular than ever — but free streaming services are even better. It's easy to overspend on Netflix, Hulu, HBO Max and other paid apps. That's why so many of us head to our browser and type "free movie websites" or "watch online movie sites."
Luckily, there are many ways you can stream free movies online. We found a few free movie websites that let you enjoy five-star flicks without paying a dime — all from the comfort of your computer or laptop. A few even let you watch from streaming devices like a Roku or an Amazon Fire TV stick.
Check out the list below to see the 15 best sites for watching free movies online. Make sure to bookmark your favorites, so nights at home can be just as fun as going out to the theater — while costing you nothing!
If you love artsy or classic films, Kanopy is the best site for your free movie streaming purposes. With gems from the Criterion Collection, as well as modern indie masterpieces, Kanopy does its best to get high-quality and critically acclaimed cinema into people's living rooms, all at no cost.
To use Kanopy, your local library, university or college needs to be connected to it. See how to check if your library is connected by tapping or clicking here. With a library card or your college email login, you can access Kanopy's catalog at any time.
NOTE: Kanopy's movie offerings change periodically, so if you want to watch "Moonlight" or "Lady Bird," make sure to do so while they're still listed. Movies come back to Kanopy, but it's not always clear when, so keep that in mind when making your viewing selections.
For those who prefer comedies, thrillers and more mainstream movies ("popcorn flicks," if you will), Popcornflix is the perfect free streaming site. It gives you access to tons of movies and TV shows in exchange for playing ads while you watch.
If ads annoy you, this may not be your favorite site, but you can't deny that the selection is vast, covering a variety of film eras and recent releases.
Popcornflix can be accessed through the web, but you can also download its app on Roku, Apple TV, Google Play, Amazon or Xbox to watch on your TV screen.
Here's another great free movies website: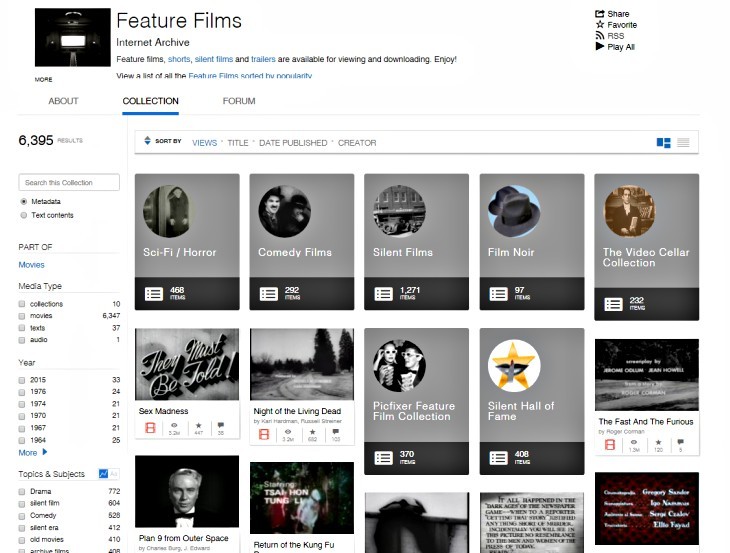 Do you love classic movies? Like the silent and black-and-white films, with the great stars of yore? Many of these now live at Internet Archive, a site that captures all media, like books and music and films that have entered the public domain.
When content is old enough, it is no longer subject to copyright laws, so it's free to utilize and watch. That's how Internet Archive can have feature-length movies streaming for free — but it's also why many are from the 1920s and 1930s. For classic movie buffs, you can't find a better site.
Sony Crackle, formerly known as Crackle, is another excellent site to watch modern movies and TV shows for free, but, like with Popcornflix, you do so with ads. We know ads can be very annoying, but that's the trade-off when you don't want to pay for the film.
If you like action and thriller movies and some older TV shows that are hard to find on other platforms, Sony Crackle certainly makes sitting through some ads worth it.
Though primarily a platform for buying movies and TV episodes, Vudu also has many free feature-length films and TV shows for you to watch — once again, possible thanks to ads. Vudu is good at reporting how long movies will remain free (the catalog changes monthly), and it has a ton of modern movies and some beloved older dramas and comedies.
You can get Vudu on your computer, game consoles, streaming devices, smart TV, Blu-ray players, phones and tablets. You have to sign up for a free Vudu account to use the apps and site. So the next time you find yourself typing "free movies online sites" into your browser, head straight to this digital library instead.
You may remember the IMDb Channel, named after the Internet Movie Database. Amazon owns it, and it's renamed it Amazon Freevee, hoping the new name will attract some attention and much-needed viewers.
Freevee allows Amazon to play both sides of the streaming market. There's Amazon Prime Video with no commercials, and Freevee does carry commercials but not as many as network TV. You need an Amazon account to watch movies, and you can watch to your heart's content.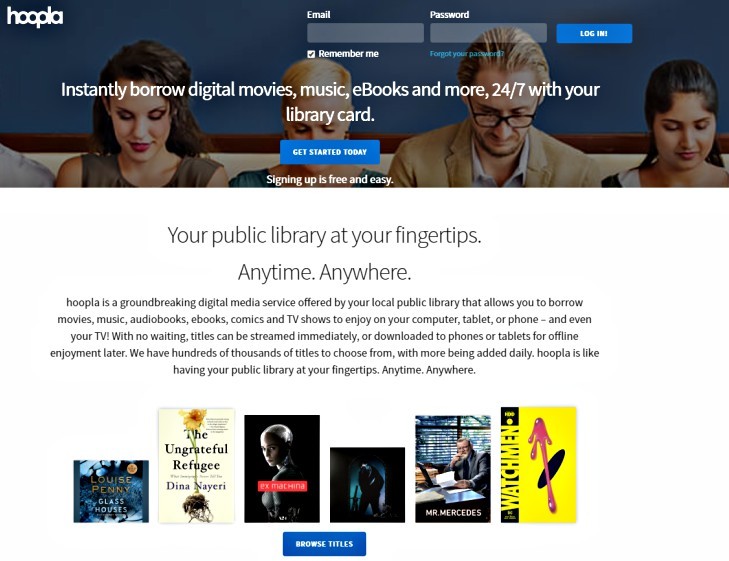 Libraries offer tons of services as it is. Tap or click here to see what we mean. But your library card can get you hoopla as well. It's the digital service of Midwest Tape, a company that provides media products and services like DVDs, CDs and audiobooks to libraries.
Just sign up for hoopla with your email and library card and you'll have access to tons of movies and TV shows. Plus the ability to use the hoopla app on your phone, tablet, Amazon Fire device, Roku, Chromecast, Apple TV and Android TV devices.
It doesn't work with every library system, so make sure to ask the next time you're at your library. If you don't have access, ask what your library can do to get it. Free, streamable movies are a great offering, so you could help yourself and your fellow library patrons by encouraging the signup.
If you have a Roku, you can access The Roku Channel, which gets you free movie and TV content. You can stream live shows on the Roku channel and watch an ever-changing catalog of movies and TV shows, all at no cost.
You can add your premium subscriptions to the Roku Channel to watch things like HBO and Showtime all in one place on your Roku. But free content is available even without them, though you may find similar options on Popcornflix, FilmRise, Vidmark, American Classics and YuYu.
For access to all of these libraries together in one place, The Roku Channel is worth adding to your device. But if you don't have a Roku, you can watch many of its options at the other places listed above.
YouTube has its share of feature-length films uploaded illegally, and those tend to disappear quickly thanks to YouTube's algorithms. Users who attempt this are pretty silly since YouTube offers many movies for free, in addition to ones available for rent or purchase — you just have to be willing to watch ads with them.
One way to see what free movies are available is to go to the Movies & Shows channel, available from the YouTube homepage, and click See More next to the Free to watch movies category. There are a few gems you might enjoy (particularly comedies) and tons of kid-friendly content if you have little ones you want to entertain.
Streaming has made movie watching much more fun, even more so when it's free. Fortunately, there are tons of free online movie streaming sites, and all you have to do is sign up for a free account or watch a few ads along the way.
YouTube recently added 4,000 more free episodes of TV shows. Tap or click here for details.
You can find anything on Tubi, from quirky, artsy films to classic movies that made history. You can also watch popular shows on it. One of its best features is its site design, reminiscent of Netflix. Just select your favorite genre and you'll see Tubi's library of options.
Its library is a little small, but what you'll find is diverse. For instance, it offers a lot of different categories, from action to comedies. It's also easy to use. Hover over an eye-catching title and you'll see the star rating, summary and cast.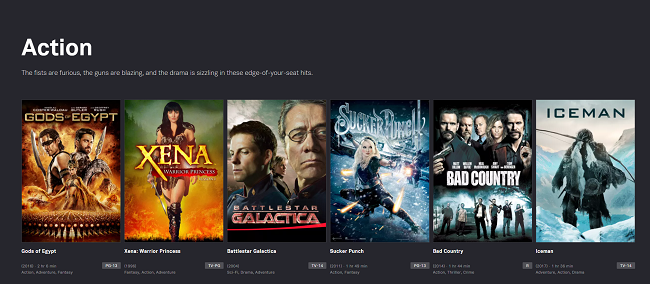 Although it's ad-supported, the commercials aren't overwhelming. It's kind of like if you were watching TV straight from a popular channel: Every 15 minutes or so, you'll take a short ad break. They aren't too long — only around one to two minutes. Then, you can get back to whatever show or flick you're watching.
You'll find many options on this site, from free movies and TV shows to even live channels. It has a pretty impressive library of content, and to make things even better, you can also get it as an app on iOS, Android, Apple TV, Fire TV and more.
Just like Netflix and Tubi TV, it has an easy-to-navigate tiled interface. With an extensive catalog of shows and movies, it offers around 13,000 hours of free content (although you'll have to watch ads).
You can watch the first two seasons of "The Office" for free, but after that, you'll have to upgrade to Peacock Premium for $5 a month. It uses a similar setup for other popular shows, like "Parks and Recreation." Peacock is especially great if you're a big fan of NBC's content or want to catch up on some big movies.
This free website offers over 190 different channels you can watch. That includes newly launched movie channels, breaking news, sports shows and even stand-up comedy.
It also has a simple, easy-to-use design that puts your streaming experience first. You can scroll through different channels or view all of them at once on one screen. Plus, it offers both live and on-demand content, which means you can easily navigate between programs or shows from each channel.
Want to try one of the newer free streaming services out there? Look no further than Fawesome.tv. Stream from here and you can watch over 10,000 HD movies and TV shows.
There aren't any genre limits: you can watch action, horror, comedy and even children's movies. It even has a "Watch list" that highlights popular new arrivals in different categories. It sometimes has themed sections to reflect the latest holiday. You can watch it on your smartphone, Windows PC or different smart TVs.
This is a great way to stay up with the times. Haystack News lets you watch live news channels, including ABC News Live, Al Jazeera, Bloomberg, CBSN, Euronews, Yahoo Finance and more. You can even watch live local news broadcast stations from various partners.
This ad-supported streaming service has more than 400 partners. This includes over 50 live news and weather channels, which covers around 90% of local U.S. markets. It's a helpful resource if you're planning a vacation and want to prepare for rain, shine, sleet or snow.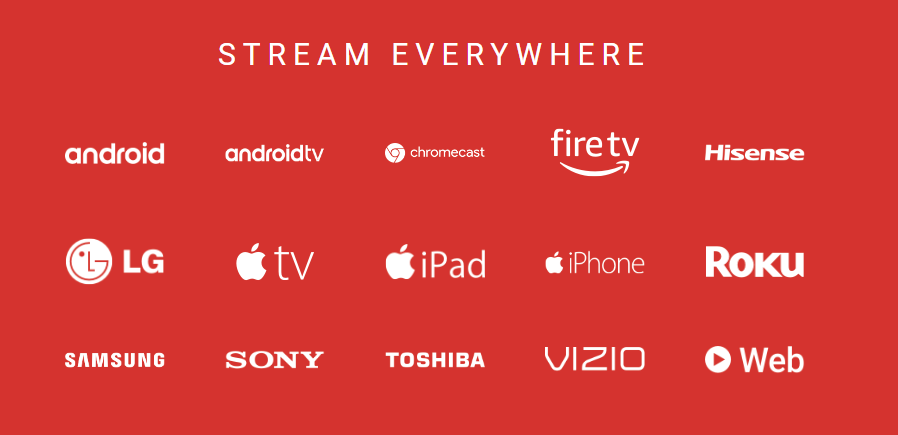 In February of 2022, Plex released a new free live TV service. Sit through a few ads and you can watch thousands of free movies, TV shows, documentaries and more.
You get over 80 channels, many are filtered by genre. You can watch news channels, on-demand movies from Lionsgate, Warner Bros. and more, as well as some of the most popular films.
Live TV on Plex also has content for kids, anime fans, sports lovers and even singers, thanks to its karaoke channels. You can upgrade for $5 if you have a TV antenna to get live local channels.
Next time you sit down for movie night, remember these free streaming services
We verified these websites, but watch out for other lists you'll find on the web. Say you type in the words, "sites to watch movies online free" or "free online movie streaming sites." Not every online movie website is as safe as the ones on the list above.
Some will send you to shady sites full of suspicious links that try to download malware to your computer. Unfortunately, it's a common problem, even when you're not typing something like "free movie downloads no registration" into the search bar.
Clicking a link is always a bit of a gamble. If you're lucky, the link gives you the information you want to see, or it could take you to a malicious website or a download stuffed with viruses.
Luckily, we put together some questions you should ask before clicking any link you find on the web. Tap or click here for simple ways to spot risky links.