Do you stream content from your phone or TV? Of course you do — everyone does these days.
Technology has advanced to the point where streaming videos, shows and other forms of media is a common way to consume content. And as technology advances, so do the streaming gadgets we use to watch this type of media. Tap or click here for streaming services offering free trials.
Amazon offers some of the best streaming gadgets on the market right now — and there's always a new device or upgrade rolling out. That can make it difficult to narrow down what's right for you, though. Luckily, we've done the work for you below.
On the surface, there isn't much that sets the Fire TV Stick 4K apart from other Fire TV Stick devices. It looks similar to its counterparts and is used in the same manner — to stream media content from your TV. You can use it to watch content from just about any streaming service: Netflix, YouTube, Disney+, Apple TV and a ton of others.
It has apps, games and Alexa Voice Remote capabilities, too. You can even use the Alexa remote to control your TV and other connected devices, which cuts down on the need for multiple remotes.
As the name suggests, the big difference between Fire Stick 4K and other options is better video output. If you want top of the line 4K streaming, Fire TV Stick 4K is your best bet. For just $10 more than Fire TV Stick, it offers Ultra HD (4K) video output with HDR support. The downside is you'll also need a 4K HDR-compatible TV to access that high-quality video.
This Fire Stick option is best for people who either own or plan to invest in a 4K HDR-compatible TV. If that's not you, you're better off with the regular Fire Stick. You'll save a few bucks that way.
Pros
Alexa Voice Remote
Comprehensive voice experience
Access to thousands of movies and TV episodes
4K video output with HDR support
More storage than other options
8GB of storage
Cons
Slightly more expensive
Requires a 4K-compatible TV
The best option for either tech novices or those without 4K-compatible TVs is the Fire TV Stick. This model offers almost everything Fire TV Stick 4K offers.
The interface is fast and you'll get nearly all the features you'd want: thousands of streaming movies and TV episodes, Alexa Voice Remote capabilities, and live TV if you have a subscription to a service like Sling TV or YouTube TV. It's also 50% more powerful than the previous generation Fire Stick, which means you'll have super-fast streaming.
It even looks like the Fire TV Stick 4K — you won't notice much of a difference between the two devices. There is a downside to choosing this option, though. The Fire Stick maxes out at 1080p and only offers Full HD video output. The Alexa Voice Remote capabilities are better with the 4K version, too. However, you can still control your TV or connected equipment with the Alexa Voice Remote — even if you aren't streaming with the Fire Stick.
If you can live without those features you'll save some dough with this option. This Fire TV Stick retails for less than $40, which is about $10 cheaper than the 4K version.
Pros
50% faster than the previous generation of the Fire Stick
Full HD streaming
Alexa Voice Remote capabilities
Access to thousands of movies and TV episodes
8GB of storage
Cons
No 4K support
Voice remote capabilities are better with the 4K version
Looking for an affordable Fire TV Stick without all of the frills? Fire TV Stick Lite is a great option for people who don't need 4K or tons of voice control capabilities with their Fire Stick device. It still does everything else you'd expect: streams movies, TV episodes, music and other media from your TV.
The big difference between other Fire Stick options is Fire TV Lite comes with Alexa Voice Remote Lite, which doesn't have the ability to control the TV or connected equipment. You can still use it for voice control of the platform for your Fire Stick content — you just can't use it for much else.
Another downside is it doesn't offer 4K support. Only the Fire TV Stick 4K does. It does, however, offer support for HD streaming in 1080p and the same amount of storage that other Fire Stick options offer. If you're willing to trade in the advanced Alexa capabilities, you can save about $10 or so when compared to the Fire TV Stick.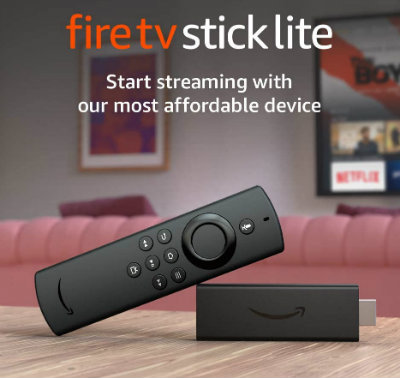 Pros
8GB of storage
Cheapest Fire Stick option
Offers nearly all of the streaming capabilities other Fire Stick options offer
Access to thousands of movies and TV episodes
Some voice capabilities
Cons
No 4K support
Voice remote capabilities are better with both the Fire Stick and the 4K version
Will not control power and volume on your TV, soundbar, or receiver
Are you a tech junkie? The Fire TV Cube may be just what you're looking for. This is the most advanced of any of Amazon's streaming devices — and it differs quite a bit from the Fire Stick options above.
If you have a smart home, this Fire TV cube can control all your other smart devices. It works just like a smart speaker — it has a far-field mic that can pick up your commands, so you can actually substitute it for other Alexa-enabled devices in your home. No need for an Echo when you have this one.
But Fire TV Cube isn't just a smart speaker. It's also a Fire TV device, which means you can use it to stream all of the content you want without using your hands or a remote. As a bonus, the Fire TV Cube also provides 4K Ultra HD video output with HDR support.
You can also use Fire TV Cube to control compatible TVs, soundbars and other connected devices. This is a great option for people who want all the smart and 4K features rolled into a compact device. The downside is that you'll pay quite a bit more for the advanced features that this device offers.
Pros
Smart speaker capabilities
Hands-free control of your smart devices and your Fire TV
Support for 4K Ultra HD content
Access to all the streaming content you want
Cons
Significantly more expensive than other Fire TV Stick devices
Not super useful if you aren't using other smart devices
If you're looking for a device that offers DVR capabilities, you may want to take a look at Fire TV Recast. This one lets you watch live or recorded programs from over-the-air TV. All you'll need is the Fire TV Recast, the Fire TV mobile app and an HD antenna.
What's nice about Fire TV Recast is it lets you watch and record broadcast TV without a streaming live TV service or cable. What it isn't, though, is a replacement for a Fire TV. You won't get an on-screen Fire TV interface or a remote with the Recast like you would with Fire Stick options. You'll still need a Fire TV Stick to get those other features.
Fire TV Recast is basically a DVR so you can record and watch live TV programs that are airing on the channels your HD antenna picks up. The downside is you cannot use Fire TV Recast to record live TV programs from cable, satellite boxes or streaming apps.
Pros
Lets you access recorded media from anywhere via the app
Records up to two shows at once
75 hours of storage
Gives you an option to watch live TV via the HD antenna
Cons
Can't record live shows on cable or satellite
HD antenna sold separately
Isn't a replacement for the Fire Stick
Requires Wi-Fi or cellular connection to watch via the app
Looking for an easier way to stream your videos and shows? You can opt for a TV with Fire TV built-in. These types of TVs come with full Fire TV capabilities, which means you won't have to invest in another device to stream from your TV.
There are tons of options for TVs with built-in Fire TV capabilities. Most just plugin, connect to your Wi-Fi and let you log in to your Amazon Prime account so you can stream to your heart's content.
You'll get a lot of the same Alexa capabilities you'd get with Fire devices, too. Plus, most of these TVs have automatic over-the-air software updates, so you'll never have to update your device manually.
This option is great for people who prefer the easy route. No sticks to install or connect or smart speakers to set up. Just plugin and log in. Easy! You will pay for the perks, though — these TVs aren't going to break the bank but they will cost you more than a Fire TV Stick would.
Pros
Easy to use
No extra purchases or devices to set up
Same Fire TV capabilities as the Fire Stick
Alexa skills and features
Cons
More costly than a Fire Stick
Features vary by device
By clicking our links, you're supporting our research. As an Amazon Associate, we earn a small commission from qualifying purchases. Recommendations are not part of any business incentives.