In the age of streaming, broadcast television can seem like a relic. However, with just a simple antenna attached to your TV, you can stream live content in HD from popular networks entirely for free. If crystal-clear programming is what you're after, though, you'll need to find the right antenna for you.
Free live TV not enough for you? Tap or click here for the 10 best sites to watch free movies.
From sports to local news to primetime shows, it's all free in HD with an antenna. Depending on where you live and what signals you have access to, the right antenna can be the difference between grainy, inconsistent viewing and pristine quality. Here are seven of the best antennas on the market.
What you should look for in a TV antenna
When free TV is the goal, the price of your antenna is a major factor, but an antenna that can't properly connect won't be worth much. TV antennas come in three classes: unamplified antennas, amplified antennas, and large outdoor antennas.
All of these antenna classes correspond directly to an antenna's range. Amplified antennas come with integrated amps that boost the signal range of the antenna, whereas unamplified antennas have a shorter range.
Unamplified antennas are the simplest and cheapest around, meant for indoor use where there's a strong signal. Amplified antennas are larger and more powerful, usually meant for use inside when there's a medium-strength signal. Large outdoor antennas, which can be amplified or unamplified, are best for areas with a weak signal.
Finding out what channels at what strength are available to your local area is easy. Simply go to the FCC's digital TV reception maps site and enter your ZIP Code.
RELATED: Tap or click here for the trick to getting a good deal on the right TV
1. Antennas Direct ClearStream
Antennas Direct's ClearStream TV antenna is a jack-of-all-trades when it comes to antennas. Though unamplified, the ClearStream antenna comes in a variety of ranges, from 35 to 70 miles. The ClearStream supports both 1080p and 4K, but the quality content you get will depend on the channel.
If you're not sure whether to mount your antenna indoors or outdoors, the ClearStream has you covered with all-weather mounting hardware, which means it's suitable for placement both indoors and outdoors.
2. Mohu Ranger Advanced Amplified Indoor/Outdoor HDTV Antenna
If you want the best of the best, Mohu is the way to go. You can use this model inside or outside to get all the major networks, including ABC, CBS, FOX, NBC and PBS. It's multidirectional so aiming is necessary but simple to do, and it's easy to install.
The antenna has a 75-mile range, ATSC 3.0 4K capability and includes a 30-foot cable. Mohu's amplifiers are located right at the antenna where the signal is at its best, meaning less pixilation and better reception.
3. Mohu ReLeaf Indoor TV antenna
Another great option from Mohu is the Mohu Releaf TV Antenna. It's made to place indoors, with a 30-mile range and supports 1080p and 4K playback. ReLeaf is a unique product in the world of antennas: It's made from 100% recycled cable set-top boxes, which wastes far fewer resources and energy than traditionally produced antennas.
If you're looking for an affordable short-range antenna, this is a great environmentally friendly option.
4. AmazonBasics Amplified Indoor/Outdoor antenna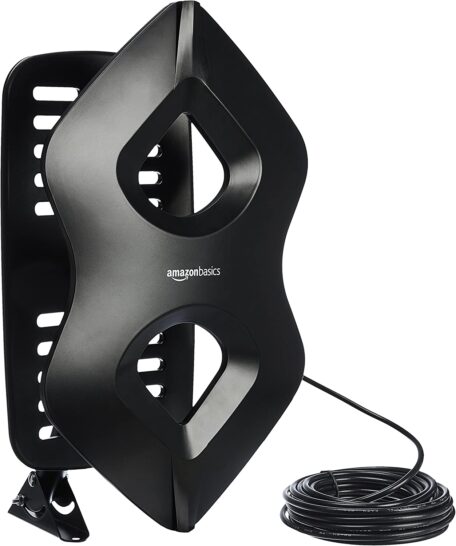 Amazon's Basics line is well-known around the internet for its no-frills, low-cost gadgets, and the Amplified Indoor/Outdoor TV Antenna is no different. This model broadcasts in full HD 1080p and can pick up signals in a 60-mile radius. Regardless of whether you'd like to install the antenna indoors or outdoors, the included 10-foot coaxial cable gives you some much-needed flexibility.
5. Winegard FlatWave Amped Digital HD Indoor Amplified antenna
The Winegard FlatWave Amped Digital HD Indoor Amplified has a 50-mile signal radius, supports 4K and 1080p output and comes with an 18.5-foot mini-coaxial cable. Unlike many of FlatWave's competitors, this antenna makes use of clear circuit technology with an ultra-low noise preamplifier so it can deliver crystal-clear, static-free audio.
6. RCA Outdoor Yagi Satellite HD antenna
RCA's Yagi Satellite HD Antenna is the perfect antenna for those looking for durability. Installable in an attic or on the roof, the Yagi Satellite is built to withstand tough outdoor conditions. It even supports 1080p, 4K, and 8K content, though you are not likely to be watching much 8K content anytime soon.
RCA also has a free Signal Finder app that acts as your digital compass and helps to align your antenna perfectly, so as to get the most channels at the highest quality available.
7. 1byone Digital Amplified Indoor HD TV antenna
This 1byone HDTV Antenna can be scooped up for under $19.99, but don't let the low price fool you. It's amplified with an 80-mile range and supports both 1080p and 4K content. It even comes with newly upgraded amplifier technology in the form of a Smart IC Chip, which works to filter out cellular and FM signals and result in a clearer picture.
Once you're set up with the right antenna, you're well on your way to cutting to cord entirely. Tap or click here to find out about the expensive mistake streaming companies don't want you to know about.