It's easy to fall down the rabbit hole of rental properties. You head to Zillow or another property website and check out the home of your dreams. It's easy to let your imagination take you away. Soon, you'll be imagining yourself lounging around an 18-room villa with a breathtaking view.
While most people can't afford to buy a mansion, you could afford to rent a few nights. It's a fun alternative to a hotel: You can get an incredible place all to yourself for a short time, experiencing the fantasy of living high on the hog.
Now is the perfect time to check out some rental properties, especially since many Americans are traveling in 2021. You might want to prepare for face-scanning, though, since we could see expanded facial recognition tech for travelers. Whether you want to travel or just admire some gorgeous properties, we've found 10 amazing places that would make great vacation spots!
1. One of our favorite rental properties is Scottsdale's treasure: On the Rocks
This dazzling Scottsdale mansion earns its name with its naturalistic backyard pool. Actually, with turquoise waters falling down from mountainous rocks, it's more like a miniature lake than a pool. Plus, the home has floor-to-ceiling windows, which lets you enjoy the gorgeous views from almost any room in the house.
It's a quick 15-minute drive to Old Town Scottsdale for shopping and dining, but if you want to enjoy Mother Nature, you can jump on the Camelback Mountain trail from the neighborhood. It's got four different fire pits to gather around so you can watch the sunrise or sunset. With six different bedrooms, this is the perfect house to rent when you're gathering your friends together.
If you love great, natural views, this is one house you can't miss out on. Rocks are interwoven throughout the house, from its lush manmade waterfall to the rocky designs in each bedroom. For $250 per person for each day, it's the perfect place to enjoy the natural beauty of Arizona.
Why we want to stay there: We want to sit in a jacuzzi tub while watching the twinkling lights of Scottsdale. It's so close to Scottsdale Fashion Square, and you're just a short while away from different golf courses. It's posh and modern, and we love the idea of looking out the floor-to-ceiling windows!
2. Want something more rustic? Check out this Big Bear Lake retreat
This rustic home is perfect for a trip to Big Bear Lake in California. Perched in the hillside, you're just three minutes from the slopes at Bear Mountain. It's the perfect place to stay if you want to hike, but if you'd rather drink in the mountain views, you can do so from the large deck.
Plus, it even has a game room! For $110 a night, you can cook burgers on the grill, listen to music on the Bose sound system, and use provided firewood to stay toasty while you stream shows from the 50-inch smart TV.
You'll enjoy all the perks of a modern home in a gorgeous mountain setting. What's not to love?
Why we want to stay there: We love that this house is in the perfect location. You're just a mile away from the mountain slopes, the golf course or the Alpine Zoo. Big Bear Village and Pine Knot Marina are just four miles away. There, you can ride horses, wakeboard, fish, paddleboard and more. This retreat is the perfect home base for your outdoor adventures.
We couldn't make a list of drool-worthy places to stay without showing you Kim's beachfront condo in Maui. The interior is modern and sophisticated, perfect for an adults-only trip. With two bedrooms, two bathrooms and easy beach access, it's a dream spot for a week soaking up the sun.
Imagine waking up (after a great night's sleep because the mattresses are seriously comfy) and walking right down to the sand. No packing up the car or carting all your gear.
Good news: If you're traveling with kids, Kim's second condo is perfect. This 2-bedroom, 2-bathroom condo is just right on the beach, too, with a gorgeous kitchen, tons of comfy living space and all the amenities you could want.
Why we want to stay here: The lure of the beach is strong, all year round. There's nothing better than waking up to a fresh ocean breeze, making a cup of coffee and walking down to admire the waves. And you just have to see the shower in the luxury unit. Talk about a relaxing getaway.
High atop a rocky ridge, you'll find this large and gorgeous cabin. It overlooks Jackson Hole, unveiling a lovely view of the wide valley's streams and forest.
This Western lodge is made of wood, stone and glass, making it the perfect place for a whimsical getaway. It's one of the most magical rental properties you can buy … but it's pretty costly. Your money is well-spent, though, when you look at all it has to offer.
This five-bedroom and five-bath home offers 16,000 square feet of freedom. Outside, you'll have private access to 75 acres of lush land. With an in-home movie theater, a wine refrigerator and a private bowling alley, this hope is dripping in luxury. Even the TV is fancy: There's a flat-screen TV hidden inside a stone countertop. When you press a button, it rises and swivels so you can watch it from the kitchen or dining room.
You can fish anywhere you want on fish creek; there's even a pond on the property stocked with trout. For $10,000 a night, you can enjoy the billiards table, gym, locker room and grotto. Did we mention the hot sub, steam room and sauna?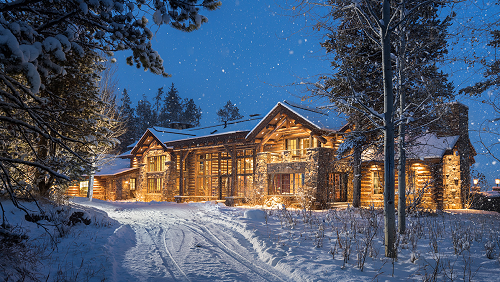 Why we want to stay here: Not only is the location absolutely dazzling, but Phillips Ridge itself is exquisitely crafted. The staircase is sculpted with case bronze, the house uses thick log walls and tree-trunk beans, and there's even a huge oil painting that decorates an entire wall. With the old-school design, you might feel like a wealthy character from a Charles Dickens novel—if it weren't for all of the high-tech equipment, that is!
5. Take a trip back in time with this rustic Mount Albano Villa
You can enjoy history with this beautiful location. The Villa dell'Angelo is a restored 18th-century Tuscan villa from the 18th century, located right at the top of Mount Albano's western slope. With an expansive saline pool and interior decorations full of antiques, you can sit back with a glass of wine and imagine you're royalty from a bygone era.
It offers four bedrooms and four bedrooms, five bathrooms and three baths. Pay $534 a night, and you can drink in your picturesque surroundings from a genuine old-time villa. The homeowners specifically designed it to be packed with Tuscan flavor: It has Persian carpets, a stone fireplace and a coffered ceiling. Some of the furniture dates back to the 16th century!
Make no mistake, though: While this villa has been around for a while, it's outfitted with all the modern comforts you could need. When you're done enjoying the fitness facility, satellite television or espresso machine, you can head outside. There you can walk among the 18 acres of woods and olive groves.
Why we want to stay here: This place is truly one-of-a-kind. Here, you can enjoy every modern comfort while living in old-school luxury. Normally, you'll have to buy tickets to visit a slice of history.
6. This classy French farmhouse is one of the classiest rental properties
Sure, Paris is great, but the French countryside is hard to beat, especially when you can stay in a serene retreat for just $89 a night.
You'll get five bedrooms and three bathrooms, plus exterior lighting and a first aid kit. Relax in the library or outdoors by the large pool. It's also close to the Hérault, so you can go hiking, horseback riding and kayak tours. This tranquil farmhouse is the perfect place to relax with your loved ones—or write a novel in the tranquil atmosphere.
Why we want to stay here: Far removed from the city, you'll be able to breathe in the country air and feel at peace. With gorgeous greenery all around you, get ready to relax and understand the value of easy living. We love the idea of enjoying the French countryside, sipping wine and relaxing by the pool!
7. Want to rent your own castle? Head to Ireland's Farran House
With eight bathrooms and nine bedrooms, you can pack a ton of people into this home. Originally built in the 18th century, Farran House has since been remodeled into an elegant house with high ceilings and large windows that fill each room with light. Each room is decorated in its own style, and you can play music on the grand piano.
Stay indoors and play billiards or go for a stroll in the landscaped gardens. This manor is perfect for exploring the gorgeous Irish countryside. Pay $520 a night to feel like a royal retinue in Farran House.
Why we want to stay here: Who doesn't want to own their own castle, if just for a night? Each room is elegantly designed, and the landscaping gives Farran House a regal feeling. Plus, the dining hall looks lush, with its high window, elaborate fireplace and classy furniture. This is one of the most charming rental properties we can think of.
8. If you want to stay within the United States, check out the gorgeous Box Hop in Ohio
This is a fun and unique place to stay. You'll never guess what it's made out of. Old shipping box containers! You'd never guess by looking at the exquisite exterior or the modern, well-furnished inside.
Centered on 18.5 acres in Hocking Hills, this house offers three bedrooms, two baths and many lovely views. Although the home is cozy and small, there's room for eight at the dinner table.
It also has a unique glass garage door as well as a gas fireplace for the winter. So if you're looking for modern rental properties with rustic charm, this is the home for you.
There are 18.5 acres of land for you to hike and explore. Want to relax after a long day? Sit back in the six-person hot tub amid the trees. If you want to unwind from your hectic city life and enjoy simple living, Box Hop is the perfect place for you.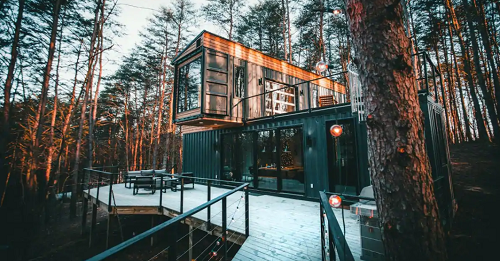 Why we want to stay here: We can't help but wonder what it's like to sleep in a shipping container. It's got to feel great because this is one of Ohio's most popular Airbnb spots! With the surrounding woods and the modern designs, Box Hop sounds like a wonderful place to explore.
9. Live right on the river with this home in the Great Smokey Mountains
For just $106 a night, you can fish for trout, splash in the creek and pan for gold. Best of all, it's just a short walk from the front door to the river. Catch all the trout you want in the rushing river.
Or maybe you'd like to sit around a campfire and roast marshmallows over the fire pit. Either way, you'll be engulfed by nature's beauty in this tranquil, two-bedroom and two-bath cabin. It even offers a telescope so that you can check out the stars at night!
Why we want to stay here: Not only is this a gorgeous house with great amenities, but you're close to the Tellico Mountains as well as four different famous rivers. We'd love to go whitewater rafting, kayaking, tubing or boating on the waters. If you like hiking, this is the perfect place to stay.
Want an unrivaled luxury vacation experience? Have we got the home for you! The folks who own this place offer a first-class tour of the home and concierge services, plus recommendations for personal chefs, childcare services and more.
Entertain up to 16 people in this enormous villa, which offers a sleek interior and a modern exterior with a rooftop deck, firepit and outdoor dining. You can cook in the gourmet kitchen, dine outside or even play in the game room. It's one fo the fanciest rental properties money can buy.
One of its best features is its large, lush yard. You can swim in the pool and spa, sunbathe on the lawn or play ping pong and grill outside. You'll also be close to some of Scottsdale's best spots: Old Town, Talking Stick Resort, Odysea Aquarium and the McCormick Stillman Train Park are all nearby.
If you're a golfer, you're right by some world-class golf courses, too. For $250 per person each night, you and your friends or family can live in luxury.
Why we want to stay here: Sure, the villa is enormous and has tons of cool features. But our eyes are on its huge, fancy pool, which has resort-level amenities. You'll enjoy fancy water jets, which can make you feel like you're in a water park.
All in all, you've got some amazing rental properties to check out!
Whether you're browsing for fun or with a future vacation in mind, these homes all make some fantastic destinations. Remember to stay safe when you travel, though. Sure, you've got to take COVID-19 into account, but many other stressful and dangerous situations pop up when you're leaving home.
Planning ahead and traveling smart are the best ways to make sure every journey you take is fun, memorable, and safe. Luckily, we've put together a list of our favorite travel hacks so you can spend less time on logistics and more time kicking back and sipping your drink of choice. Tap or click here for Kim's top six travel hacks and secrets.