Are you an experienced chef or a home cook who dazzles in the kitchen? Are you King of the Pancakes on Saturday morning but an absentee home cook the rest of the week?
No matter your comfort level in the kitchen, you'll need the right equipment to get the job done. Just think about it.
If you love to make smoothies in the morning, for instance, you need a blender or juicer. If your spouse or grandchildren like to make scrambled eggs, you need a good-quality frying pan.
The same is true when it comes to cutting, chopping, slicing and dicing ingredients for a home-cooked meal. There are knives to chop vegetables, slice through thick cuts of meat, knives to eat dinner with and more.
Fortunately, finding the right knives for your kitchen is fairly straightforward. There are five types of knives you must have in your kitchen.
Bonus: Click here for a tip to quickly make a home-cooked meal this holiday with fresh ingredients courtesy of our sponsor HelloFresh - Save $30 now.
5 types of knives
Paring Knife
This is the 3- to 4-inch knife that comes with most knife sets that you may never use. At first, it may seem too small to be any good.
But take out that paring knife the next time you're peeling an orange, thinly slicing a jalapeño pepper or coring an apple. The paring knife is designed for cutting items close to your hand.
In other words, if you're cutting something small enough to hold, the paring knife will get the job done. It's small but powerful.
Utility Knife
This 4- to 5-inch knife is probably the one you reach for most often. It's the perfect size to cut potatoes and carrots for a stew.
You can use it to slice small cuts of meat, cheese and bread. Plus, it's small enough to cut bread or vegetables without squishing them.
Santoku Knife
If you've never heard the word, "santoku," you're not alone. That's a Japanese knife that you've most likely seen and may have seen chefs using.
It's a 5- to 7-inch knife that does not taper to a thin point like most knives do. It's a combination of a cutting knife and a meat cleaver, only it's smaller than a cleaver and more manageable.
The santoku knife is best used for chopping large vegetables while its sharp point is good to make delicate slices. The little divots in the blade prevent food from sticking to it.
Chef's Knife
If you're a seasoned cook, the chef's knife (also called a cook's knife) is usually 8-inches long. It's sturdy and cuts just about everything that needs to be cut, whether it's a fruit, vegetable, cheese, bread or meat.
Steak Knife
This small blade is a workhorse at the kitchen table. If you love to eat, especially meat, you'll need a good 4- to 6-inch steak knife.
These knives are small enough to easily hold. But the strong blade, which often has a serrated edge, slices through meat like a champ.
Holiday Cooking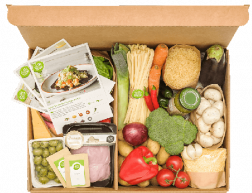 This is a great time of year to eat. You just had a hearty, healthy Thanksgiving dinner with family and friends. Now, you're preparing for Christmas or Hanukkah and New Year's Eve.
Whether you cook on your own or with the whole family, these five knives will help make food preparation faster. Speed is a good thing, but not if it means sacrificing high-quality, healthy ingredients.
There's good news this holiday season. Our sponsor HelloFresh delivers the highest quality ingredients right to your front door. Plus, as a Komando.com reader, you save $30 off your first HelloFresh box.
The best thing about HelloFresh is that it simplifies dinnertime each night of the week or for big festivities. You can choose from 10 chef-designed recipes each week.
These are healthy meals that keep calories down and flavor way up. When you open the box, you'll find fresh ingredients that would otherwise require you to drive around town for hours.
Plus, for big holiday meals, HelloFresh has recipes for larger portions. Sounds great, right?
HelloFresh meals are simple to prepare, delicious and fast. Most meals take about 30 minutes to prepare.
Of course, it will help to have the right equipment at home. That starts with these five must-have kitchen knives.
Sponsored: Make an impact in someone's life with this time-saving gift
Who's on your shopping list who loves a good meal but doesn't have a lot of time to cook? HelloFresh is the only meal delivery service I know that has home-cooked meals that take only about 30 minutes.