With nearly 2 billion monthly visitors, YouTube doesn't show any signs of slowing down. In fact, according to its own stats, YouTube reaches more 18-34-year-olds in the U.S. than any other TV network – at least in the mobile space.
YouTube Red, its paid subscription service, was re-branded as YouTube Premium earlier this year and allowed users to watch videos ad-free, including with their own original content like the Karate Kid revival series, "Cobra Kai." And let's not forget access to music as well.
But not everyone wants those features, or the $11.99 monthly charge that comes with them. And that's OK, because now YouTube is increasing offerings for their free service as well, including a number of full-length feature films.
Watch about 100 movies on YouTube, completely free
If you've visited YouTube lately, you might have noticed a new subsection within their Movies & Shows category. Nestled between New Releases, where you can rent or buy new movies, and Top Selling is now a Free to Watch option. It's a recent addition YouTube quietly rolled out last month.
You won't find anything too recent, but you can watch dozens of movies for free. But keep in mind – because they're free, there will be commercials at various intervals and the occasional pop-up ad.
Bonus: YouTube now offers a live TV streaming service
Right now, it appears the only films available come from movie studio MGM. But it's still a fairly wide spectrum of genres included in this initial run.
What you can watch
Once again, movies you see on the list won't be anything resembling a recent release – but there are quite a few options including the original "Terminator"and the Billy Crystal/Danny DeVito classic, "Throw Momma From the Train."
Also included is every "Rocky" movie from the first through "Rocky V," or one of Leonardo DiCaprio's early films, "The Man in the Iron Mask." If you'd rather laugh, there are options like "Zookeeper," "Legally Blonde" and some of the original "Pink Panther" films. There are also quite a few geared toward the younger audience, including "All Dogs Go To Heaven" and "Cody Banks." And there are also numerous options you've probably never even heard of.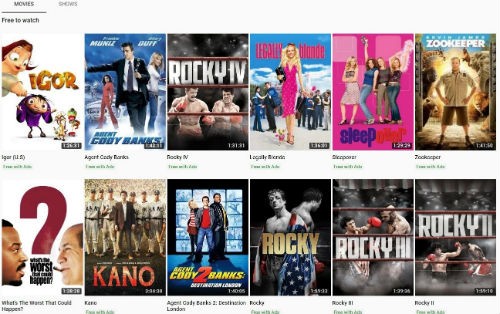 It makes sense that YouTube would move deeper into this space, as the service is being used more and more through tablets and TVs. But it's still unclear if and when other free movies will be added to the video service. That will ultimately depend on new agreements YouTube works out with other movie studios.