If you're using Microsoft Windows, you know they updated their flagship operating system to Windows 10. What you may not know is that you could be losing support for critical security updates as soon as this month.
Microsoft was widely criticized when it first launched Windows 10 a couple of years ago. You might remember that they were constantly sending out alerts, telling you to update to Windows 10. It was annoying to a lot of people.
Since then, Microsoft has updated Windows 10 three times. The most recent is the new Creators Update. They have also been dropping support for older versions of Windows.
Now, if you use Windows 7 or Windows 8.1, you may be vulnerable to malware and hacks. Microsoft is no longer going to issue security updates if you're using the latest Intel processor, its 7th-generation "Kaby Lake" processors. You will also not receive updates if you're using AMD's Ryzen systems.
You might see an alert saying, "Your PC uses a processor that is designed for the latest version of Windows. Because the processor is not supported together with the Windows version that you are currently using, your system will miss important security updates. Please select the 'Learn More' link to address this situation."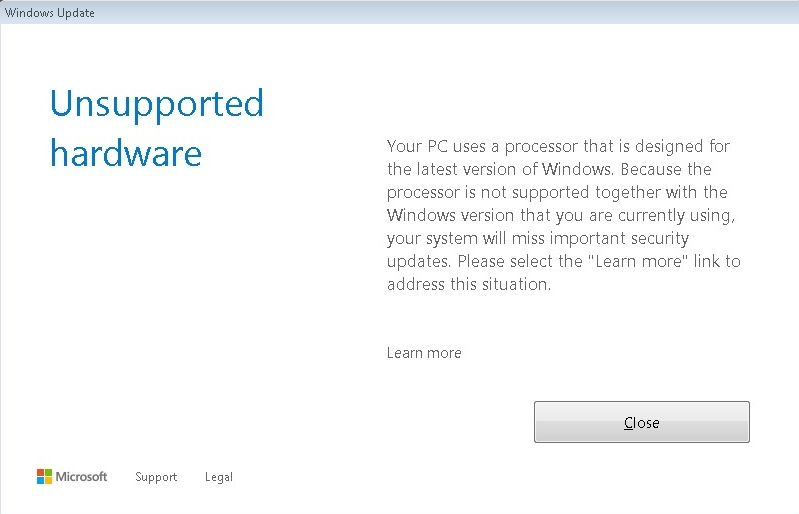 Windows 10
While it's somewhat understandable that Microsoft is dropping support for older versions of Windows, now they're dropping support for the original Windows 10. That's the latest version of Windows that debuted in July 2015.
Microsoft has always said that Windows 10 is an evolving operating system. It will change, as it has with the latest version. But it will remain Windows 10.
This is important: If you have the original version of Windows 10, Windows 10 1507, and you haven't updated your OS since then, pay attention.
"After May 9, 2017, Windows 10 devices running version 1507 will no longer receive security and quality updates," Microsoft said in a statement. "Microsoft recommends updating devices to the latest version of Windows 10 by visiting the Software Download site and selecting 'Update now' to manually update your device."
Note: To find your version of Windows, type "winver" into your taskbar, where it says "Ask me anything."