Big Tech knows that it's all about the hype when it comes to news about new products and features. Live reveals include musical performances, celebrity guests and press packs galore.
While the pandemic has recently forced these events into a virtual mode, companies livestream their events across the globe. Google's recent I/O developer conference brought along big news for the company's Android operating system, browser, hardware and more. Tap or click here to check out our roundup.
This week, Microsoft unveiled Windows 11 during a live event. The operating system has changed its look and includes the expected improvements to performance. The big reveal is that Windows will now let PC users run Android apps. We have more details below.
Get ready for the new look Windows
If the new Windows looks familiar to you, you might be a Mac user. The new Microsoft OS has a resemblance to macOS with its new start menu and centered apps. It also brings to mind the Chrome OS. Microsoft also did away with sharp corners in favor of smoother, rounded edges. You'll also see new icons replacing ones that have been around for decades.
The Start menu uses Microsoft 365 and the cloud so you can see your recent files from any platform you were viewing them on before, including Android or iOS.
Hello Android apps
The new Microsoft Store has been redesigned and has support for apps you couldn't get before. Microsoft Teams, Visual Studio, Disney+, Adobe Creative Cloud, Zoom and Canva are coming to the store.
Android is coming to Windows via apps you'll find in the Microsoft Store, which you can then download through the Amazon Appstore. Microsoft is using Intel's Bridge to provide seamless integration.
More Windows widgets with personalized feeds
A personalized feed allows you to add the widgets you want to view the news, weather, maps, calendar, notifications and more. Open the feed and it slides in from the side of your screen.
RELATED: Did you know that Windows 10 has built-in ransomware protection? Tap or click here to hear more about this safety feature.
Microsoft Teams fully integrated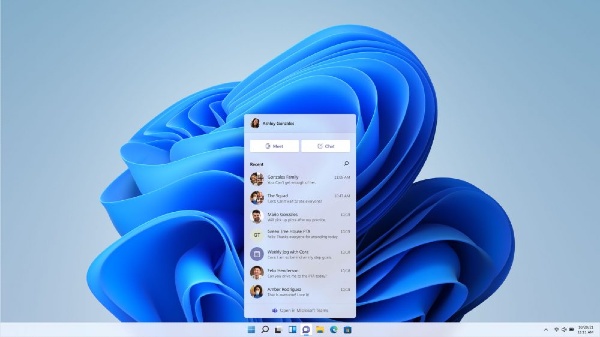 The Chat function from Microsoft Teams is now integrated with the taskbar, and there's no need to download or install the software. You can use text, chat, voice or video with your contacts regardless of what platform or device they are using. Even if the other person doesn't have the Teams app, you can chat via SMS.
RELATED: Having problems with your Windows PC? It could be the result of something you're doing that's wrong. Tap or click here for tips on better PC habits.
Gaming
Windows is taking a cue from Xbox and providing DirectStorage to its OS. This means faster load times and more details. Auto HDR will further enhance the visuals through artificial intelligence. DirectX 12 Ultimate support will help users get the most out of the most advanced PC games out there.
Your Xbox Game Pass will give you access to more than 100 PC games, with more on the way. You'll also be able to play with others who are using a PC or console.
Free upgrade
Windows 11 will be available as a free upgrade for eligible Windows 10 PCs and on new PCs when it's released around the holiday season. Click here to learn more and download the PC Health Check app to see if your current Windows 10 PC is eligible for the free upgrade.
Keep reading
The Windows 10 update mistake you're probably making