Over the years the internet has become — for better or worse — more and more sophisticated. But email basically hasn't changed since the days of Netscape. You open your mailbox on whatever service you're using, read your new emails, respond, repeat.
Gmail plans to change that. Starting next month, Gmail users will get to "experience" some of their emails. Users will be able to interact with their emails in an entirely different way. Google calls it "dynamic email" and it could make your inbox a lot more inviting and enjoyable; for those of you who don't like Gmail's user experience, it could make it more cluttered.
But don't worry just yet. So far, Google has approved only a handful of companies to use its dynamic feature. We have the list of companies below. Also, if you just don't want the feature from the get-go, we'll tell you how to disable it. Add that to Gmail's ability to unsend an email.
What does the new Gmail look like
Google's latest iteration of Gmail — rolling out July 2 — will allow users to work directly within an email message. No more having to go to an outside web page to accomplish a task.
For example, you can directly RSVP to an event, fill out a questionnaire, go through a catalog or respond to a comment without having to leave your email browser.
In a blog post by Gmail Product Manager Aakash Sahney, Google is particularly promoting how Gmail users can interact with its other products such as Google Docs, which already has some handy features. Right now, you get an email notification that you have been mentioned in a Google Docs comment.
To respond to the comment, you have to leave your Gmail and open the specific Google Doc. Soon, you will see an up-to-date thread in Gmail where you can reply to the comment from within the email.
Related: 10 useful Gmail settings you'll wish you knew sooner
View Pinterest, book hotels and more
As of now, only Booking.com, Despegar, Doodle, Ecwid, Freshworks, Nexxt, OYO Rooms, Pinterest and redBus have been approved by Google to use dynamic email.
Say you get an email from Booking.com or OYO Rooms about special hotel deals. Instead of having to click a link to their sites, you can actually see the rooms that are available and even get guest ratings.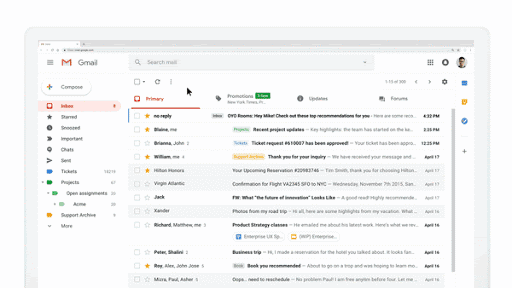 Social media site Pinterest uses dynamic email to make it easier for people to browse for ideas and pin them to boards — again, all without leaving your Gmail inbox.
Sounds great so far, but likely there are emails you do not want to interact with in any form. With that in mind, Google has taken steps to make sure users do not get inundated by dynamic emails from unsavory companies.
"To ensure added security, those who want to send dynamic email have to be reviewed by Gmail first before they can get started," Sahney wrote in his blog post.
Your Gmail account will default automatically to dynamic email once it rolls out. If it doesn't automatically default, go to the settings menu in your inbox and check "always display external images."
If dynamic email isn't for you, just go back to your settings menu and check "always ask before displaying external images" and you'll be back at the status quo.
Gmail's dynamic email is supported on Chrome, Opera and Safari browsers on desktops. For mobile devices, download the Gmail app for iOS or Android.