In the 1950s, the vision of what technology would be like in the year 2000 reads like a sci-fi novel. Fanciful ideas of an artificial planet circling Earth or automatic food generators seem laughable to us now.
But back then, experts believed that vertical cities would be everywhere. Or even that airplanes would be able to fly at 25,000 mph. Given that technology explodes every year, it is easy to get carried away with what the future might hold. Tap or click here to see the potential future of virtual power plants.
Some predictions from years past have come to fruition. And now, Toyota is building a "smart city" that takes us into a world of technological dreams. Let's take a look at this incredible design.
Fingerprints and Smell-O-Vision
Strikingly accurate is the description of what is called the Push-Button Home. We take virtual assistants and Wi-Fi-connected devices for granted, but in 1950 it was unthinkably futuristic.
"People will live in houses so automatic that push-buttons will be replaced by fingertip and even voice controls. All homes will have temperatures maintained at constant comfortable levels the year-round for human efficiency," according to an Associated Press article from 1950.
But while we are still waiting for Smell-O-Vision while watching TV, Toyota is already building a city of the future. And even by expert predictions in 2021, the "Woven City" will be a marvel of futuristic engineering.
Cutting-edge technology
The "Woven City" name comes from Toyota's collaboration with software developer Woven Planet Holdings. The more than 400 square mile project will consist almost entirely of artificial intelligence, robots and environmental sustainability.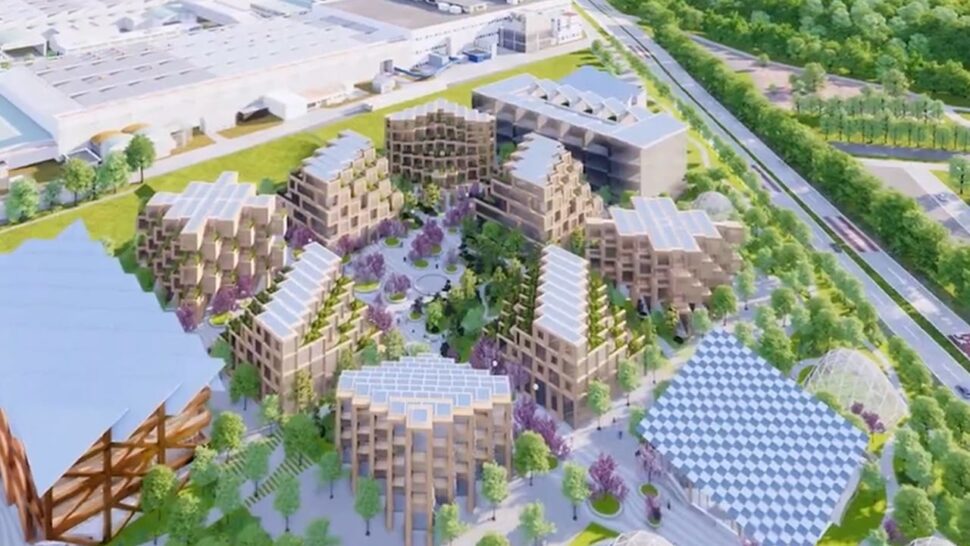 Constructed next to the former Higashi-Fuji Plant, the city will incorporate three types of streets for transportation. One street will solely be for automated vehicles, another for pedestrians, and the third for personal mobility vehicles. There will be a fourth street as well for deliveries, but this will be underground.
Toyota's e-Palette autonomous cars will be doing most of the driving and take care of deliveries. They will also serve as mobile shops or workspaces.
Homes will have a personal robot assistant to help to restock the fridge, cleaning tasks or run errands. Covered in an array of sensors, robots and autonomous cars know where to go.
If you want to take a deep dive into the Woven City, check out the following video.
Building a city of the future
Environmentally-conscience construction will be at the forefront of the city's creation. All buildings constructed use robot-made wood and get power from the latest renewable energy methods.
"In Toyota's shift from an automobile manufacturer to a mobility company, the project will bring new technology to life in a real-world environment across a wide range of areas, such as automated driving, personal mobility, robotics, and artificial intelligence (AI)," explained Toyota in a statement.
The city will initially house 350 senior citizens, families with young children and investors. This will expand to over 2,000 residents, including Toyota employees, when the project increases in size and need.
Keep Reading
Great site: Take a virtual drive around your favorite city
Go from New York City to London in an hour? Hypersonic engine may make it possible