With the inevitable rollout of 5G networks, carriers have been busy improving their networks with expanded footprints, dedicated bandwidth and newer technology. At the end of the day, consumers are reaping the benefits of these improvements with better speeds and coverage across the board.
To track these improvements over time, OpenSignal, a company that maps wireless coverage mapping around the globe, has released its latest January 2019 Mobile Network Experience Report.
This report compares the top four mobile providers in the U.S. – AT&T, Sprint, T-Mobile and Verizon with data collected from September to December of 2018.
Who has made significant strides in the last six months to grab the top spot once again? And which carrier is still stuck at last place after all this time? Read on and the answers will surprise you.
Overall Winner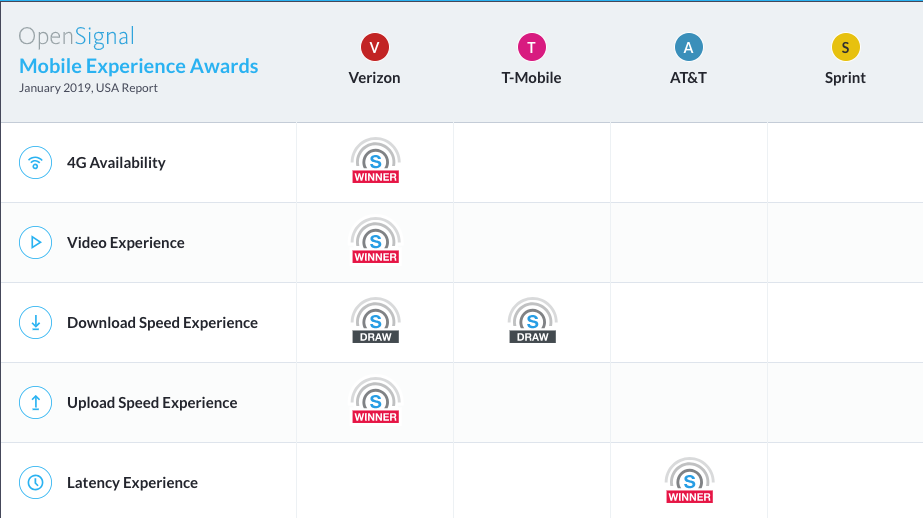 According to OpenSignal's latest mobile carrier experience rankings, Verizon has stormed back the last six months and has grabbed the top spot from T-Mobile in almost all of the categories – download speed, upload speed, 4G availability and video experience.
T-Mobile has surged the past two years as the fastest carrier across the board, but it looks like Verizon has caught up with key infrastructure investments in preparation for the rollout of 5G.
AT&T grabs third place overall but wins in latency scores, while Sprint is still lagging behind at 4th place in almost every category.
Fastest network

T-Mobile had the fastest download speed crown for most of last year, but Verizon has caught up in the past few months.
Verizon and T-Mobile now share the top spot in download speeds with AT&T in third place and Sprint at fourth.
However, things are looking up for the U.S. wireless industry in general as download speeds are still increasing all across the board.
It's interesting that just two years ago, none of the U.S. carriers averaged beyond 15 Mbps across its 3G and 4G networks.
Now, both Verizon and T-Mobile have moved beyond the 20 Mbps mark, while AT&T is averaging close to 18 Mbps.
This increase is mainly due to the network and infrastructure improvements the four major U.S. carriers have deployed in the last year in preparation for 5G.
Upload speed

On the upload side of things, Verizon (7 Mbps) edged out T-Mobile (6.7 Mbps) by a slim margin to take first place.
AT&T lagged behind at third place with a 4.6 Mbps average while in fourth place, Sprint averaged a measly 2.4 Mbps.
4G Availability
In terms of 4G availability, Verizon also took the crown from T-Mobile this year, the first time in two years.
The two carriers have been neck-in-neck over the last 24 months, with both steadily increasing their 4G footprints with aggressive infrastructure investments.
Third place is AT&T at 88.9 percent availability and Sprint at fourth at 88.4. Hopefully, both of these carriers will hit 90 percent availability soon.
Latency

Latency is often ignored when it comes to network speed tests, but it is actually an important factor that affects your mobile experience.
What is latency? Latency is a network's response time and it measures how long it takes for the data to travel between the source and the destination. Simply put, the lower the latency score, the better the response time.
For wireless latency, AT&T takes first place with 57.8 ms, T-Mobile at second with 60.6 ms and Verizon settles for third with 62.6 ms. As usual, Sprint takes the last place with 70 ms.
Video experience

A new metric in OpenSignal's tests this year is video experience. It measures wireless streaming video factors like quality of mobile video, loading times, video stalling and resolution.
In the video tests, Verizon takes first place with a 52.1 score, while T-Mobile takes second with 48.8. Sprint lags behind at third with 43.3 and surprisingly, AT&T rounds off the bottom at 42.2.
Remember, with the resurgence of unlimited wireless plans, carriers have started throttling video quality and resolutions across the board. These restrictions now play a big factor in these scores.
Click here to read OpenSignal's January 2019 Mobile Network Experience Report.
What do you think? Have you noticed improvements in your wireless service in the past few months? Drop us a comment!