More people are online now than ever before. Thanks to various Facebook scandals, cybercrime and a revolving door of data breaches, your security is almost always at risk. If you think you're safe, put yourself to the test and take this new security quiz.
Before we share the link, here's some quick background. Google recently released the results of a Harris Poll survey with 2,000 participants. Many voters claimed they knew how to stay safe and secure online.
Their answers to the security quiz say otherwise. Now you can take the same quiz to test your own online security skills, but watch out. It's harder than you think!
This security quiz exposes the information you share online
According to the Harris Poll survey, 94% of Americans 16 years old and older share personal information online. That includes making online purchases using a debit or credit card (77%) or paying bills (73%).
Then there's the kind of sharing that involves more personal information, like creating social media accounts and filling out online forms that include details like your address or Social Security number. One of those bad stats we've talked about many times before is using the same password on more than one website. Find out all the tips you need to know about that here.
And of that 94% of people, 42% weren't aware of a tiny detail in a URL that makes all the difference when it comes to protecting private information. That's a significant percentage for something that's been a hallmark of website security for years.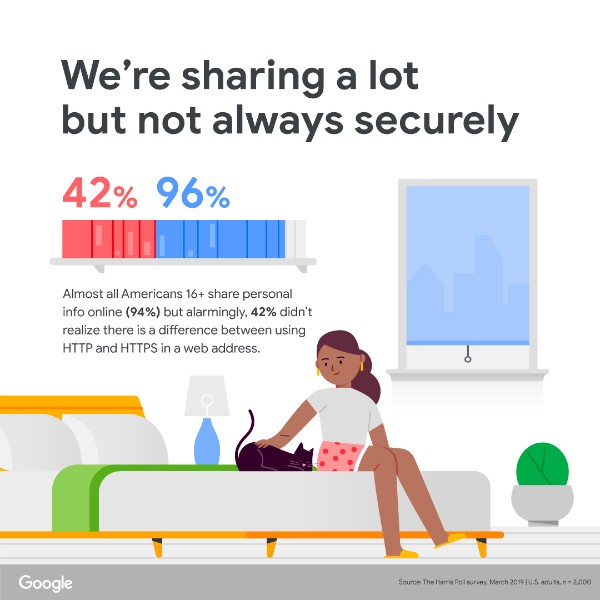 Staying safe online: Perception vs. reality
Even though more than 40% of those surveyed didn't realize the importance of an 'S' when it comes to visiting secure websites and staying safe from cybercrime like phishing attacks, 73% of 16 to 24-year-olds said they've got this whole online safety and security thing under control. The numbers tell a different story. Look at the other eye-opening statistics below:
A year ago, Google introduced a more secure alternative to ".com" with its new ".app." It released this survey to coincide with that anniversary, while also pushing the importance of online security since it's expected that 1.4 billion people will be active online by 2022.
Take the security quiz here
That brings us to the security quiz I mentioned earlier in the report. As you can see from the graphic above, 70% of those surveyed mistakenly identified what a safe URL should look like. How do you think you'll do?
Click or tap here to take the quiz, then keep reading for tips you need to know to stay safe online.
How you can stay safe and secure online
If you just got back from taking the quiz, you can see why it can be hard to tell a secure site from one that's not or even one that's malicious. As a recap, here are the important signs to look for before you visit any URLs (fake bank sites are popular) and especially before sharing any of your private information.
Google also set up an interactive page with security information and more statistics from the Harris Poll survey. Check that out by tapping or clicking here.