Apple is known for its fall event, where it announces updates to its gadgets and operating systems. This year was no different. Tap or click here to find out what Kim thinks about Apple's latest products.
Not sticking with the normal formula, Apple just surprised everyone with an announcement out of the blue.
A new model of AirPods is being released — this week! Keep reading and we'll tell you what to expect.
Apple announces new AirPods Pro
Apple surprised fans Monday with the announcement of a new model of its popular earbuds: The AirPods Pro. The new buds are now available, but keep in mind, they require Apple devices running iOS 13.2 or later, iPad 13.2 or later, watchOS 6.1 or later, tvOS 13.2 or later and macOS Catalina 10.15.1 or later.
As you can see in the picture above, these earbuds have an all-new design. They kinda look like mini hairdryers, wouldn't you say? Despite the look, these new AirPods have been engineered for comfort and fit.
One feature to look forward to is active noise cancellation. Two microphones are combined with software to continuously adapt to each ear. This helps remove background noise to provide a true noise-canceling experience.
An Apple rep stated, "The new in-ear AirPods Pro sound amazing with Adaptive EQ, fit comfortably with flexible ear tips and have innovative Active Noice Cancellation and Transparency Mode. We think customers are going to love this new addition to the AirPods family."
Related: Apple now allows third-party repairs on its products
What to expect
The first thing you might be curious about is the price. They cost $249 and that includes the wireless charging case, three sizes of silicone ear tips and a Lightning-to-USB-C cable.
AirPods Pro comes with Adaptive EQ, which is used to automatically tune low-and mid-frequencies of your music to the shape of your ear.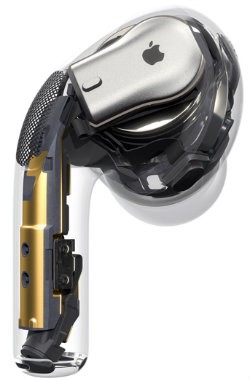 Transparency Mode gives you the option to simultaneously listen to music while still hearing your surrounding environment. This is good for times when you need to hear important announcements like when you're at the airport. Switching between Transparency Mode and Active Noise Cancellation is simple with the new sensor built into the stem of the earbud.
You might also like: Worried about privacy? Apple apologizes for not keeping what you told Siri private
More AirPods Pro features:
Ear tip fit test – To make sure you get the best experience possible with the new AirPods Pro, users can test the quality of the seal and identify the best ear tip size. After placing the AirPods in each ear, advanced algorithms work together with the microphones to measure sound levels in the ear and compare it to what's coming from the speaker driver. The algorithm quickly detects whether the ear tip is the right size and has a good fit, or should be adjusted to create a better seal.
Voice-activated Siri – An H1 chip is used to enable hands-free "Hey Siri," which can be used to play a song, adjust volume, make a phone call or get directions.
Audio sharing – Bring a second pair of AirPods close to your iPhone or iPad and you can listen to the same song or watch the same movie with a friend.
Announce messages – Messages are automatically announced as soon as they arrive through your AirPods Pro. If you're on a call or sharing media through Audio Sharing, Siri knows not to interrupt.
If you want to score a deal on the older version of AirPods, now is the time. Tap or click here to get a pair of AirPods with the charging case. If you want the model that comes with the wireless charging case, click or tap here.
You won't be disappointed with the older AirPods — they have some great features and you'll save some coin.
Apple lover? We want to give you just the tips  you'll use. Tap or click here to sign up for our weekly Apple Updates newsletter for news, tips and tricks, and the coolest new apps.