When you're mapping out a destination, which app do you use? Most likely, it's either Google Maps or Apple maps, depending on your device loyalty.
While iPhones have Apple Maps already installed, it seems to take a backseat to the more popular Google Maps. That's because Google Maps offers a ton of cool features that make it enticing. There are still some really cool tricks you should try in Apple Maps, but they tend to get overlooked.
But while Google Maps may be the preferred route of navigation for smartphone users, a new feature added to Apple Maps via iOS 14 could change that. With this new tool, you'll not only be able to use Apple Maps to navigate unfamiliar areas, but you'll also be able to avoid a few tickets along the way.
New Apple Maps tool could save you big bucks
You know those pesky red-light cameras and speed traps that seem to come out of nowhere when you're driving? Well, a new tool being released by Apple Maps is going to help you know where they are located.
RELATED: Apple's new super-fast Macs
It will roll out as part of an upcoming iOS 14 update. It works by warning you about any upcoming speed or red-light cameras on your route, giving you plenty of time to slow down and pay attention.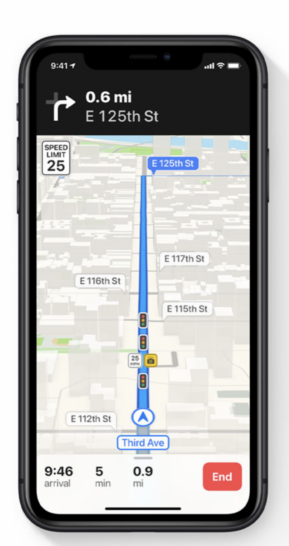 What's awesome about this tool is it doesn't just warn you. It gives you the ability to see where a camera is located directly on Apple Maps. It lets "you know when you're approaching speed cameras and red‑light cameras," according to Apple. This way, you'll get a heads-up so you can start slowing ahead of time.
"With new cycling directions and alerts for speed cameras and red‑light cameras, Maps makes it easier, safer, and more environmentally friendly to get where you need to go with any of your Apple devices. And with Guides to help you find the best places to eat, shop, and explore, you'll have more to do and experience when you get there," Apple stated.
People already love it
There aren't many details on Apple's site about the new feature, but some users on Reddit have gotten access to the beta version of the tool. According to those reviewers, the red-light cameras on your route are noted by traffic light icons. Speed cameras are noted with camera icons that sit inside yellow squares on the map.
Even cooler, though? Some user reports have noted that you can use Siri to warn about upcoming speed cameras. If that's correct, you won't have to worry about distracted driving while staring at your iPhone screen. Much of this user-driven information was confirmed by what Apple shared on its official Maps site.
Apple Maps will not detect your speed with this feature, though. You'll have to keep tabs on your own dashboard for that, but it will try to give you data about speed limits in the area.
This is the first time a red-light camera feature has been available for Apple Maps. Until now, the only way to get this feature was by using a third-party app like Waze or Google Maps, which offers information on red-light cameras to iPhone users in areas where it's allowed. Android users weren't able to take advantage of this feature with Waze, though.
RELATED: Apple is upgrading privacy with apps
Here's a tip
Want to get started using the red-light and speed camera warnings in Apple Maps? Of course you do. It's awesome. You may have to wait a while, though. Remember: This feature is still in the beta version. You'll have to wait until a later iOS 14 update hits your iPhone.
There's good news, though. Although you'll have to wait, you don't need to do anything once it comes. Once your iPhone updates, this feature will automatically install itself into your phone.
This is just one of several new Apple Maps features that are slated to roll out soon. Apple Maps will also be adding cycling directions, electric vehicle routing, and a new Guides recommendation. The Guides recommendation will help you find interesting new places to visit when you're in a new spot.
These features haven't been released on a widespread basis, though. In that way, they're just like the red light and speed camera features. When they come out, they'll make Apple Maps a little more useful for iPhone users.