There's an incredible diversity of smart home products and internet-of-things enabled devices on the market. Whether you're looking for voice-activated light bulbs or an app-controlled fridge, you're bound to find something you can fit into your gadget-filled home. Whether that product has any practical value, however, is another question entirely.
But not all smart home accessories are "appliances with a bonus app," and the majority do offer something of value to your home. Usually, it's in the form of integrating with a system like Alexa. Other times, it's as simple as providing a more convenient solution to common household needs.
A perfect example of handy smart home ingenuity comes from none other than Nest, makers of the popular series of door-mounted video cameras. They've engineered new software that can automatically detect if a package has been delivered or picked up, along with an instant alert that goes right to your phone. If you own a Nest doorbell camera, you won't want to miss this exciting upgrade.
Nest delivers new package detection software to customers new and old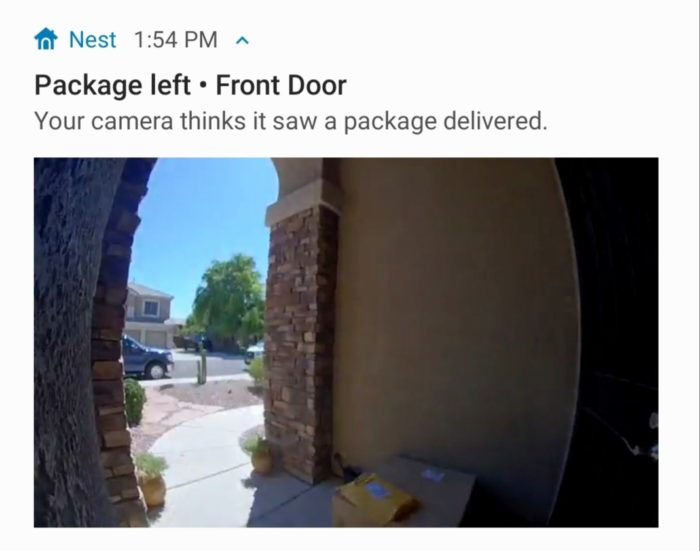 According to a blog post from Google, owners of the Nest doorbell system, the company is rolling out a new software feature capable of detecting package deliveries and drop-offs. This new system works via machine learning algorithms, which means the software compares multiple sets of data and images to accurately assess the presence of a box, a courier, or even a mail truck.
Upon detection, the camera begins recording and can transmit an alert to the user's smartphone informing them of the status of their package. They'll also receive a video clip to look over so they can have an exact update of the conditions on the porch.
This new feature is incredibly useful for consumers, and a similar notification feature from Amazon's deliveries has already been highly acclaimed by customers. Only this time, the visual proof of delivery is under your control instead of the delivery person.
How can I get my hands on this new feature?
First off, in order to get this package detecting feature, you'll need a Nest Hello doorbell specifically. However, if you already have one, you won't need to buy a new one. Anyone with that particular model is capable of using this feature.
That said, it's not available for free. The new feature is built into the company's subscription-based Nest Aware plan, which unlocks additional features like facial recognition and cloud video storage. Nest Aware is available to all Nest Hello owners for a monthly fee of $5.
Once you've subscribed, however, the feature will immediately be unlocked for you to take advantage of. Of course, you won't be able to try it out for yourself without ordering something, so it might be a good idea to check out some of the killer deals on Amazon and kill two birds with one stone.
And yes, the Nest Hello can detect Prime deliveries, too. It's just another fun perk about living life in the digital age.