If you think about it, it's amazing how fast technology develops in such a short period of time. The first home computer that I had back in the early 1990s came with a 500MB hard drive.
Nowadays there are software programs that take up more than 500MB. Storage space isn't the only thing that has grown exponentially in computers. Power, and speed are also impressive now as compared to the early days of home computers.
With all these technological breakthroughs, it's extremely frustrating when your gadget is running slow. Don't fret, there could be a simple explanation. Keep reading to learn how to speed up your slow computer.
How to speed up that slow computer
Close extra tabs
If you're a Google Chrome user, the simplest fix to speeding up your computer is to close some tabs. It's super easy when you're working online to open tab after tab after tab. This can be very helpful when looking up specific things and you don't want to leave one of the sites that has tons of great information.
However, the more tabs that you have open the more of your gadget's RAM is being used. This can seriously slow down your computer.
Instead of keeping numerous tabs open, simply bookmark the pages that you want to remember. Do this by clicking the star symbol on the far left of your address bar. Then select where to save the bookmark, either in a subfolder or on the bookmark bar, which shows up under the address bar.
Check processes in use
Another thing that could be slowing you down are processes running in the background that you don't even know about. To find out what processes are running, you can open Chrome's Task Manager.
To open Chrome's Task Manager, click the 3 vertical buttons in the upper right corner. Then hover your cursor over More Tools.
You'll see a box open on your computer that shows running processes. Click on CPU found on the menu bar. This will show you processes in order of memory usage. Processes using the most memory will be on top and the list will descend to the lowest.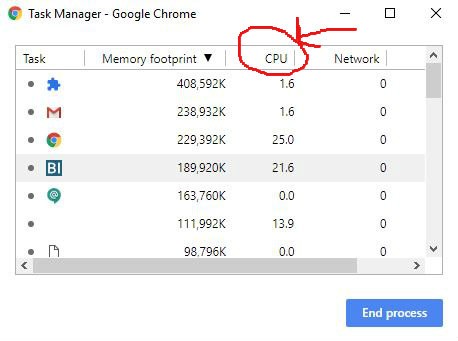 Image: Example of Task Manager.
If you have an open tab that is using an excessive amount of memory, close that tab. You might have multiple tabs open eating up tons of RAM. The more you close, the faster your computer will operate.
To close a tab or end a process from the Task Manager, simply click on the item. Then click the End process button. This will close that tab and end the process.
Stop Chrome extensions
Chrome extensions can also eat up tons of RAM. You can stop an extension by using the same process as closing a tab in the Task Manager or Activity Monitor as detailed above.
You might want to go ahead and remove any extensions that you never use. This will keep them from running in the background and slowing you down.
To remove an extension, click the 3 vertical buttons in the upper right corner. Hover your cursor over More Tools and click Extensions. This will open a page that contains all of your current extensions.
Image: Example of Chrome Extension.
Simply click Remove on any of the extensions that you don't want to keep. This will help speed up your device by freeing up more RAM.
If you do all of these things and your computer is still running slow, it might be time to add more RAM to your system. If that doesn't work it might be time for a new computer. Which isn't such a bad thing, there are great devices out there available at very reasonable prices these days.