The Facebook/Cambridge Analytica scandal is that one saga that just won't go away. It's a sticky reminder that no matter how careful you are with your online profiles, your information is still being used, catalogued, tracked, monetized and analyzed by a number of companies.
In Cambridge Analytica's case, the large data analytics firm is being accused of having pilfered the data of millions of Facebook users acquired through the third-party app/personality quiz "This is Your Digital Life."  Then, it was used to influence political campaigns and many other things we're sure.
A ton of personal information was harvested that includes your email address, birthdate, gender and public posts and likes and just about anything else in your profile.
How many Facebook users are actually affected?
The stakes seem to multiply each day it seems. From the initial 50 million Facebook profiles that were reported to be affected, Facebook itself revealed that the number may actually be higher than 87 million.
While you are reading this article, click the Play button below. You can hear Kim Komando in this special Komando on Demand podcast reveal what you don't already know about this Facebook Scandal.
Click Play below now.
Taking a look at the numbers
The breakdown of the numbers is quite revealing about Facebook's demographics. Although the affected users are spread out globally, more than 70 million are in the U.S. and more than a million are located in Philippines, Indonesia, and the U.K.
Cambridge Analytica, of course, denies this and claims that it only has the data of 30 million Facebook users.
But Facebook, ever in damage control mode these days, is not taking any chances. Starting today, the social media giant is rolling out a new security notice to its 2.2 billion users about protecting their data.
More importantly, Facebook will tell you if you're one of the 87 million Facebook users whose data has been harvested by Cambridge Analytica.
The company said that that it came up with that staggering figure by calculating the maximum number of friends a Facebook user could have.
Does Cambridge Analytica have your data? Here's how to know for sure

When you check your Facebook Newsfeed today (if you're still on Facebook, that is), keep an eye out for a notice called "Protecting Your Information," a tutorial on how to protect your data safe from third-party apps and a link to where you can remove all the apps and websites you have connected to your Facebook profile. It's way after the fact but it's there now.
This message will be pinned on top of your Newsfeed and will be available in two versions.
One version is a general message about how to protect your information and how to detect and remove apps and websites that have access to your data.
The second version is a detailed advisory about the Cambridge Analytica incident. You will get this version if Facebook thinks you are one of its 87 million users whose data has been harvested by Cambridge Analytica.
This personalized message states that the website "This is Your Digital Life" has been banned forever from the site.
It also has a link for checking if you or your friends were affected by the Cambridge Analytica's data abuse.
Remember, even if you didn't take the"This is Your Digital Life" quiz yourself, if one of your Facebook friends did, then your information was mined too.
If you received this version of the "Protecting Your Information" alert, then it's imperative that you check all your connected Facebook apps, logins and websites as soon as you can.
Do you need a refresher course on how to review and deactivate your Facebook third-party apps and websites? Here's how:
How to review and deactivate your third-party apps on Facebook:
Disabling Facebook Platform
1. Go to your Facebook Account Settings to access your Apps and Websites settings.
Desktop: Click the upside-down triangle on the top-right then click Settings >> Apps.
Mobile: Go to your profile page by tapping the "hamburger icon" (three horizontal lines) on the lower-right corner of the screen. Scroll down, tap Settings >> Account Settings >> Apps.
2. On the Apps Settings page, to disable ALL third-party app access with one click, turn off Facebook's Platform.
Desktop: Click "Edit" on the "Apps, Websites and Plugins" then choose "Disable Platform."
Mobile: Tap Platform then "Edit" on the "Apps and Websites" section. Choose "Turn Off Platform."
Disabling individual apps and services
Keep in mind that turning off Facebook's Platform will disable even the legitimate apps and services that you use. For example, if you linked your Facebook profile to login to or share with other services like Spotify, Airbnb or Twitter, you will lose that access.
To retain third-party apps that you trust, you can manually review and deactivate individual apps instead. Check for outdated apps, apps that you no longer use or apps that you don't recognize then remove them.
This will also allow you to review each third-party app's permissions and data level access. If you think an app is receiving information more than it should, then remove it by all means!
Desktop: On the same App Settings page, you'll see a list of all the third-party apps and services you have authorized. To remove an app, simply click the "x" symbol in the right-hand corner of the app.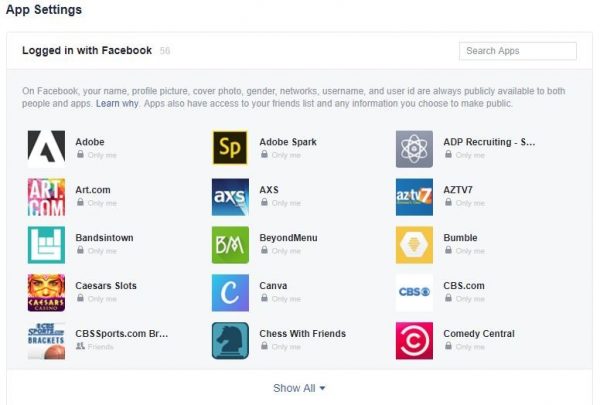 Mobile: On the same Apps and Websites page, tap "Logged in with Facebook." Here, you'll see all the apps that you've authorized. Simply select an app, scroll down then tap "Remove App."
Removing all Facebook apps and websites in one click
Facebook also rolled out a tool to remove all unwanted apps and websites in bulk. Here's how:
First, you will need to open your settings. To do that on a desktop computer, click on the upside-down triangle in the top-right corner and then guide your mouse down to hover over "Settings." Click on it.
That will open up this page, where you will want to find the "Apps" icon.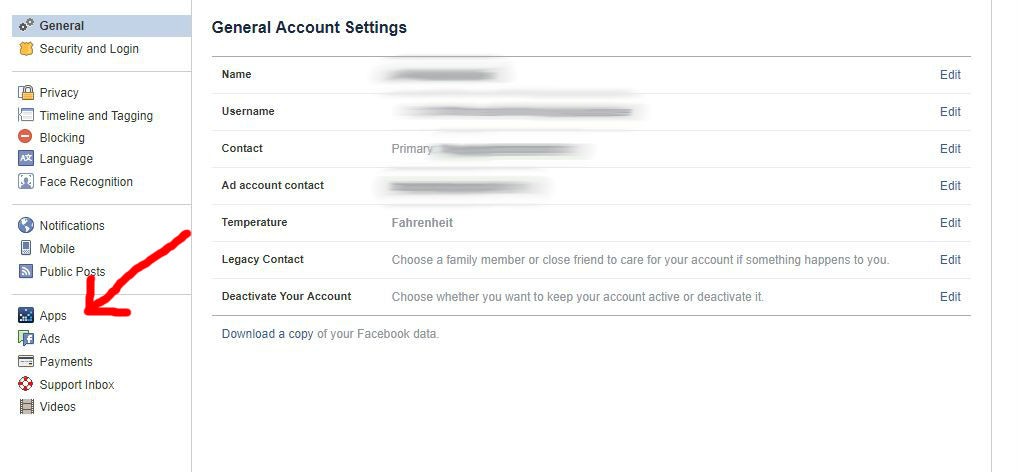 Clicking on it will open up a new page, one with a list of your apps presented with their icons. Whereas before you had to hover over each and open them individually to change settings or delete them, now there is an empty box next to the editing pencil.
Scroll up and down your page to see all the apps that are affiliated with your Facebook account, and click on the boxes for the ones you want to delete. If you are not sure about deleting them entirely, click on the pencil to edit the settings. Otherwise, go with the box.
Once you have all the apps you want to remove checked, scroll back to the top of the screen and find the blue "Remove" button. Clicking on it will lead to this:
You'll notice another box to be checked, one that asks if you'd like to, along with the app itself, also delete any posts, photos or videos the apps may have published on Facebook. If you want those gone too, check the box.
You have one final step to take before the apps will be deleted. Just click on the blue "Remove" button and voila, you did it!
More privacy changes coming to Facebook?
This notice comes on the heels of the other changes Facebook has been doing lately. These moves may sound too defensive but Facebook is understandably doing all it can to regain the trust it may have lost. This includes updates to its data policy to better inform the public about all the information it collects across all of its properties, including Messenger and Instagram.
In fact, Facebook CEO Mark Zuckerberg is also set to testify in front of at least two congressional committees this week.
He will appear in front of the Senate Judiciary and Commerce Committees on Tuesday, April 10th and then head over to the House Energy and Commerce Committee on Wednesday the 11th.on Tuesday to answer questions about his social media platform's privacy, safety, and social responsibility.
Is Mark Zuckerberg still the best man to run Facebook? Click Play to hear what Kim Komando says about that!
If you've had enough of Facebook's shenanigans and you think that's it about time to abandon the social media site for good, here's how to delete your Facebook account.
Use Facebook Messenger? You won't believe how they track you
Apparently, Facebook also screens and filters Messenger private messages. What does this all imply?
Click here to get the whole rundown why Facebook is also tracking Messenger.