Electric vehicles are more popular than ever. Americans bought nearly twice as many EVs in the first quarter of 2022 than in the first quarter of 2021. Tap or click here for five of the bestselling EVs in the U.S.
If you're in the market for an EV, you may have to wait until next year. Many are on backorder or sold out. Fortunately, more manufacturers are planning to put out new models and some are going entirely electric.
Electric vehicles date back nearly 90 years. They've risen and dipped in popularity over the years, and we're now at a high point. We've gathered five electric vehicles that have come and gone.
GM EV1 (1996-1999)
In the 90s, the California Air Resources Board (CARB) passed the Zero-Emission Vehicle (ZEV) Program. Under the mandate, large automakers had to ramp up EV production to eventually have a minimum percentage for sale in California.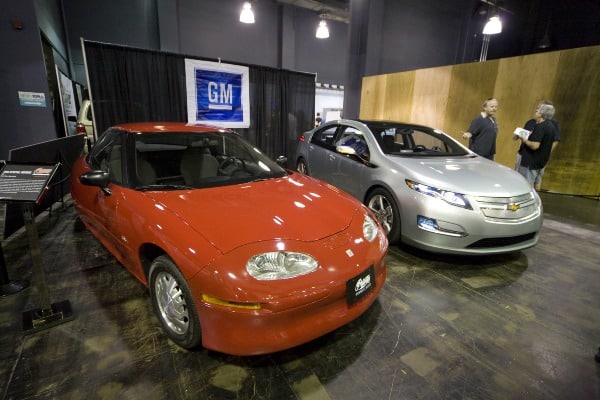 Some automakers started modifying existing vehicles, while GM did something entirely different. In 1996, GM launched the first mass-produced purpose-built EV from a major manufacturer.
The EV1 was the production version of the two-seater Impact concept car, which made waves at the 1990 LA Auto Show. It was powered by 26 lead-acid batteries for a total capacity of 16.3 kWh. The second-generation model had improved batteries with an 18.3 kWh capacity. Updates to that model packed 26.4-kWh nickel-metal-hydride (NiMH) batteries.
Cars with the lead acid battery pack had a range of 80 to 100 miles, while those with NiMH batteries could go 100 to 140 miles.
The EV1's AC induction motor sent 137 horsepower and 110 pound-feet of torque to the front wheels. It could go from zero to 60 miles per hour in about eight seconds and was limited to 80 MPH.
Just over 1,100 EV1s were produced and most were made available for lease to residents of Arizona and California. Following the termination of the leases, the cars were reclaimed by GM and destroyed, though some remain in private hands as collector items, while others were donated to museums.
RELATED: What you should know before buying an electric vehicle
Tesla Roadster (2008-2012)
Before Tesla became a household name for electric vehicles, the company produced just one model: the Roadster. This first-generation model is a far cry from the upcoming 2023 Roadster, which promises a range of over 600 miles and a 0-60 MPH acceleration time of about one second.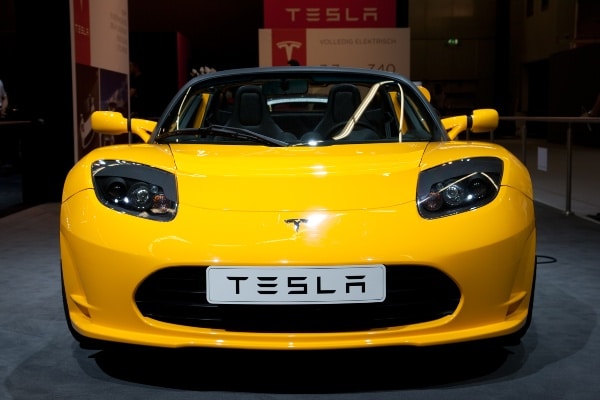 The first Tesla Roadster was based on the Lotus Elise and went through some updates during its lifetime. The Tesla Roadster 53 kWh battery pack consists of 6,831 lithium-ion batteries of the type commonly found in your laptop.
The final iteration of the Roadster was the 2.5 Sport, which produced 288 horsepower and 295 pound-feet of torque. It could hit 60 MPH from a standstill in less than four seconds. The top speed was 130 MPH. Its range topped out at 244 miles.
Tesla produced about 2,400 Roadsters in total.
The original Roadster was a proof of concept that worked. Tesla cars are among the bestselling EVs in the country. Perhaps the Roadster's biggest claim to fame is that it's the first car launched into orbit.
In 2018, SpaceX launched Musk's personal 2010 Roadster into space aboard a Falcon Heavy rocket. The payload even had its own driver: a mannequin in a spacesuit named Starman. Far out!
Combine a thirst for fuel and significant curb weight, and what do you get? The top 10 priciest cars to fuel up at the pump.
Toyota RAV4 EV (1997-2003)
Before the hybrid Prius made alternative-fuel vehicles a (profitable) reality, Toyota was experimenting with EVs. We got a taste of a Toyota EV stateside with the first-generation RAV4 EV.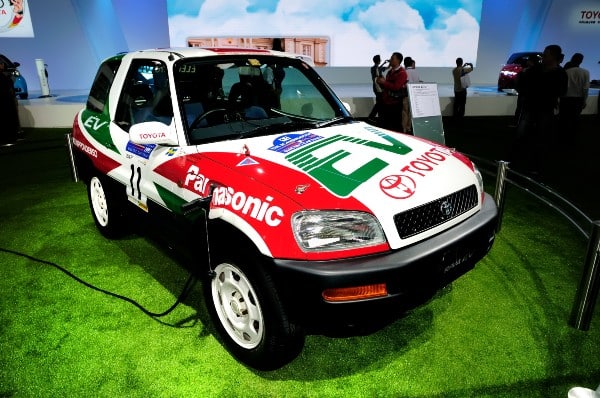 The EV replaced the RAV4's ICE drivetrain with an electric motor producing 67 horsepower and 140 pound-feet of torque. The 27 kWh NiMH battery pack made the EV good for 95 miles of range. The top speed was limited to about 80 MPH.
The RAV4 EV was initially only made available for lease to small businesses in California but eventually was available for sale to residents. A total of 1,484 were leased or sold.
A second-generation RAV4 was produced from 2012 to 2014. The updated model had improved range and performance. Its powertrain was developed in partnership with Tesla.
There's currently no RAV4 EV available in Toyota's lineup, though you can get a hybrid version.
What do you get when you take a classic car and do the same? Tap or click here to check out some awesome electric restomods.
Honda EV Plus (1997-1999)
Like many of the world's biggest carmakers, Honda needed to respond to increasingly strict emissions standards, especially if it wanted to sell cars in California, which has the country's largest market share for car sales.
Though the initial prototype was based on a three-door Civic, Honda's EV Plus was eventually given an original body, which made it costly to produce.
The front-wheel drive EV Plus's electric motor produced 66 horsepower and 203 pound-feet of torque. The 28.7 kWh NiMH battery was good for 81 miles (that number climbs to 100 with careful driving). It was a peppy little car, hitting 60 MPH from a standstill in under five seconds. The top speed was 80 MPH.
Just 325 units were produced: 300 were leased in California and the rest in Japan and Europe. The EV Plus was a test bed for Honda's FCX hydrogen fuel cell vehicles.
Chrysler TeVAN (1993-1995)
Love them or hate them, minivans started right here in the U.S. Chrysler introduced the Dodge Caravan and Plymouth Voyager in 1984. They flew off the dealer lots and it wasn't long before Chrysler began toying with an EV version.
The TEVan was the first all-electric minivan and was based on the second-generation Town and Country. The electric motor was good for sending 41 horsepower to the front wheels, and the EV topped out at 65 MPH.
Half of the electric minivans that Chrysler built used NiFe (nickel-iron) batteries which lasted for 60 miles of range, while the other half used NiMH batteries with 50 miles of range.
All 56 TEVans were sold to utility companies in the U.S. A second-generation model called the EPIC was introduced in 1997 and had improved batteries and range.
Keep reading
Five maintenance checks to do on your car every month
How to find free electric vehicle charging stations across the U.S.