Many factors can affect your computer's performance, including viruses and malware. But before you panic, check your hard drive. The closer you get to its maximum capacity, the slower your computer will run. Here's how much free space you need.
Computer components don't last forever, and this is especially true for those with moving parts. Though solid-state drives (SSDs) are becoming more commonplace, older machines and budget-priced newer computers still use the old standard hard disk drives (HDDs).
Whether you're working on a 10-year-old computer or are in the market for a new one, here's how long you can expect your HDD to last.
The study
You may not give a second thought to your hard drive, but if it fails, you can lose everything: photos, videos, work documents, notes — you name it.
Backblaze, a backup and storage company, just released its 2022 report on hard drive failure rates. The study involved 230,921 drives and included data going back three years to 2020.
There are many factors to consider here, such as how many examples of each drive there were, how long Backblaze had them, and how much use the drives saw.
Think of it like this: 20,000 examples (drive count) of one type of drive with an average age of 14 months will see more use (drive days) than 1,500 examples of another drive with an average age of 25 months.
With that being said, let's look at some highlights:
Only one drive had no failures: the 8TB Seagate (mode: ST8000NM000A). But they only had 79 of these drives in service with a low number of drive days.
The 6TB Seagate (model ST6000DX000) drive is the oldest, with an average age of 92.5 months. In 2021, it had an annualized failure rate (AFR) of just 0.11%, which worsened to 0.68% in 2022. These are still some excellent stats.
The 4TB Toshiba (model MD04ABA400V) drives have an average age of 91.3 months. In 2021, this drive had an AFR of 2.04%, which climbed to 3.13% for 2022 (including three drive failures). This is not bad, either.
The 16TB Western Digital (model WUH721816ALE6L0), had just a 0.14% AFR in 2021, which improved to 0.12% in 2022. Good stats, but keep in mind that the average age here is just 14.9 months.
The 14TB Seagate (model ST14000NM0138) had a high AFR of 4.79% in 2021, which went up to 5.7% in 2022. The average age for these drives was 24.8 months.
HGST drives, which are typically pricier and harder to find, did well. The 12TB HGST (model HUH72712ALE600) had an AFR of 0.27% in 2021 and 2022, with an average age of 38.9 months. Impressive.
Here's the three-year comparison of hard drive failure rates: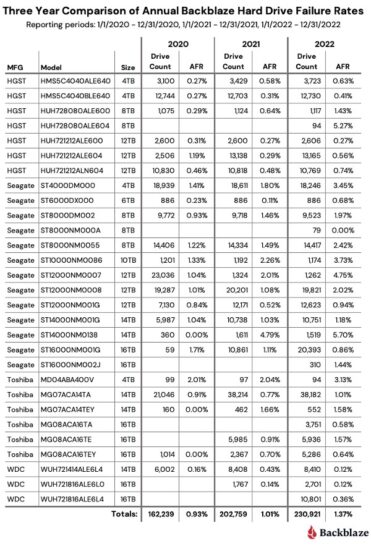 In general, hard drive failure rates increase with age. No surprise there. Overall, AFR went up from 1.01% in 2021 to 1.37% in 2022.
Life expectancy
There really is no one answer for how long your drive will last. It depends on capacity, age, use, manufacturer and the drive itself. Two examples of the same drive could have very different lifespans.
You'll also want to factor in cost-effectiveness. Seagate drives didn't do well in the study above, especially compared to Western Digital. But WD drives are, on average, more expensive than Seagate drives.
When it comes to Seagate, Backblaze states that their failure rates are not high enough to make them less cost-effective over their lifetime.
Check your hard drive
Here's how to see which hard drives you have running in your PC:
Press the Windows key + R to open the Run dialog box.
Type in msinfo32 and hit Enter.
Select Components from the left pane and then Storage.
Choose Disks and you'll find the manufacturer and model of your disk drives.
If you want a number, a Backblaze study revealed that hard drive failure rates are low over the first six years, then get progressively worse with time. But it doesn't mean your seven-year-old hard drive is trash. You just have to be more proactive about backing it up. And we have the perfect solution below.
Back everything up before it's too late
Every once in a while, the computer you rely on can fail. No, it's not the hardware or the software — it's malicious viruses or even ransomware that take over your system.
Imagine a hacker gaining access to your computer and denying you access to your data until you pay a hefty fee. Don't leave your computer unprotected. Defend your data with our sponsor IDrive.
You can manage everything from a computer, tablet or smartphone, and all your files and folders are synced in real-time. Save a whopping 90% when you sign up at IDrive.com and use the promo code "Kim" at checkout.
Keep reading
Quick tip to speed up your PC or Mac
Simple and quick guide to managing your Android device storage like a pro