We love our cars, but it isn't easy to justify the joys of driving when gas prices are still at an all-time high. We all feel the pinch at the pump, but some of us feel it more than others.
While driving habits, vehicle maintenance and weather factor into fuel efficiency, your car has the most significant impact on how many miles you'll go on a gallon. Tap or click here for the top 10 most expensive vehicles to top off.
Electric vehicles have seen a boom in popularity as drivers look for a way to avoid high fuel prices. The thing is, using a charger isn't typically free, either. Or is it? We'll show you how to find free electric vehicle chargers anywhere you go.
The EV boom
According to Kelley Blue Book, Americans bought almost twice as many electric cars in the first quarter of 2022 as they did in the same period last year. Depending on where you live, you can get money back for purchasing a new EV via state tax credits. That's on top of federal tax credits.
As electric cars become less expensive and widely available, more people are interested in buying them. Looking at current gas prices, it should be no surprise that people are putting their names down on long waitlists, hoping to secure an EV.
If you already have an EV or are considering getting one, you know that it's not exactly free to keep it on the road. Commercial chargers assess a fee, and using your charger at home will impact your energy bill.
While you can find cheaper fuel with some legwork, you'll never find a gas station giving away the stuff for free. You can, however, find free chargers for your electric car.
RELATED: Feeling pain at the pump? Check out these top 5 bestselling electric vehicles
Want free juice? There's an app for that
PlugShare is among the most popular apps for EV owners. Thanks to crowdsourcing, you can check out station ratings, add your own chargers, communicate with other EV drivers, pay for charging within the app and even connect it to your phone's navigation app.
You can filter stations by compatibility for your EV, type of plug, charging speed and network. The app boasts more than 650,000 stations worldwide.
But we're here to talk about free charging. Some hotels, car dealerships, national parks, visitor centers, colleges, museums, casinos and parking garages offer free charging.
Be sure to check out local stations funded by the city or state. You can find free charging stations by toggling off the Show Locations That Require Payment filter under Location Filters in the PlugShare app.
There's also a custom map showing free EV charging stations at plugshare.com/map/free-ev-stations. Much of the information is provided by drivers who use the app and update its status. Charging station policies can change, so use the latest reviews and check-ins for better accuracy.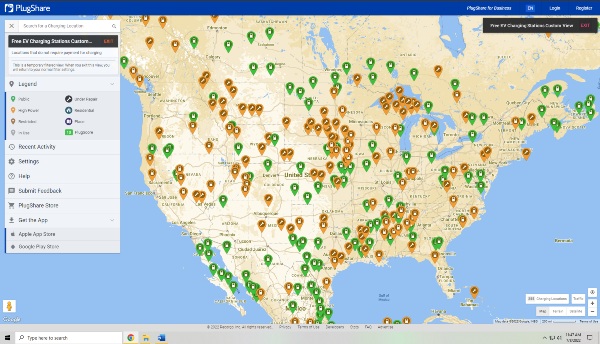 PlugShare is free to use with ads, and you can unlock the ad-free version for a dollar. Get the free app for iOS or Android.
Keep reading
Don't fall for these gas scams at the pump