Kids are often more intelligent than we realize. And their advanced knowledge of technology makes it easy for them to hide things from you. Tap or click here to see how kids are getting around parental controls.
Even though many teens think they are mature enough to know what's right, they don't. And as a parent, keeping them safe is your number one job.
If you're worried that your children or a loved one's children are taking drugs, there is a clever way to find out. Read on to see how certain emojis signify drug use.
Here's the backstory
Innocent fun is one thing, but hiding a dangerous drug habit behind emojis is different. It is reasonable to assume that most adults know emojis are used instead of words in some messages. For example, the flames emoji shows something looks hot or good. In the same way, the goat emoji means "Greatest Of All Time."
But it has become more common among kids to use emojis to represent drug use or other illegal activities. So, the Drug Enforcement Administration (DEA) recently released an emoji drug code guide to help you with what your youngsters might be typing.
Some hidden emoji usage is obvious, like the snowflake meaning cocaine (which is sometimes referred to as "snow") or the diamond emoji to mean crystal meth. But, according to the Emoji Decoder, some could be harder to recognize.
For example, the letter A and a train often mean Adderall, and a cookie could mean a large batch. A baby bottle or purple grapes can signify addictive cough syrup.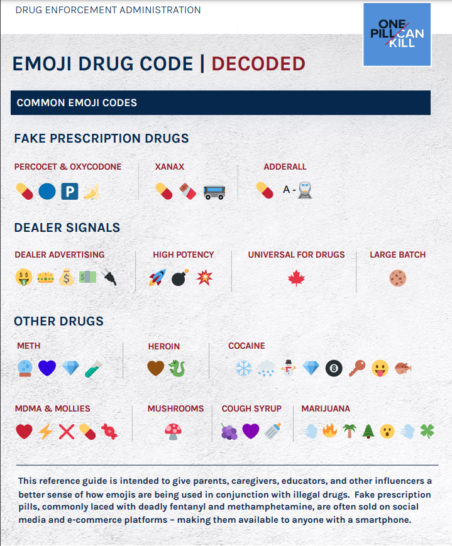 What you can do about it
There is a fine line between snooping on your child's communications and being cautious about their activities. But there are ways in which you and your kids can stay safe.
First, as the DEA explains, it is essential to note that the use of emojis doesn't always indicate that kids are using drugs. Instead, it should be "coupled with a change in behavior, appearance or significant loss of money."
An excellent resource is the DEA's Get Smart About Drugs website and its One Pill Can Kill campaign.
Another smart choice for parents is Kim's technology contract for kids. It's an easy-to-read contract between you and your children that ensures they remain safe online.
Keep reading
This massive Facebook security flaw put children at risk
3 apps used by predators to groom children — remove them now