Maybe you've wanted to cut the cord and stop wasting money on cable for quite some time but you didn't know where to begin. The very first step is finding the right antenna. These devices are a one-time cost that can give you access to all your favorite local channels.
Antennas have come quite a long way since the metal bunny ears we used to attach to our television sets. There are several sleek, discreet designs that fit different needs. Here are some of the best indoor models from Amazon.com.
ClearStream Eclipse Indoor HDTV Antenna
With a customer rating of 4.3 out of 5 stars and based on over 2,000 reviews, this is arguably the best indoor antenna. It grips to your wall or window for an easy install, has a 35-mile range, and receives a signal from every direction. Not only is it reversible (black or white), but you can also paint it to match your home's decor. Buy it from Amazon for $59.99.
Winegard Antennas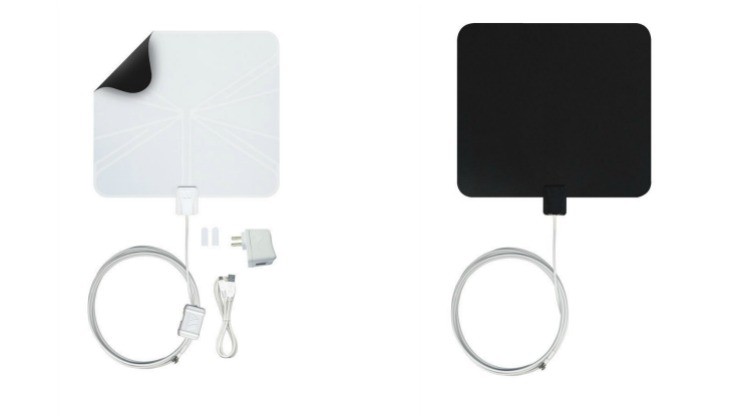 Winegard makes several antenna models for indoor or outdoor use. The two models pictured above are sleek, reversible designs that will fit discreetly behind your TV or against your window.
The one on the left is the FlatWave Amped FL5500A Digital HD Indoor Amplified TV Antenna. It has a huge 50-mile range that can receive a signal from any direction. It can provide a 4K Ultra HD picture and it can be plugged into a USB port or a wall outlet. Plus, the built-in amplifier has a low sound that's less noisy in comparison to other antennas. Buy it from Amazon for $54.99.
The more affordable option is the FlatWave FL-5000 Digital Indoor HDTV Antenna (right side). It looks very similar but the range is up to 35 miles. It has a 15-foot connection cable and provides an HD picture quality. You can buy this one from Amazon right now for $29.99.
Cable Cutter Metro Indoor/Outdoor HD Digital TV Antenna
The cool part about this antenna by HDFrequency is its versatility. If you mount it inside and find that your reception isn't up to par, mount it outside for a better picture. It has a durable metal frame that's light enough to mount to your window but strong enough to withstand the elements if mounted outside. It has up to a 25-mile range and provides an HD picture. You can buy it right now from Amazon.com for $33.80.
FLATenna Ultra-thin Indoor TV Antenna
With solid 4.0 customer star rating and a price of only $10.00, this antenna by Channel Master may be the biggest bang for your buck. Like several other antennas on this list, it has a razor-thin design that easily mounts to your wall or window. It receives clear HD and digital programming from every direction and from up to 35 miles away. Click here to buy it from Amazon.com.
Mohu Antennas
Before he started creating commercial antennas for the public, the founder of Mohu developed antennas for military vehicles. Mohu sells several highly-rated antennas, accessories and bundle packages.
If you don't live in an area with good reception then the Curve 50 TV Antenna (top photo in the collage above) is the right Mohu model for you. It's not reversible but it does have a whopping 50-mile range. It can lay down or stand upright near your TV or you can mount it to the wall. The connection cable is 16 feet long and it provides a 1080 HD picture. You can buy it from Amazon for $79.95.
The Leaf 30 TV Antenna (bottom right corner of the photo above) is a great option if you prefer the sleek, reversible models that mount to your window or behind your flat screen. It has a 30-mile range, delivers a 1080 HD picture, and you can paint it to match the color of your TV room's wall. Get this paper-thin antenna from Amazon.com for just $32.25.
If you want a device that's easy to hide then you'll want to purchase the MLeaf Metro TV Antenna (bottom right corner of the photo above). It's the smallest, most discreet device they sell so it will fit in tight spaces. It has a 25-mile range and comes with a 10-foot connection cord. It's also multi-directional and reversible. Buy it from Amazon.com for only $19.99.
P.S. After you get your antenna, the next step to cutting the cord is finding the streaming service that's right for you. Click here to compare live TV streaming options from Sling TV, Hulu with Live TV, and YouTube TV.
More from Happening Now
Get your Amazon order in under 2 minutes! Here's how
This is the very first picture of a solar eclipse
iPhone 8 will have facial recognition features you won't believe