Adverse weather conditions could cause power outages or broadcast interruptions, keeping vital information from flowing to those who need it most. This could put millions of people in danger when major storms hit.
That's why you need to be prepared for anything. Read on for simple ways to keep getting life-saving information even if there is a power outage.
Staying ahead of the weather
It is always a good idea to stay updated with the latest weather alerts and advisories no matter where you are. Luckily, a few excellent sources will keep you abreast of what is happening around the country.
RELATED: Track the weather with this powerful, free live map
Apple's built-in weather app
iOS users have a nifty weather app built into their devices. If you don't know where to find it on your iPhone, open the Apple App Store and search weather. The Weather app will appear in the results. Tap Open, and you're in.
The app provides all the information you need for a specific city, but it has a few neat tricks. For example, below the 10-day forecast and air quality, a temperature map displays your location and the surrounding area. When you tap on it, the map opens to become interactive.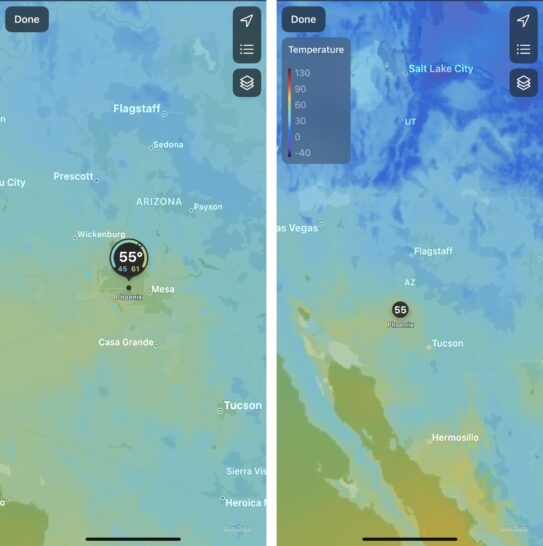 You can move around to get a larger view of your state. To see the real-time temperature of a different city, tap and hold the map until the information bubble appears. You can then view the forecast for that city.
Any weather warnings will show on the main screen of your preferred city. Tapping on it will take you to weather.com.
You might also notice the tiny white dot in the day's temperature scale. That hidden detail shows you where the current temperature falls for that day. Tap or click here for more information on the secret dot.
AccuWeather app
Android users cannot access native iOS apps, but they can get the latest weather updates with AccuWeather. The app is free and features many options to keep you informed. For example, the live weather forecast includes minute-by-minute updates for your city.
In addition, AccuWeather can alert you to any adverse conditions coming your way. If you have an iPhone, you can also check out the app. Get AccuWeather for iOS here. Or download the app for Android here.
Relevant to current winter storms, AccuWeather's WinterCast gives you advanced warnings of snowfall probabilities and accumulation. In addition, the app incorporates RealFeel and RealFeel Shade Temperature technology to know what the temperature will be like.
You may also like: Worried about storm damage? New phone alert will warn you of 'destructive' weather