Are you a work-from-home warrior? Even if you're just somebody on vacation needing a stable Wi-Fi connection, being disconnected is no good. What can you do when you need to access the internet and can't find Wi-Fi nearby?
Free Wi-Fi isn't always safe, and even the best Wi-Fi finders out there won't always be able to help you skirt a connection that's not secure. However, even unprotected Wi-Fi networks may be a viable resource with the right VPN on your system.
Read on to take advantage of our favorite new way to ensure there's always a strong signal no matter where you are.
How to use WiFi Map safely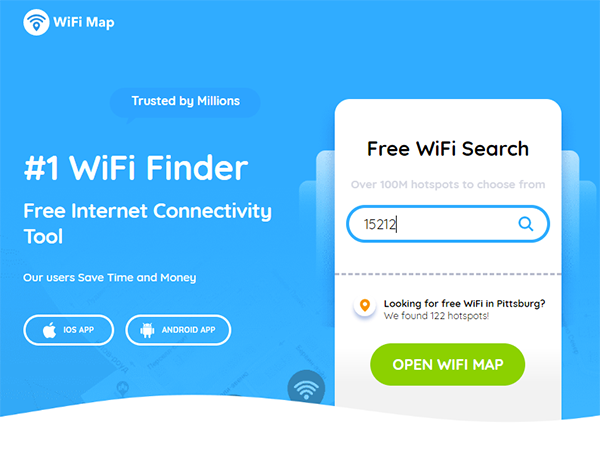 This free Wi-Fi finder is one of the easiest ways to stay online anywhere. All you have to do is visit the site's homepage (ideally, before embarking on your excursion!) and plug in your ZIP code or the city or area you'll be visiting. After doing so, hit the big, green OPEN WIFI MAP button.
You'll be shown a long list of Wi-Fi options in seconds, everything from the guest Wi-Fi at the nearest train station to your friendly neighborhood Coinstar machine, including the exact network names.
You can also download the free WiFi Map tool as an app for iOS and Android.
However, the options you can access through the desktop app will be limited to the first 20 results. You'll need to search for Wi-Fi through the mobile app for the complete list.
RELATED: Security tip: Next time you stay at a hotel, turn on your VPN
Once you find Wi-Fi, we strongly suggest switching on your VPN before connecting to the network. (More on our VPN of choice later.) This goes doubly for those on vacation or traveling for business. You'll never be a victim with the right tools and safeguards in place.
WiFi Map app features of note
One of the most exciting features of the Wifi Map app is its cellular data tracker. It automatically logs every byte of data saved through this service and the cash you'll save on your phone bill at the end of the month. 
The brand's mission is to minimize cellular data usage, and you can track your progress through the app's neat little graph. This feature also counts the number of Wi-Fi connections made possible through its use, which is pretty interesting to watch as they stack up.
You can save your most-used locations to an offline map, allowing you to dial in while in a familiar place. You'll be able to access repeat destinations on an interactive map, saving valuable cellular data even when exploring a new city.
This is a must: Always connect to public Wi-Fi with a VPN!
Whether you're in a foreign country or simply scoping out a new coffee shop to get some work done, WiFi Map is one of the easiest ways to find reliable Wi-Fi. After finding the right VPN software to protect yourself, the world truly becomes your oyster.
When connected to public Wi-Fi, you risk being spied on and having vital information stolen by cybercriminals. They troll public Wi-Fi networks looking for unsecured connections. That's why a VPN is an absolute must! We recommend our sponsor, ExpressVPN.
An ExpressVPN subscription comes with easy-to-install apps for all of your devices. You can protect your PC, Mac, iPhone, Android and more.
Get the only VPN service that Kim uses on all your digital devices today: ExpressVPN. Get three months free when you sign up for one year at ExpressVPN.com/Kim.
You may also like: Don't want your ISP or Big Tech seeing what you look up? Do this