MacOS Catalina brings a host of new features to Apple computers everywhere. Interestingly, what's attracting the most attention isn't what Apple's added, but what it's taking away.
A long-running piece of software has been removed from MacOS after nearly two decades of use. This program was critical for setting up iPhones and iPads, but now it's been split up into three new programs that make its features more easy to manage.
If you're on a Mac right now and want to make the jump to Catalina, here's what this major software split means for you. Plus, we'll show you some of the best new features in MacOS and how to make the most of them.
R.I.P. iTunes (2001-2019)
iTunes has long been a part of MacOS, but in recent years the software had been criticized for becoming overly bloated. Not only did it hold your entire music library, it also stored your movies, TV shows, podcasts and apps. Unfortunately, it was also notorious for slowing down computers whenever it was open.
Now, Apple has made the decision to put iTunes to rest. In MacOS Catalina, Apple has split the software into three new programs called "Music," "Podcasts" and "TV," which are designed to house all of your media.
According to Apple, you won't lose anything that was previously stored in iTunes. And by splitting your media files between the three programs, Apple has plenty of opportunity to sell you on their latest subscription packages like Apple Music or Apple TV +, which are heavily promoted across each app.
Related: How to get Apple Music for free
Music, Podcasts and TV are simple enough to use, and if you're already familiar with iTunes, you won't face too much trouble adapting. The main point of confusion for many seems to be the fact that all videos are stored in the TV app — including movies. That aside, you still have the ability to organize your libraries, purchase individual songs or movies, and sync with your devices via the cloud or a wired connection with Finder.
And yes, your iTunes gift cards and credit will still apply across all three apps.
Your computer will benefit from the split, too. Each of the three programs uses less RAM on their own than iTunes did, which prevents your system from slowing down when running them alongside other apps.
More from MacOS
The death of iTunes isn't the only thing new about MacOS Catalina. Apple has loaded the update with several new features that bring the computer operating system even closer to its mobile cousin, iOS.
iPhone apps are now available to run on Mac, which gives users access to tons of new software previously incompatible with their computers. Now, iPhone apps can be used with your keyboard for easy typing or put side-by-side with your web browser for true multitasking you can't get on a phone.
You can also get access to acclaimed iPhone games on your Mac with Apple Arcade for $4.99 per month. The system is designed for cross-platform use, so you can start playing Mario Kart on your phone and pick right up where you left off on your Mac.
Your iPad can now function as a second screen, thanks to a new feature called Sidecar. This allows your computer to create a Bluetooth connection with your tablet for a wire-free dual-monitor setup. It supports Apple Pencil, as well, and works alongside compatible apps like Photoshop when the window is moved to the touch-sensitive iPad.
MacOS Catalina introduces Voice Control, but it's different than what you're used to seeing with Siri. Voice control is used to navigate your Mac hands free and allows you to open apps, dictate-to-type, zoom into the screen and drag icons as you would with a mouse.
To enable Voice Control, open the System Preferences app, then select Accessibility. Click on Voice Control in the sidebar and select Enable Voice Control to activate. You can follow the same instructions to disable the feature if you no longer need it.
How to get MacOS Catalina on your Mac
Apple makes its latest update easy to download. Simply click the Apple icon in the upper left corner of your screen and select About this Mac.
Then, select Software Update to visit to the MacOS Catalina download page. Your Mac will guide you through the rest of the process once you begin the download.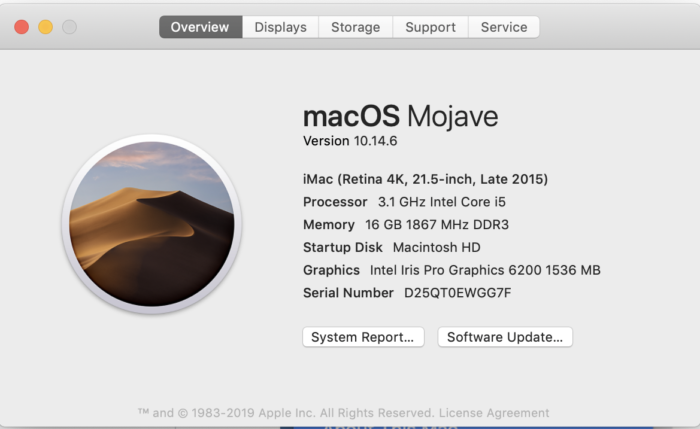 Want more for your Mac?
Apple lover? We want to give you just the tips you'll use. Tap or click here to sign up for Kim's weekly Apple Updates newsletter for news, tips and tricks, and the coolest new apps.