Have you ever "Googled" an answer to a question so obscure or specific that even Google's search results can't pin down a satisfactory answer?
Maybe it's a question about a unique situation, a personal experience, a specific health issue, a niche hobby – whatever it is, sometimes even the mighty Google search algorithms can fail you.
If this is the case, there are plenty of other sites you can check in your hunt for answers. Of course, you can always hit your Facebook friends first or throw out a tweet, and hope that someone you know may actually know a thing or two about your query.
But when Google, your friends, and social media fail to answer your fantastic questions, you might want to tap the power of the community "hive mind." Here are several Q-and-A sites you can utilize now when Google is just not cutting it and you need real people to help you out.
1. Komando Message Boards
Before you try any of the other sites I'm about to mention, there's one important thing to keep in mind. Because these sites are open forums, there's no telling who it is that's answering your questions. It could be anyone online who's shared a similar experience, or has taken a few courses on a particular subject.
For some things, that's fine. In a way, it's the online version of neighbors exchanging recipes or housekeeping tidbits. But for some things, getting advice from just anyone doesn't cut it. And one of those things is technology.
That's why you need to be sure to sign up for Kim's Club so you'll always have access to my members-only message boards. Here, your tech questions are answered by experienced experts who know what they're talking about.
Having trouble with Windows 10? Does your computer keep crashing? These are the types of questions that Kim's Club members receive help with every day in my private message boards. And that's just one reason to sign up. Click here to see more than 20 perks that come with your Kim's Club Membership.
2. Quora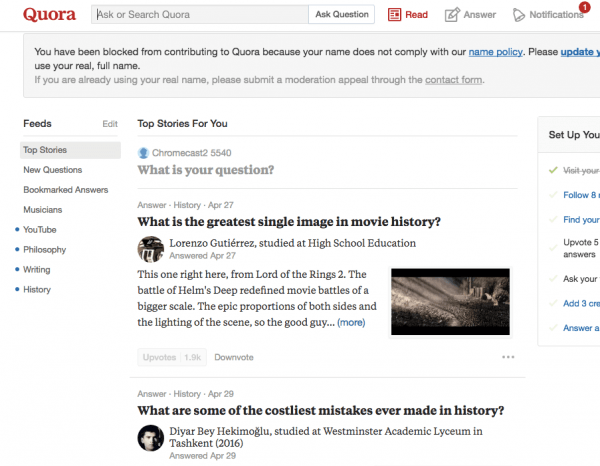 Quora is, by far, the most widely used and arguably the best question-and-answer website around. It covers virtually anything under the sun – from history to technology to current events.
You can submit your own questions and more than likely, due to Quora's massive user base, someone knowledgeable about the topic will answer your query sooner or later. You can then likewise upvote or downvote answers based on how helpful or informative they are. On the flipside, you can also answer other people's questions and have Quora users judge your answers.
Since Quora is highly curated and moderated, answers tend to be more consistently reliable and of a higher quality than other similar sites.
You will need to link your Google, Facebook or email account to use Quora. (Real names and identities are encouraged to prevent abuse.) After creating a Quora account, it will ask for your fields of interests so it can customize your feed with questions you may find interesting.
If you don't have any pressing questions that need to be answered, browsing through Quora's feeds is also a great way to pick up trivia and random facts that you wouldn't have known otherwise. Additionally, you can follow questions to receive notifications about answers submitted down the road.
 3. Answers.com
Answers.com is another popular crowdsourced site that offers wiki-style community answers to all sorts of questions you may have.
It's simple enough to use – type a question on the "Ask us anything" bar then press "Go." If your question has already been asked on the site, you will be taken directly to the question's page. If not, you can then submit your question and assign it to a category so others can easily pick it up.
The main motivation for Answers.com users for giving accurate and reliable answers is the "Confidence Vote," similar to other Q-and-A sites' upvote. The more users think that your answers are helpful, the more "Confidence Votes" you gain – the higher this number is, the better.
Answers.com does not require an account to ask or answer a community question but it is recommended that you create one for a personalized experience.
4. Just Answer
This next website takes the professional and specialized field approach. Just Answer claims that unlike other Q-and-A sites, which allow anyone to respond, only verified and licensed experts offer advice on their site.
Experts include doctors, lawyers, plumbers, mechanics, vets and thousands of other specialists.
Basically, all it takes is to navigate to the Just Answer website, choose a specialist type then submit a question. The site claims that a new question is answered every nine seconds and experts usually respond in minutes.
However, unlike other free Q-and-A sites, Just Answer requires a money deposit amount depending on the expert. If you're 100 percent satisfied with the answer, then you'll pay that required amount.
Just Answer said that this compensation method is entirely based on an honor system. It's up to you to decide if an expert's answer is good enough to deserve the payment.
5. Reddit
Reddit is the self-proclaimed "front page of the internet." Although more of an avenue for online discussion and not necessarily a Q-and-A website, registered users can submit questions and the robust Reddit community will typically reply.
Reddit is also a great resource for online trends, news and opinions that infinitely cover a broad range of topics (dubbed subreddits).
6. More sites you can try
Here are other lesser known sites you can try if you're stumped with a question:
And, of course, if it's all about navigating today's digital and tech lifestyle, you can ask Kim a question by filling out this form.
But please keep in mind that due to the tremendous volume of messages, personal replies are impossible. Kim will try her best to answer your questions through our free email newsletters and on the show.
More must-read tips:
5 best sites for finding deals on a flight
Warning: Your phone tracks everywhere you have been