A motor vehicle is filled with incredibly complex technology that can be at your convenience in many ways. If you're driving, you don't need to pick up your phone to make a call; most cars have a phone connect feature that allows you to make calls hands free.
Many cars have touch-to-start ignitions, so you don't need to manually turn a key.
With built-in GPS systems, cars can even help get you from point a to point b.
The only problem with this technology is all of the information your car collects from you.
What you listen to, where you travel frequently, where you eat…the number of data collection possibilities is endless.
Is your car spying on you?
A new feature being implemented in many cars is the use of video cameras, which will be a new mechanism to collect more data. Video cameras in vehicles can be both a blessing and a curse.
There are many reasons cars use cameras, especially on the outside of the vehicle. Some provide blindspot assistance and some help give a better view when you back into parking spaces. For even more complex vehicles such as ones made by Tesla, cameras help the cars drive.
Some companies, like Volvo and Subaru, are starting to put cameras inside cars.
However, with all of this footage being created, you need to ask, "Why is all of this being recorded and how can I protect myself?"
Know your rights
Every car company is legally obligated to provide its privacy policies to all consumers and they are easy to find. Companies' privacy policies are typically provided in a link at the very bottom of its home webpage.
Within these policies, you will find all the rights you have in regard to information being obtained including video footage. A company like Toyota, for example, has a full section for connected services privacy and protection. This portion of its website provides a link to learn more about your rights and teaches you how to opt-out of data sharing.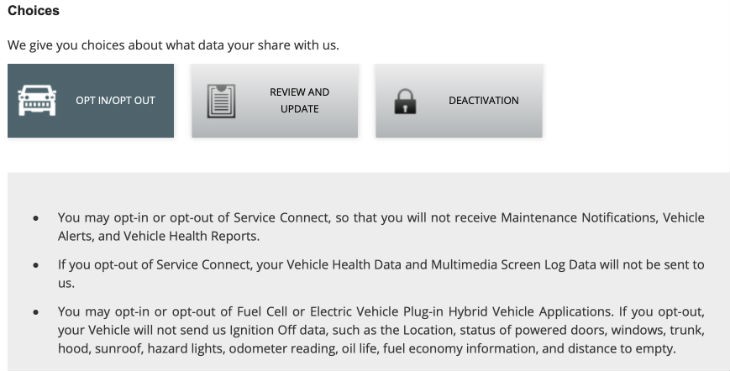 The opt-out is a vital action that can be taken to ensure the privacy of your information.
Turn the car cameras off to protect your privacy
Turning the cameras off is the simplest thing you could do to make sure your information is protected. Although there are a number of cameras being used outside of the vehicle, turning cameras off would be more ideal for cars that have recording devices inside.
There's a plethora of reasons why companies are beginning to put cameras inside cars. Some cameras use AI technology to determine your mood or even if you're intoxicated.
Elon Musk, the founder of Tesla, explained the company puts camera about the rearview mirror for driver safety and protection.
It's there for when we start competing with Uber/Lyft & people allow their car to earn money for them as part of the Tesla shared autonomy fleet. In case someone messes up your car, you can check the video.

— Elon Musk (@elonmusk) April 5, 2019
Despite whatever good intention companies may have, these cameras capture your facial expressions and activities that go on in your car. Often times, this footage is provided to the manufacturers.
In Tesla's case, in order to cut the video feed, all you need to do is slide the blind over the lens. Most other car manufacturers give you the option to disable cameras on the touch screen display.
From the main menu, navigate to the system set up to the camera set up.
Reset the car database
Resetting all the technology in your vehicle that could store information is imperative to secure privacy. Performing a reset is especially important if you are trying to sell a vehicle. If your car is sold before you have the technology reset, all the stored information will be going to the new owner.
Resetting computers in your car can be complex and difficult to do if you are not vehicle savvy. Although it may cost some money, taking your car to an auto body shop or dealership will be the easiest way for you to do a reset.
A full computer library in your car can present a serious danger and erasing the memory is a necessity. What you listen to, where you go and who you speak with is intimate and private. This important information is your business and yours alone.
When dealing with high-tech equipment, such as car cameras, it should be one of your top priorities to learn the best ways to protect yourself from any privacy threats that may present themselves.
Video cameras in and outside your car can be a great deal of help, but you must know the situations this technology can cause if they aren't used properly.