Wi-Fi is a vital component of our lives, especially now that many are quarantined in response to Covid-19. We are shopping, working, and even socializing online more than ever, and we depend on a reliable wireless signal. But have you ever found yourself racing through your office or home with your laptop chasing down a decent Wi-Fi connection?
Unfortunately, sometimes a Wi-Fi signal is spotty or weak. If you've set up your workstation and are ready to start a Zoom meeting and the signal dies it can be incredibly frustrating. Tap or click here for simple solutions to fix slow Wi-Fi.
But there is a new tool that will help survey your Wi-Fi signal to find the strongest connection and troubleshoot problem areas. This software can help with your Wi-Fi problems. Keep reading to find out how it works.
Find out what's wrong with your Wi-Fi
The software is called NetSpot, and it offers a host of solutions to diagnose and fix Wi-Fi issues. Fortunately, the free version of this app is ordinarily sufficient for the average Wi-Fi user.
NetSpot will help you to map the Wi-Fi signal in the space where you are using it. It will survey and analyze the connection and help you troubleshoot problem areas. It is available for Mac and PC, and as an app for your mobile device.
To download the software to your PC:
Go to NetSpotApp.com
Click the button that says Get NetSpot
Scroll down to NetSpot FREE Edition and click Download now
Click Save File to start the download to your PC
For Mac:
Go to NetSpotApp.com
Click the button that says Get NetSpot
Scroll down to NetSpot FREE Edition and click Download now
Scroll down to the sections that says NetSpot for Mac
Click the Download button and save the program to your Mac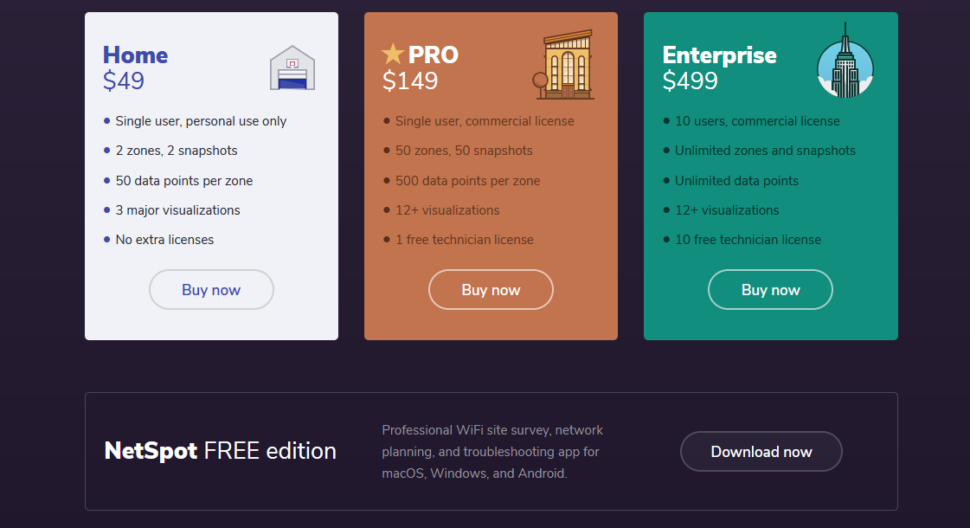 How to use NetSpot
Once you download NetSpot you're ready to survey your Wi-Fi. There are two ways for you to uses to do this in the program.
If you only need to diagnose the signal strength in a single area of your home or office, use Discover mode. Open NetSpot and toggle the selection from Survey to Discover. The program will give you a quick assessment of your current location and the strength of every wireless network available in that spot.
If you want to look at the Wi-Fi connection in a larger area, in your office building for example, you will want to do a full site survey. To do this there are a few more steps.
Toggle the slider back to Survey mode if you've moved it to Discover. Next upload a map of your site that is appropriately scaled. You can use NetSpot's map drawing tool to help you do this.
After you have uploaded your site map scroll down to the drop-down list at the bottom. There are several selections to choose which will give you your survey of connection strength in the form of a heat map.
Click Signal Level to get a snapshot of the signal level in each part of the map you have drawn. Red and yellow areas indicate a strong signal, blue and purple areas show where the signal is weakest.
Scroll to the next selection on the drop-down list to choose the Signal-to-noise ratio heat map. This option will show you where other signals may be interfering with the Wi-Fi connection, even if the Wi-Fi is strong in that particular area. Cell phones, microwaves, and other devices can diminish Wi-Fi strength.
Drop down to the next selection to choose the Signal-to-interference ratio. Other Wi-Fi networks may be crowding out the signal of your preferred connection, and this selection will show you if other networks are slowing yours down.
You can also get NetSpot for your Apple or Android mobile devices. The app is available in both Apple's App Store and the Google Play Store.
Now that you know the source of your Wi-Fi woes you can work to correct the issue. NetSpot will also give you recommended actions to try to fix any problems. It's free, easy, and much more efficient than running around your house with your laptop searching for the Wi-Fi sweet spot!