Your computer is a temple, and you should never download anything suspicious or open an unsolicited file from somebody unfamiliar. Tap or click here for five mistakes to avoid when downloading files.
Don't believe us? There are millions of horror stories you'll find online. Hidden malware, hackers, and phishers are all after your data and bank accounts. But what can you do when you need to visit a website and aren't sure if it's safe?
We've found an online tool to check websites and files for digital threats before opening them. Keep reading to find out how to use it.
Can VirusTotal protect your computer from malware?
It can, and it's straightforward to use. VirusTotal is a scanner that can be used on local files and anything you find online. Plug in a site's URL to know whether it's safe to visit instantly.
VirusTotal inspects items with over 70 antivirus scanners and URL/domain blocklisting services and tools to extract signals from the studied content. You can select a file from your computer using a browser and send it to VirusTotal.
The site offers several file submission methods, including the primary public web interface, desktop uploaders, browser extensions and a programmatic API.
Upon first inspection, the in-browser UI is highly straightforward and approachable. You have three options: uploading a File, using a URL, or VirusTotal's Search feature. Click on the tab that sounds most relevant to your needs, and follow the prompts to analyze.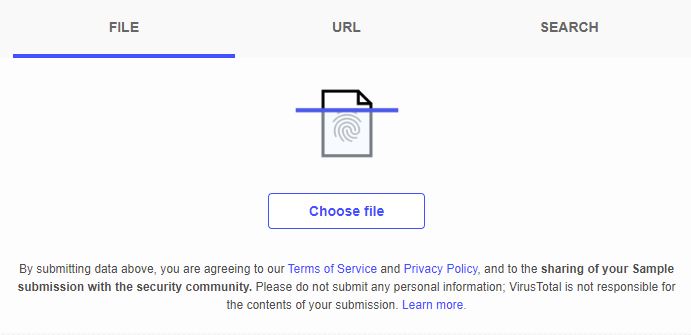 After adding a URL or file you're interested in, give the site a few minutes. You'll be presented with an insanely long list of standards and types of malware, complete with a column warning you if anything terrible has been detected.
There are a few other tabs depicting the properties of your file. Everything from MD5 and TLSH to more common information like the file type and size.
This tool is highly versatile, allowing for various tasks and approaches. You can use a file's hash to locate it or even search for possible exploits through its API.
VirusTotal Search
Uploading local files and using a site's URL are pretty self-explanatory functions. The third option, searching for files to scan, might not be. What's the deal?
Essentially, VirusTotal search is a tool that can be used to analyze and audit files on websites and entire domains. A simple search using a website's URL will yield a surprisingly comprehensive report with many other details.
Everything from the website's server type to meta descriptions and access control points will be presented through your browser window.
This tool lets you play investigator, learning more about any website that excites or intrigues you. It's an excellent tool for students learning computer science and anyone with a genuine interest in how the internet and its many pages work.
Anything you plug into this online tool can later be translated into graphs, which is great for visualizing the situation in front of you. The complex stream of incoming data is commodified into something anybody can read and understand.
How to protect your computer against malware
Never trust a file that gives you a funny feeling. VirusTotal allows you to confirm your worst suspicions or, at the very least, rule them out quickly. It's free to use, so don't take our word for it. Try it out on any file on your computer or website before visiting.
But for ultimate protection, you should have an antivirus program on all your devices. We recommend our sponsor, TotalAV.
Get an annual plan of TotalAV Internet Security for only $19 at ProtectWithKim.com. That's over 85% off the regular price!