Smart assistants like Amazon's Alexa or Google Home are indispensable at completing tasks with little effort on the part of us humans. They can make the mundane more fun and the onerous a little easier.
How adept are these assistants at taking care of your laundry list of tasks? With the correct voice commands and connected devices, you can order up food, check the weather, find recipes or play your favorite tunes. Of course, that's just a small sample of what your smart assistant can do.
While it's fantastic these devices can accomplish virtually any undertaking with a simple request from its user, you can make your smart assistant even smarter and capable of handling a host of tasks at one time by setting up routines for your device. Let's take a closer look at what routines are, how they work and how to set them up.
What are routines and how do they work?
Routines are a smart assistant feature that triggers your device to complete a range of tasks upon a single word or phrase request you have designated within your app's settings.
For example, instead of stating multiple commands to your smart assistant for individual tasks such as "turn off the kitchen light" or "set the thermostat to 70," you will only be required to give a single instruction for a group of tasks.
Statements like "Good morning" or "I'm leaving" can be assigned to trigger your smart assistant to complete any combination of actions such as turning on or off the lights, playing music, or reading your messages. The combinations of actions are virtually endless depending on what compatible devices you have connected to your smart assistant.
To utilize Amazon's Alexa routines for a smart home, you need one of Amazon's Echo devices such as the Echo, Echo Dot, Echo Show 5, Echo Plus, or the recent addition, Echo Spot.
If you are an Android fan, your Google Assistant will work with smart products like Google Home, Home Mini and Max.
Related: 13 Alexa skills that you'll use time and time again
Regardless of which smart device family you choose to use, there is a world of compatible lightbulbs, outlets, appliances and other gadgets to connect to your smart assistant. In addition, there are third-party products with Alexa built-in such as the Insignia 43-inch 4K Fire TV and LG Instaview Smart Fridge.
If you do not have a smart home device or want to perform actions on your smartphone, you can use Apple's Siri or Android's Google Assistant to help you out.
How to set up routines?
(Note: The following instructions may vary depending on your smartphone's manufacturer, model and operating system.)
To set up routines for Amazon's Alexa to perform actions on other connected home devices or your smartphone, the easiest method is through the Alexa app on your mobile device.
First, you need to install from either the Google Play Store (Android) or App Store (Apple) and log in to the app. Click the three-line menu and choose Routines, then Create Routine.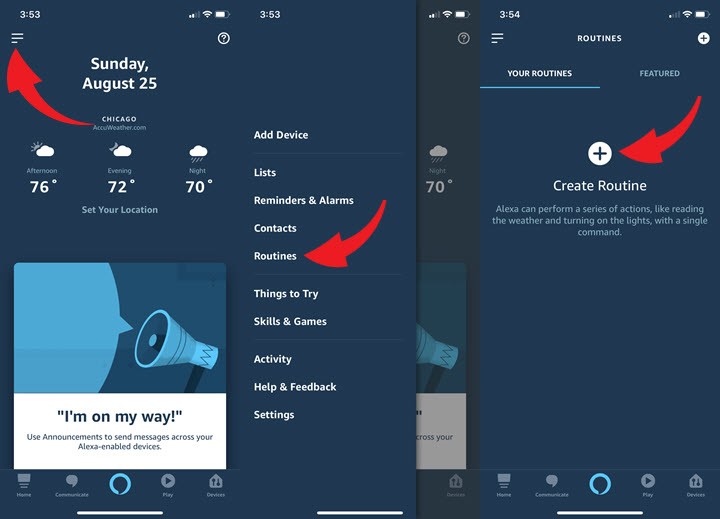 Tap on "When this happens" and click on which type of option (voice, schedule, device, location, alarm, echo button) you want to trigger the action.
For example: if you want Alexa to perform several tasks upon one voice command, click Voice. Type in your command and click Next to add the actions you want Alexa to complete.
Click on Add action, choose the task and tap on Next when finished.
After adding the first action you can edit the routine to identify which device will perform the activities.
From the Edit Routine screen click on From, choose your device and the app will return you back to the previous screen. Clicking the three-dot menu in the upper right corner will allow you to play or delete the routine.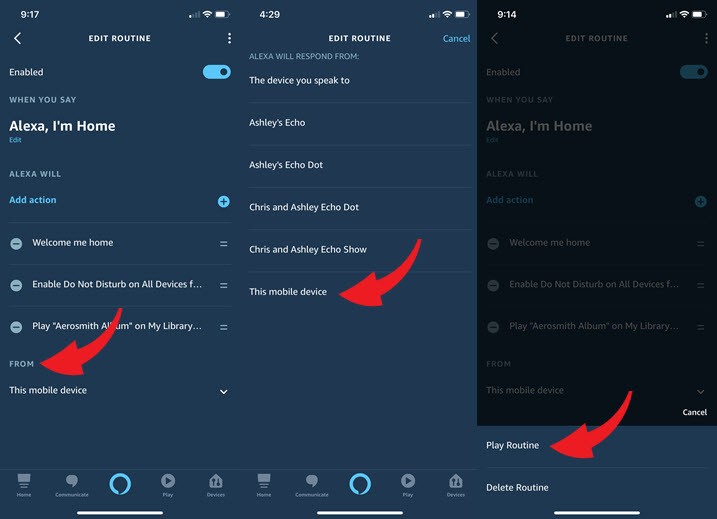 Continue adding as many tasks as you wish into your routine. Once complete tap Save. It can take up to one minute for voice routines to be ready.
Setting up routines with Google Assistant is equally simple.
You can choose from six ready-made routines, customize them or create your own. Whether it be to work with smart home products or complete actions on your Android phone, Google has a quick guide video to help you with the steps.
Give these helpful routines a try
The following are a few suggestions for routines that may help make your day a bit easier and your smart assistant smarter. Please know that some tasks listed require additional smart home devices.
If using voice commands to trigger a routine be sure to include any necessary "wake word," such as "Alexa."
Bedtime routine
One routine you may want to set up is for bedtime. Your smart assistant can complete several tasks for you such as locking the doors, turning off the lights, turning on bedroom light, playing white noise or set do not disturb on your phone.
Wake up routine
Rise and shine. Why not get your day started with a wake-up routine that performs a host of actions? Consider having your smart assistant turn on the lights, play a song or podcast, read your morning news briefing, start your coffeemaker, read your calendar or get traffic updates for your commute.
Leaving the house in the morning
Mornings are often fraught with chaos. Leaving the house for work does not have to be a challenge with your smart assistant. Have your device take care of tasks like adjusting your home's thermostat or turning on music to motivate you. You can include opening the garage and locking the doors in your customized morning routine.
After work/when you get home
Why not set up a routine that reduces the number of chores you need to complete when you arrive home after work? Some actions you may find helpful include having your smart assistant say, "Welcome home," as it turns your home's thermostat to your preferred temperature, turns on music, lights and starts the sprinklers in your yard.
Protect your home while you're away
Even when you are away from home, you can utilize your smart assistant to help with tasks. A routine that will turn on your home's indoor or outdoor lights or music may help keep criminals at bay. With smart door locks, you can add "lock the doors" to your "away from home" routine to ensure your home is safe and secure.
As an Amazon Association, Komando.com may earn a commission from qualifying purchases made on Amazon.com.