While many people rarely ever used video conferencing before 2020, it's become commonplace during the pandemic. Now we're regularly meeting with coworkers virtually, or chatting with friends and family through our webcams and phone cameras.
Did you know your webcam can moonlight as a security camera or party photo booth? You can also use it to unlock your computer, or even as a mouse. Tap or click here to check out some useful and fun ways to get more out of your webcam.
Your modern laptop probably has a built-in webcam, but the quality is typically not so great. You have the option for a 1080P or 4K standalone webcam, but those can be pricey and hard to find due to supply shortages. Or you can just save the money and just use the one that's right there in your pocket.
Built-in webcam
A major selling point for smartphones is the camera, including the front-facing "selfie" cam. Manufacturers constantly one-up each other with improved lenses, software and features. The result is that your phone's camera is probably better than any webcam you've used before.
You don't need much to turn your phone camera into a webcam, as there are apps for that. Below are some suggestions:
Camo
Camo lets you use your iPhone or Android phone as a webcam and works with more than 40 conferencing apps and browsers, including Zoom, Google Meet, Microsoft Teams, Chrome, Firefox, Edge, Slack and more. You get 1080p video and the option to adjust lenses, lighting, colors, zoom, crop and focus. You can even preview yourself before you jump on a call.
You need to download the Camo app on your smartphone and then download and install the Camo Studio on your PC or Mac. Connect your phone to your computer and you're all set.
The free version of Camo has 720p video and optional overlays. The pro version costs $4.99 per month or $39.99 per year, or pay $79.99 for a lifetime license.
EpocCam
EpocCam turns your iPhone into a webcam and is compatible with both PC and Mac. It works with Zoom, Microsoft Teams, OBS Studio and more.
EpocCam works with 1080p video and adds HDR color, manual focus, wide angle support and dynamic lenses. EpocCam can stream camera footage to your PC over Wi-Fi if you'd rather have a wireless connection.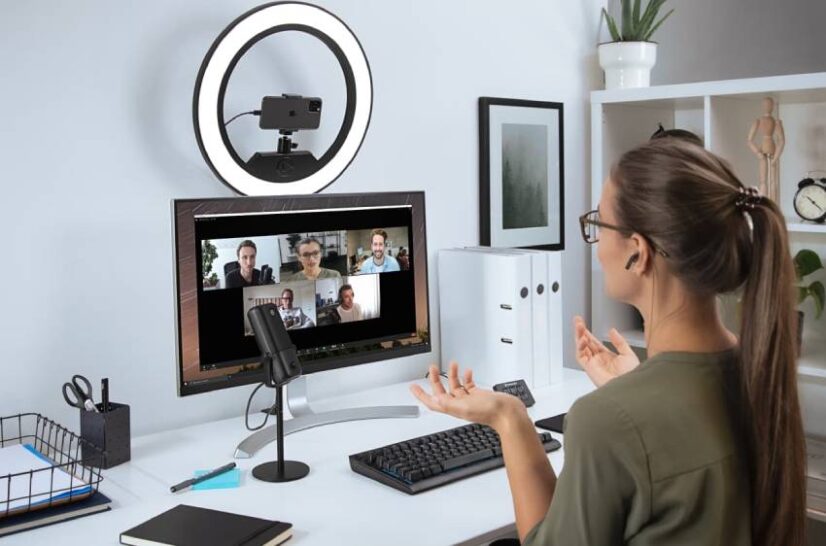 To get started, download the EpocCam, then download and install the computer drivers. Connect your phone to your PC via Wi-Fi or USB and you're good to go.
EpocCam is free and uses the full 1920 x 1080 resolution and SnapChat lenses. Upgrade to EpocCam pro for $7.99 and you get HDR, no watermark, dual camera zoom, the ability to adjust video quality and focus and more.
DroidCam
DroidCam works with iPhone and Android to turn your phone into a webcam for your PC. It works with chat apps like Zoom, Microsoft Teams and Skype.
You can connect over Wi-Fi or with USB cable. You can keep using your phone with DroidCam in the background.
You need the app and the Windows or Linux client to run DroidCam.
The free version of the app has unlimited usage at standard definition. Upgrade to DroidCamX Pro and get 720p/1080p video, camera controls, adjustable brightness and contrast, the option to auto-mute calls and the removal of ads.
Keep reading
This Chrome change makes it easier to tell which sites can access your webcam and mic
Your webcam could be listening to you and you wouldn't even know it