Ever been held up at an airport for a layover? Your options are pretty limited, and aside from getting a few extremely overpriced drinks, there usually isn't much to keep you occupied.
There are a few airports in the U.S that are actively trying to make air travel safer and more tolerable by using advanced technology. For security reasons, technology can obviously be a huge boon, but it can just as easily help you stay entertained during a long layover. You may argue that it is not the airlines' responsibility to entertain you, but you surely agree that it is much more pleasing to sit next to a happy passenger than one that's irate over poor conditions of travel.
With that in mind, let's take a look at the 10 most high-tech airports in the country in no particular order.
1. Hartsfield-Jackson Atlanta International Airport
Located just south of the central business district in Atlanta, Georgia, the Hartsfield-Jackson International Airport is the busiest airport in the world. Among several security-related technological implementations, one that stands out is the airport's use of drone technology.
Hartsfield-Jackson has garnered national attention for their use of drone technology to patrol the runways to help identify potential hazards, debris or runway conditions that could impact safety and speed up the runway traffic conditions. The airport has also utilized drone technology to identify possible construction improvements around the airport terminals and parking areas.
2. George Bush Houston Intercontinental Airport
The massive intercontinental airport in Houston, Texas, a city that was slammed by hurricane Harvey earlier this year, is one of the best U.S. airports to spend your layover. This past Thanksgiving I had the pleasure of spending a three-hour layover in the United Airlines terminal in Houston where I was immediately impressed by the airport's implementation of tablet technology.
Nearly every seating location around the terminal is equipped with a tablet computer and a charging station. Even the award-winning taqueria (run by the renowned chef Roland Laurenzo) has a tablet at each seating location from which food and drinks can be ordered, and games and entertainment can be reached.
3. Minneapolis–St. Paul International Airport
The Minneapolis-St. Paul International Airport is the largest airport in the upper Midwestern area of the United States. As one of the top 50 busiest airports in the world, MSP has very recently begun implementing a unique security technology made by Clear Biometrics.
With the help of Clear's new technology, passengers will be able to greatly speed up the identification process by simply scanning their thumbprint or iris into the machine. Although Clear users will, of course, still have to go through metal detectors and bag checks, the process is still much quicker.
4. Chicago O'Hare International Airport
As one of the busiest airports in the country, the Chicago O'Hare International Airport has implemented several new technological advancements to reduce check-in speeds and even improve sanitation around the airport's most popular terminal.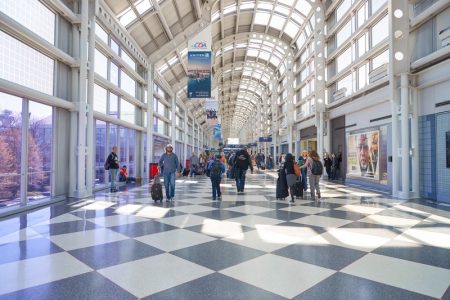 O'Hare has partnered with two smartphone apps, FlySmart, and B4 You Board, to offer meal delivery to your gate, entertainment features, flight status updates and more. On top of the utility of the two smartphone apps, the airport also features motorized toilet seats in each bathroom. These seats will automatically dispense a fresh plastic seat cover after each flush.
5. Austin-Bergstrom International Airport
The Austin-Bergstrom International Airport in Texas has always been quick to embrace new technology. After all, it was the first airport in the country to offer free Wi-Fi service to passengers all the way back in 2000. Seventeen years later and Austin's innovation has not stopped.
With Austin-Bergstrom's "one-stop" automated passport control kiosks, passengers can complete all of their necessary pre-flight check-in procedures quickly at an automated kiosk machine. Not only has this greatly reduced the check-in lines but the process has also helped to reduce security checkpoint times as well.
6. Seattle-Tacoma International Airport
One great benefit of new technologies is the eco-friendly impact that most of them can have. It seems that the international airport in Seattle, Washington has caught on to that trend. They recently installed over 40 electric car charging stations in their parking garages.
Speaking of getting charged, there are charging ports located throughout the entire airport, most equipped with a small splash screen from which you can look up your flight arrival and departure times. Finally, they have free Wi-Fi available throughout the entire airport.
7. McCarran International Airport
The McCarran International Airport in Las Vegas, Nevada is a great place to blow through a little extra cash just before you escape the Vegas trap. I am mostly joking, but if you do still want to gamble, that is abundantly available with hundreds of slot machines located throughout every terminal.
On top of that, the airport has partnered with Google to produce a Google Map version of the entire airport, navigate directly to your gate by simply using the Google Maps feature.
8. Cincinnati/Northern Kentucky International Airport
The Cincinnati/Northern Kentucky International Airport in Hebron, Kentucky introduced the country's first mobile airport tracking system two years ago. This monitors all travelers' smartphones and Wi-Fi-equipped devices throughout the airport. It can identify congested areas and provide passengers with estimated wait times that may ease the anxiety of going through security.
Although the technology, known as BlipTrack, used to monitor all Wi-Fi connected activity throughout the airport may remind you that Big Brother is watching, it is a feeling we have all gotten used to by now, especially in airports. Kentucky is just open enough to admit it is happening.
9. San Francisco International Airport
Located in Northern California, this great airport's proximity to Silicon Valley has had a major influence on the technology available there. Promoting one of the first indoor navigation systems in the world, Terminal 2 alone is equipped with over 500 Bluetooth sensitive beacons that are designed to help the visually impaired navigate the airport using a smartphone.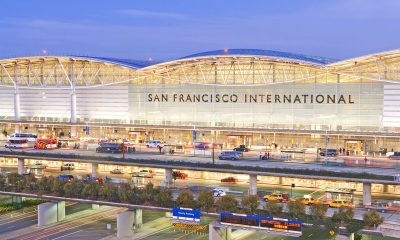 There is also free high-speed Wi-Fi throughout the airport that extends even out to the planes that are waiting to take off or land. As a bonus, the design of the airport resembles that of the modern-day tech startup with large open areas and floor to ceiling erasable whiteboards available for all to use.
10. Sacramento International Airport
The Sacramento International Airport located in the capitol of the great state of California is one of the most technologically enhanced airports in the entire world. Awarded a LEED silver certification in 2011 for a $1.03 billion terminal modernization project, the high-tech green terminal features many state-of-the-art green heating and cooling systems.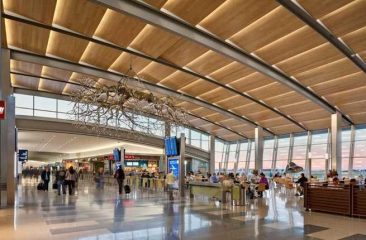 One of the most modernizing features is the "common-use gate system." The open-source gate system allows an airline to operate out of any gate. With this system, passengers can enter any terminal, check-in to any kiosk and print boarding passes without seeking a specific airline portal.
Essential tips to help you navigate crowded airports with ease
If you are planning on traveling this holiday season, make sure you check out our airport navigation tips for finding your way around a crowded airport with ease.