We do countless tasks on our computers each day. We create Word documents, design websites, store photos, talk to friends and family, send emails and much, much more. Tap or click here for six smart things to do with your old computer.
You also save many things to your computer. There's a good chance you'll want to delete those files someday or even completely erase your hard drive for a fresh start. But what's the best way to do that?
WhiteCanyon was a great option for those looking to delete files, but it's gone now. However, the Komando IT Team has found some alternatives. Here are three tools to delete files and completely erase your hard drive.
If you are looking for a secure tool to remove sensitive files from your computer without destroying the operating system (OS), this is the product for you. Eraser allows to schedule out files to be deleted ahead of time and even has an easy drag and drop feature.
RELATED: Here's why you need a cloud backup for all your devices
However, unlike other programs, you can't erase the drive that Windows is installed on. This is to protect you from accidentally erasing your OS. So how do you use it? First, download the program to your Windows PC.
Once you've downloaded the program, open it to easily select the files you want to erase or schedule the regular erasing of certain files. Follow the simple instructions on the site. The best part? It's completely free.
We hope you are never in a situation where you need to kill your entire hard drive at the drop of a hat, but Darik's Boot and Nuke (DBAN) will cover all your bases if the need arises. Once you use DBAN, your hard drive isn't readable to anyone, not even you.
So how do you use it? Follow these steps to use DBAN like a pro:
First, create a backup. Never erase your hard drive without backing up your data. Once it's gone, it's gone forever.
Download DBAN.
Use ISO to USB to load DBAN onto a USB drive. You won't be able to use the program directly from its downloaded form.
Plug in the USB and restart your computer.
The DBAN blue screen should appear.
Run DBAN in interactive mode.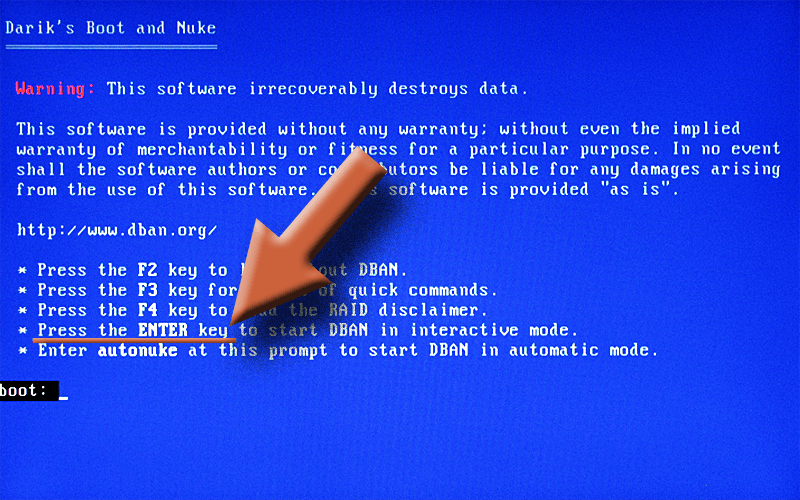 Select the drive you want to erase and press the space bar.
Press F10.
Once DBAN has finished your hard drive is erased.
If you are looking for DBAN, you can download it online or buy the rebooted CD on Amazon. The CD eliminates the need to save it to a USB drive.
If free software isn't doing the trick, you can pay for better services and also get the support that comes with it. KillDisk offers three separate plans, Active KillDisk, KillDisk Industrial and KillDisk Industrial Desktop.
RELATED: 20 security secrets hackers don't want you to know
It's also available for Windows, Mac, Linux, and Android platforms currently. Depending on its intended use, you can get KillDisk for as low as $39.95 a license. Businesses looking to install KillDisk Industrial system to their mainframes are looking at a starting cost of $2,500.
So how does it work? KillDisk is an industrial-grade option to clean your hard drives, and you'll receive full support through the process for up to 25 hard drives. You can even erase multiple hard drives at the same time.
For those looking for a full-service option with great features and an excellent support team, KillDisk is worth the investment.
Keeping your files secure sometimes means safely deleting them so they are gone forever. These programs will help you clear old files without posing a safety risk in the long run.
After you've wiped what you want to, don't forget to back up the rest of your files the right way. Kim's pick is IDrive.
IDrive makes it fast, easy and secure to back up all of your files across every device. All of your PC, Mac, iPhone, iPad, and even Android devices are covered with just one account.
Even better, you get a ton of storage at a great price. Tap or click here to save 50% on cloud backup today with IDrive.
By clicking our links, you're supporting our research. As an Amazon Associate, we earn a small commission from qualifying purchases. Recommendations are not part of any business incentives.