We're living in a Star Trek future stocked with voice assistants that are happy to help answer questions, play music, read the news and control our smart homes. Most smart-speaker users fall into one of two camps: Amazon Alexa or Google Home. If you have a Home, Home Mini or Home Max, then we've got some fun and useful tips, tricks and Easter eggs for you to try out.
Google Home debuted in 2016 and the company has been steadily adding to and improving its capabilities ever since. If you're only using it for weather or to turn your lights on and off, then now is a great time to explore what else it can do.
Get to know your Google Home gadget
Get ready to discover a world of ways to customize your Google Home experience and access secret commands that will entertain you and your family.
You've got your Google Home device plugged in and working, so let's get to know it. These tips are helpful for new users, but are also fun reminders of how you can customize Google Home to your liking.
Change the Google Assistant voice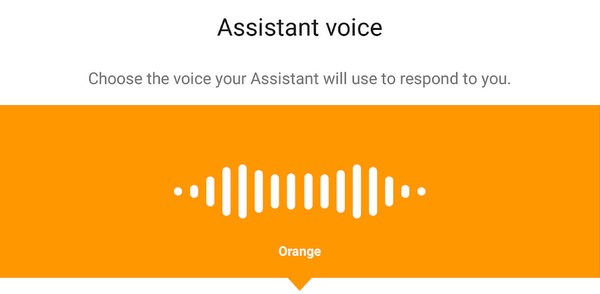 It takes a few steps to change your Assistant voice, but it's worth it. Open the Google Home app on your Android or iOS device. Tap on the house icon if you're not already at the app's home screen. Tap on the icon that looks like a person and tap on the gear to open Settings. Next, tap on Assistant and then on "Assistant voice." Here you can listen to different voice options, including a British accent. Choose the one you like and it will change the Assistant voice for your smart speakers and your phone.
Tap or click here to learn how Facebook is planning to compete with Google Home and Amazon Alexa.
Change the name Google Home calls you
You can ask Google Home to call you by a customized name. Say, "OK Google, change my name." Home will ask what you want to be called and confirm the change. You can also adjust this by going into Settings on your Google Home app under personal info. There's a setting called "Nickname" where you can type the name. I went with "Captain Kooser" as a nod to my Star Trek fandom.
Set up Night Mode for Google Home
Your Google Home gadget can be polite at night when you don't want to disturb anyone. Google says Night mode will "reduce the volume of responses, and decrease the brightness of LEDs during specified times."
Open the Google Home app, tap on the house-shaped home-screen icon and then tap on the Settings gear. Find your Google Home device on this screen, tap on its name and then select it under Device settings. Scroll down and tap on Night mode and then enable it with the slider. When it's turned on, you will see options to automatically schedule the mode at preset times. You can also set the maximum volume and brightness on this same screen.
Tap or click here to learn about 10 hidden Google search features.
Play games with Google Home
Google Home can act as an unusual sort of gaming device, offering up games geared for kids, parties or for just spending a few fun moments when you're on your own. There are a lot of options, but here are a few good ones.
Mystery Sounds
"OK Google, play Mystery Sounds." Google Home will play a selection of everyday sounds and you have to guess what they are.
Mad Libs
"OK Google, play Mad Libs." This take on the famous paper-based game is a good one to pull out at parties. Google Home will ask you to supply nouns and adjectives and will then read the completed Mad Lib.
SongPop
"OK Google, play SongPop." This game is a bit like Name That Tune, but you have to guess the song title based on a little snippet. You can choose the genre and test your musical knowledge.
Activate Google Home Easter eggs
Easter eggs are hidden in-jokes, messages or features found tucked away in technology. Google Home has plenty of them designed to entertain everyone from Star Wars fans to people who love Spongebob Squarepants. A lot of these Easter eggs involve pop-culture references.
OK Google, I'm your father.
This Star Wars statement triggers a variety of responses from Google Home, including "Maybe I should call you Darth Da-da" and "I'm sorry, I'm not Luke. This is kind of awkward."
OK Google, beam me up.
Here's one for Star Trek fans. Google Home again has a few possible responses, my favorite of which is "Energize!" along with a transporter sound effect. The assistant then follows up to see if it worked.
OK Google, who is the Walrus?
The answer to this one will amuse Beatles fans.
OK Google, can you rap?
Get ready to hear Google Assistant lay down a poem about searching the internet.
OK Google, crystal ball.
This amusing little nugget offers up random answers to yes or no questions. It essentially turns your Google Home into a Magic 8 Ball.
OK Google, surprise me.
You never know what you'll get when you tell Google Home to surprise you, but it could be anything from a bit of oddball animal trivia to a remarkable sports statistic.
There's a lot more to discover with your Google Home smart speaker, but these tips and commands will get you started in style.