There are a lot of ways to get your favorite streaming videos on your television, but Roku devices have earned their popularity thanks to being versatile and easy to use. As with any gadget, there are some handy tricks and tips that can help you get the most out of it.
Roku delivers everything from Netflix to live broadcast channels. You can also tap into major music services including Spotify and Pandora. Whether you're into sports, Hulu originals, or you want to queue up some kids shows for the youngsters, Roku has you covered.
Check out these 10 tips that will help turn your Roku into an even better entertainment experience. You can cruise for free content, customize the look of your home screen, balance out the volume, and even figure out where the remote disappeared to.
1. Get to know the Roku Channel – it's free!
Roku refers to the streaming services it supports as "channels." The Roku Channel is the company's very own service that offers up free videos for your enjoyment.
The channel has offered everything from the Tom Hanks blockbuster "Big" to episodes of the original "Batman" TV show. The series and movies change from time to time, but it gives you some surprisingly diverse options to explore. And best of all, they won't cost you anything. Just choose The Roku Channel from the channel menu to get started.
2. Find more free content
From the home screen, scroll down and look for the "Featured Free" option to access a selection of movies, current television episodes and classic shows available from various Roku content providers.
When you choose a show, it will open in the provider's channel. If you haven't already downloaded that particular channel, then it will be installed for you.
Click or tap to learn how to solve your most annoying Netflix problems.
3. Search and input data with your phone
Nobody likes to type on an on-screen keyboard using just the limited buttons available on a remote control. The Roku app for iOS or Android makes this task a lot easier.
The app can replace your remote, but it also lets you use a keyboard to type in your search queries. So reach for your phone the next time you're hunting around for content. You'll find it in the Remote section of the app when you tap on the small keyboard icon.
4. Pick a sweet new screensaver
Screensavers were once used to protect old-school screens, but now they're ornamental and a form of entertainment in their own right. There are both free and paid options available through Roku. To change up your screensaver, press the Home button, select Settings, and then choose Change Screensaver.
Highlight a screensaver and press the OK button. If you see a check mark, the screensaver is already installed and can be chosen with "Set as screensaver." Otherwise, you can view screenshots and select "Add channel" to choose a new screensaver. If it's a paid screensaver, you will see the price and the option to buy it. Once downloaded, choose "Set as screensaver."
5. Get glorious 4K video
If you're a little ahead of the technology curve and have a 4K television and a 4K Roku device (like the Roku Ultra or Roku Streaming Stick+), then you will want to take full advantage of the available 4K content. To find these compatible videos, select Streaming Channels and then choose UHD Content Available to see which channels offer 4K. This will give you a good start, though those channels will also offer non-4K content.
Also be sure to check out the 4K Ultra HD Spotlight channel for a collection of movies and TV shows that will look stunning on your 4K gear.
Netflix has adjusted its pricing. Find out what this means for you.
6. Change up the look of your home screen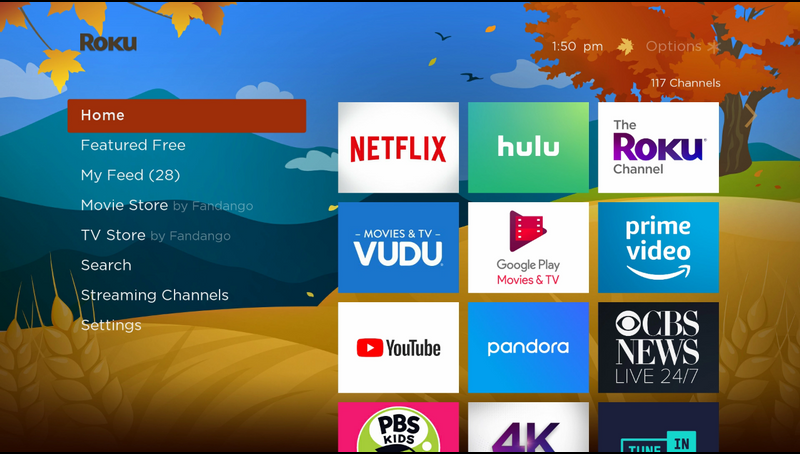 Roku announced in December it will make all of the themes in its Roku Channel Store free for customers. Available themes include a spooky forest for Halloween, a fall landscape, colorful heart balloons, and fireworks for patriotic festivities.
To change your theme, press the Home button, select Settings, choose Theme, and then select "Change theme" to browse the options. Highlight the theme you want and press OK on your remote. If the theme is already installed, you can select "Set as theme." To install a new one, select "Add channel." You can then choose "Set as theme" to give your home screen a fresh appearance.
7. Tone down loud commercials
Don't let loud commercials or volume differences that come from switching between channels mar your viewing experience. Roku's OS 9 added a handy new feature called Automatic Volume Leveling, which "Enables consistent volume across different types of entertainment."
While streaming, press the star button on your remote and choose Advance sound settings. Use the directional pad to change the Volume mode setting to Leveling.
8. Listen in private
Extend your binge-watching streak into the night while your spouse or kids sleep by using Roku's private listening feature. Some Roku devices, including the Ultra, Premiere+, and Roku 4, come with a remote with a headphone jack built in. Plug in your headphones to pipe the sound directly to your ears.
You also use the Roku app on your iOS or Android device. The current Roku lineup of devices supports this feature. Open the app and select the icon that looks like a set of headphones to use the wired or wireless headphones paired with your phone. Roku devices running system 8.1 or higher can support up to four mobile devices with private listening through the app, so more than one person can enjoy the show.
9. Find your lost Roku remote
So, you lost your Roku remote. Maybe it fell down between the couch cushions. Maybe the dog hid it in another room. If you have Roku 4 or Roku Ultra, then you're in luck.
Just go to your Roku and push the remote-shaped finder button on the player. This locator button will trigger the lost remote to make a sound, so you can track it down at its hiding place. Just remember, this won't work if the remote's batteries are dead or if it's out of Wi-Fi range, but it should help you out in most lost-remote situations.
10. Reorganize your channels
You may have a collected quite a few channels on your Roku home screen, but you can rearrange them to make the layout more convenient. Put your most-used channels up near the top and save yourself some time when it comes to accessing your streaming favorites.
To do this, find a channel you want move. Press the asterisk (Option) button and select Move Channel. Now you can use the directional pad to relocate the channel. Press OK when it's where you want it. It might take a few minutes to get all your channels where you want them, but you'll save time in the long run.
Have fun playing around with your Roku and customizing its look and abilities to exactly what you want.