Few things terrify a pet owner more than finding out their furry friend disappeared. In the U.S., around four million dogs go missing each year. Pet owners have a lot to worry about: medication, closing gates, so the dogs don't get out and even outright kidnappings.
Dog abductions skyrocketed over the last decade. To be more specific, they shot up by 70% since 2010, according to American Kennel Club president Tom Sharp. Over lockdown, lonely hearts wanted loving dogs to keep them company.
Criminals saw dog purchases go up and created new dognapping schemes — along with the typical slew of online scams. Tap or click here, so you don't fall for expensive puppy scams. In this article, you'll get the full scoop on the dangerous world of dognapping, as well as some helpful tips to keep your four-legged family member safe.
If you thought dognappers were all bark and no bite, think again
Not only are criminals stealing thousands of dollars from people who are lonely in lockdown, but they're even stealing dogs as you're walking them. Professional dog walker Ryan Fischer was walking Lady Gaga's French bulldogs when criminals shot him in the chest and snatched the pooches.
The dogs are home safe now, and Fischer is recovering from the bullet that pierced his lung. Of course, celebrities aren't the only people who have to worry about criminals targeting dogs. BBC News says 2020 was the "worst ever" year for dog theft.
The problem isn't going away anytime soon. You should be especially worried if you have a dog breed that's most likely to be stolen. Reader's Digest has the scoop on the 10 dog breeds that thieves steal most often:
Siberian husky
Poodle
Labrador retriever
Shih Tzu
Maltese
German shepherd
Chihuahua
Yorkshire terrier
Bulldog
French bulldog
Check out the article above for more info on why these breeds are so popular. If you have one of these breeds, stay alert.
YOU SHOULD KNOW THIS: The best puzzles and toys to get your dog's mind working
Here's what you can do
Dognappers are getting bolder than ever before — likely because there are few consequences for stealing animals. That's because your pet dog is considered your personal property. This has been the case since the Supreme Court's ruling in 1897.
According to TIME Magazine, courts typically consider pet thefts to be misdemeanors. A thief with no criminal history would have to pay a small fine; they might not even face any jail time, depending on the state. In fact, only 15 out of 50 states consider dognapping a crime.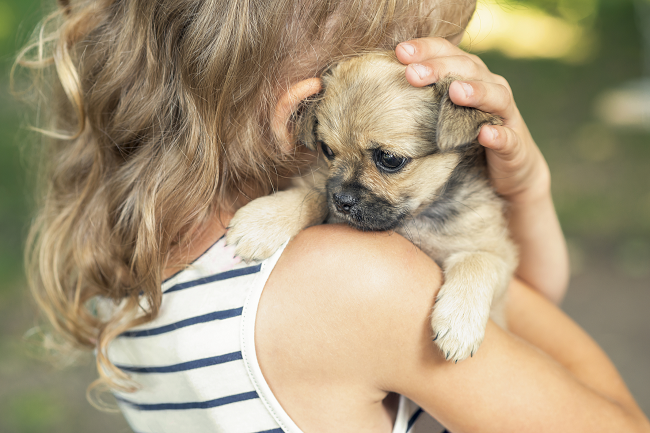 Criminals want to make money on dog-flipping, which works the same way as house-flipping. It sounds creepy, but when people see dogs as property rather than living beings with feelings, its' easy for criminals to push their morals aside and snatch a dog straight from its home.
If you're worried about your pup's safety, Becky Simmonds with Breed Advisor has 11 simple ways to keep your dog safe. For example, you should microchip your dogs and make sure you don't share too much info on social media.
You can also make the most out of modern tech to keep your dog safe. Here are three ways to do so.
1. Use a GPS pet tracker like Whistle
When your dog runs away, you have very few ways to track them down. Hopefully, you have a microchip, which can make a world of difference. But that can take a while. You have to rely on someone else to find your lost dog and scan their chip.
When your dog is alone in the wilderness, that's not likely to happen. That's where a GPS pet tracker can help. Instead of waiting for someone else to find your dog, you can take the initiative and track your pet down.
For example, the Whistle GPS tracker is designed to attach to your pet's collar. You can even set up a designated area — like your yard — so you get alerts if your dog leaves the perimeter. It also comes with an app that lets you track their spot on a map in real-time.
You can also use a Bluetooth tracker like Tile or Apple AirTag. Kim attached one of these bad boys to Abby's collar. Tap or click here for eight smart ways to use Bluetooth trackers.
2. Upgrade to a smart collar and fence system
Many dogs will break through the fence to escape. Maybe they'll even jump over. Luckily, dog safety products can help you set up more robust protections.
For example, Halo is an all-in-one smart system that can replace your old dog fence and collar. You can create up to 20 wireless GPS fences by walking around your property's boundaries. Or, if you have the Halo App, you can set these GPS fences with a few swipes of a finger.
This system even provides custom feedback to encourage your dog to stay within the boundaries. Click here to learn more.
3. Set up cameras inside and outside of your home
If someone breaks into your house, you have footage of the crime. This will help the police investigation a great deal. They'll already know the criminal's physical characteristics, which can shave off search time by a great deal.
We recommend also setting up cameras outside. Some dognappers will snatch animals straight out of the backyard. A home security system will give you much-needed peace of mind. We recommend our sponsor, SimpliSafe.
It's an award-winning home security system with highly trained security experts who are always there for you 24/7. You can connect your cameras to an app on your phone. Through this app, you can watch a livestream of the inside or outside of your home, no matter where you are.
For a limited time, save 20% on your SimpliSafe security system, and get your first month free when you sign up for Interactive Monitoring.