Apple's AirPods cut down on some inconveniences by getting rid of wires and as you might expect, it's much easier to share what you're listening to with whoever's next to you. Today, it only takes a few taps to share audio with two sets of AirPods.
For their size, AirPods pack tons of functionality into a tiny package. You might be surprised by what you can do with them. Tap or click here for 10 AirPods secrets you'll wish you knew sooner.
Before wireless headphones, you had to buy a 3.5mm splitter and carry it around with you on the off-chance someone wanted to use their headphones to listen to your music with you on-the-go. Now, if you and someone you know both have AirPods or wireless Beats headphones, you can connect them both to a single iOS device. We'll show you how.
How to share audio from your iPhone (or iPad or iPod Touch)
Starting off, you're going to need a compatible iPhone, which Apple notes is iPhone 8 and above. In addition to that, both you and whoever you'd like to share audio with are going to need either AirPods or wireless Beats headphones. Most wireless Beats products are supported, but you may want to check Apple's official compatibility list to be sure your headphones are supported.
Once you have the required devices, actually sharing audio is simple:
Connect your AirPods/Beats to your iOS device.
In the Control Center, Lock screen or even in the app you're listening to, tap the AirPlay icon.
Tap Share Audio.
If who you're sharing audio with has AirPods, simply put the AirPods inside their case with the lid open near your device. If your friend has Beats wireless headphones, put the Beats into pairing mode and hold them near your device.
When the second pair of headphones appears on your screen, tap Share Audio.
This process for sharing audio is the same for iPads and iPod Touches. However, just like with the iPhone, you'll need to be sure you have a compatible iOS device. Apple's full list of compatible iOS devices will tell you if your specific device is supported.
For all the iOS devices out there, 2020 brought with it the biggest change to iOS in years. Tap or click here to see what you need to do before updating.
How to share audio from your Apple TV
Before you jump into audio sharing with your Apple TV, you'll need the same kinds of compatible headphones listed above as well as to have set up your devices in the Home app on an iOS, iPadOS or macOS device. Once that's out of the way, sharing audio on your Apple TV is easy.
Press and hold the Home button on your Siri Remote to open the Control Center.
Select the Audio Controls button.
Swipe down to Headphones and select the devices you'd like to send audio to and the selected devices will begin playing.
Select Share Audio and follow the onscreen prompts.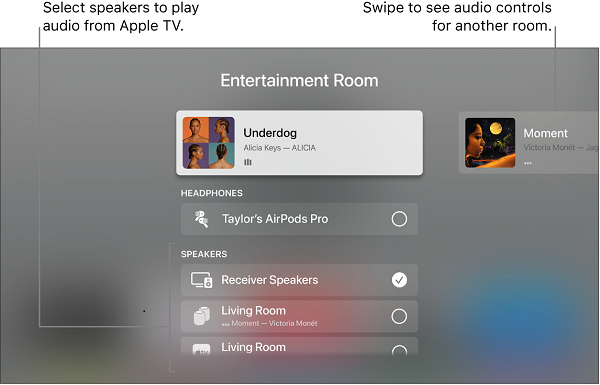 You can also send audio from your Apple TV to other speakers, like Wi-Fi-enabled receivers or other supported AirPlay devices, from this same menu.
Keeping your AirPods safe and not losing them can be a challenge, but so can be maintaining your privacy online. Luckily, iOS 14 makes this a lot easier on iOS devices. Tap or click here for the biggest privacy and security changes in iOS 14.