Netflix is one of the most popular streaming services available. So much so, that it seems like everyone has it. But, you'd be surprised by how many people out there use Netflix and don't actually pay for it.
Let's be honest, it's not uncommon for legit users to share their account login info with family and friends. Heck, you've probably done it yourself at one point. While Netflix says it doesn't mind customers sharing their login, there's a possibility that you may want to revoke access to other users.
If you share your Netflix account with people and lose track of who has access, you can channel your inner Sherlock Holmes and do some investigative work.
Here's how:
Retrace your account activity
You have to do this on a computer. It won't work on the app on your phone or tablet. Log in to your Netflix account and select your avatar in the upper right. Then select Account.
Then select viewing activity.
This is where you'll see everything you've watched. You can toggle to other users' accounts (you can have five) and go through the same steps to see what they've watched. You can also hide stuff from your viewing history here if you want to make sure no one sees what you've watched.
Another thing you can use this for is to remove shows from your history that you don't want recommendations based on. Netflix recommends similar content based on what you've viewed.
So if you watch something and hated it, you can remove it from your history. Looks like you can report a problem if you had a problem …
Say you want to remove "Always Be My Maybe" from your history because it was not to your taste — or it was to your taste and you're embarrassed to admit it. Click the no symbol ø and you'll see this message:
Now, if you want to see what devices have been streaming from your Netflix account, follow the same steps. Select your avatar >> Account >> "Recent device streaming activity."
You'll see a list of IP addresses grouped by devices.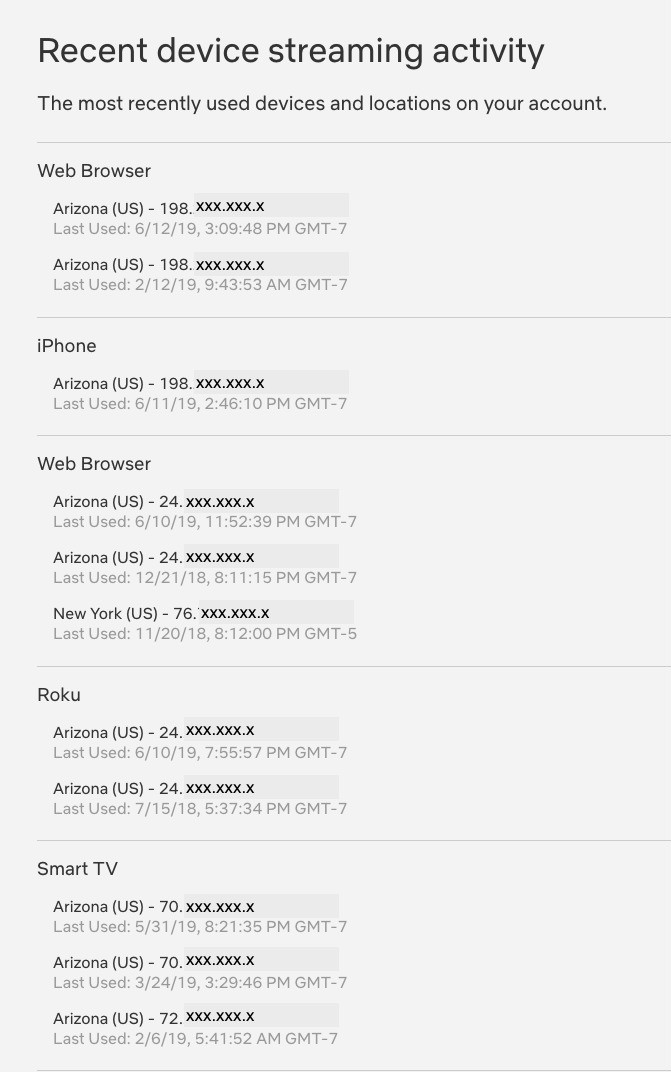 Reset and protect your information
Whether it's suspicious activity, a former significant other, or just too many freeloaders, there are a few ways to take action. You can start by changing your password.
Now, since other users have undoubtedly used your login on multiple devices, you'll have to go a little deeper. After logging into Netflix (on your computer) and selecting your account, you can scroll down the list and choose to "Sign out of all devices." Once signed out, log back in, return to the accounts menu and change your password. Done.
If the activity on your account seems to be more suspicious in nature, you can report it to Netflix by going to the help center. The page will give you a list of potential discrepancies that you may have, including, "Report fraudulent or suspicious activity." From here, you will be prompted to contact Netflix directly, either by phone or by live chat.
It's important that you look up your IP address as well. To find your IP address for your computer, click here.
To find your router's IP address, tap here.
To locate your Wi-Fi's IP address, first, make sure you're connected to your Wi-Fi network and then go into your device's settings and look for the Wi-Fi connection option. Select the network you're currently connected to and tap the information icon. You'll see the IP address.