Let us take a moment to pay our respects to the dearly departed iPhone Home button. The latest Apple smartphones no longer have this beloved physical button, but this still leaves a gaggle of users out there with older iPhones that have it equipped.
Gather around, Apple fans with iPhone 8s and older devices. Cherish your Home button while you still have it. It may soon be a relic of technology history, but there's still so much you can do with it.
You probably already have the basics of using the Home button down, but we'll do a quick review of its capabilities and then dive into some of the lesser-known uses that will make it feel new all over again. So if you still have an iPhone with a Home button, this is for you.
The basics of the iPhone Home button
The Home button is a multipurpose part of your phone that comes ready to perform certain duties. Many of these functions can be found on iPads, as well. You may see some differences depending on your device and the version of iOS you are running. Here's a refresher on what the Home button can do. You may find some overlooked gems in here:
TouchID fingerprint scanner: Ever since the iPhone 5S came out in 2013, the Home button has doubled as a fingerprint reader used to unlock your phone. Apple also brought this capability to iPads starting with the Air 2 and Mini 3 announced in 2014. Tap or click here for our Komando tips on getting your TouchID to work right every time.
Turn on Siri: Hold down the Home button to turn on Siri, Apple's helpful voice assistant.
Wake from sleep: Pressing the Home button once reveals the lock screen. Use this to type in your password if needed, quickly access your camera (swipe right to left) and see your Notification Center (swipe left to right).
Return to Home screen: When you have an app open or when you're on another screen other than the Home screen, just press the Home button once to return to your main screen.
See running apps: When the iPhone is unlocked, double-click the Home button to see open apps. This is a convenient way to switch between apps.
Get more from your Home button with Accessibility options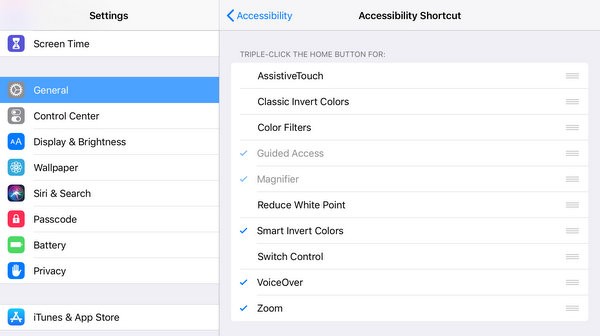 Apple has a ton of Accessibility features built into iOS. These are designed to assist people with vision, hearing or motor skills issues with using their phones and tablets. The Home button can turn into a quick shortcut for accessing these options.
To set this up, head into Settings, tap on General and then tap on Accessibility. Head to the bottom to find Accessibility Shortcut and tap on it.
Here, you will see an array of possible features to enable, ranging from inverting colors to accessing the magnifier, or using VoiceOver or Zoom. Select the options you want fast access to. Now, when you triple-click the Home button, you will see a menu with shortcuts for your Accessibility choices listed. Tap on one to activate it.
Tap or click here to learn how to record calls on your iPhone.
Even more iOS Home button uses
Your Home button has already proven itself to be a champion multitasker, but there are even more ways to use it.
Close Control Center: When Control Center is open, hit your Home button to close it and return to the screen you were on when you opened it.
Control your music: When you're using the Music app and your iPhone is sleeping, clicking the Home button will open up controls for the player on your lock screen so you can pause, play, fast-forward or rewind.
Put your screen in reach: Certain iPhone models (including iPhone 8, 7 and 6) can take advantage of the Reachability feature when you're using it in portrait orientation.
To turn this on, head into Settings, tap on General and then on Accessibility. Turn on Reachability. For models equipped with a Home button, a light double-tap on the button will pull the top of the screen down into reach of your thumb. Tap at the top of the screen to reset it.
The Home button may no longer figure into Apple's iPhone plans, but that doesn't mean you can't enjoy it on your older smartphone. All you need to do is teach it some new tricks to get the most out of it.