One way to fix PC problems is to reboot. That's the most common solution IT professionals will tell you to begin with. But you may have to ring up the help desk if your computer's still acting up after restarting it.
You know what that means: long wait times that put your patience to the test. Luckily, there's a free tool you can use. Use this site to determine how long the wait time will be before you call.
Then again, you could always try this secret solution. Many people don't know there are multiple ways to restart a computer. If the classic computer reboot doesn't work, try this.
The best way to restart your PC
Most of us are familiar with restarting our computers through a "normal" shutdown. When you click the Restart button, the computer goes through a process that saves some of its memory, or RAM.
This helps the computer start up faster when you turn it on again. However, not everything is closed out during a normal shutdown. Some background processes and open apps may still be running.
This is why regular shutdowns are sometimes called "hybrid" shutdowns. They can fix most computer issues, but you can try a shift shutdown to wipe the slate completely. This special type of shutdown fully closes all processes and apps. Plus, it clears the RAM completely.
RELATED: How to see how much RAM is in your PC
Hold down the Shift key before you hit Restart to do a shift shutdown on a Windows computer. Keep holding it until the PC powers down. When it restarts, you'll see a screen like this: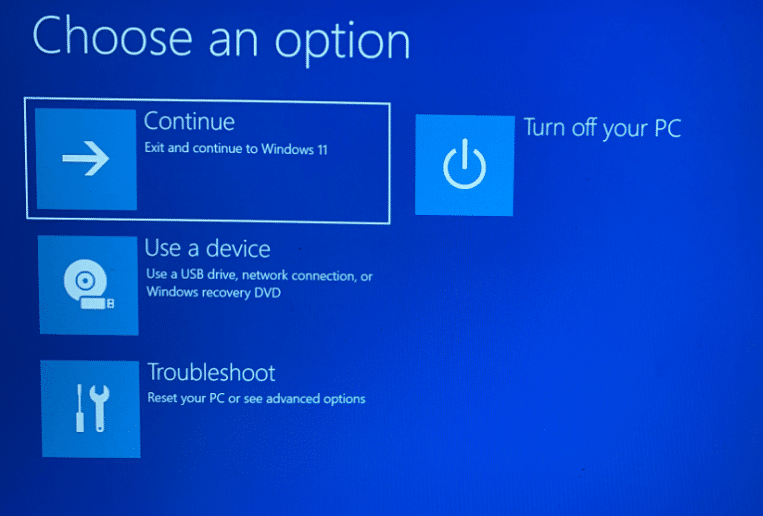 Select Continue so you can load normally. This can fix many issues you can't fix with a regular reboot. So the next time your computer is acting up, try it before calling customer service. You could save a ton of time you'd otherwise waste listening to elevator music!
Sick of computer issues? It's time to upgrade your setup
Sometimes it feels like the world is throwing everything it has at you. To succeed, you need someone to guide you through. That's what our sponsor Dell Technologies Advisors, does. They have the tech advice to help you navigate whatever challenges you're up against — and get you safely to where you want to be.
Call a Dell Technologies Advisor today at 877-ASK-DELL or go to Dell.com for free expert support.