If you're a sentimental person who takes pride in the past, here's a new way to connect with relatives. Ask them if they're up for recording family history. This will be easy if you have anyone who loves to share stories, recipes or wisdom.
Tell them you want to celebrate your rich family history by recording it. This way, you can preserve the past before it dies out. Tap or click here for a few easy ways to preserve your old photos and videotapes.
After all, your grandma, great-uncle or godmother may be holding onto a valuable story that could enrich your life. Maybe it could provide your children or grandchildren with life advice to serve them in the future. But if your relatives die before sharing their stories, that treasured piece of the past is gone forever.
Why preserving family history is so important
For millennia, humans have passed down family stories through oral histories. Cavemen would gather around the fire and tell tales under the night skies. Tap or click here for the best astronomy apps for iPhone and Android.
Even now, older family members love to reminisce about "the good old days." Maybe you have a grandparent who grew up during the Great Depression and can shed light on how your ancestors survived. Or perhaps a relative had a front-row seat to historical events like Woodstock 1969.
I bet they'd love to share their wildest stories — if only you'd ask.
Now, recording oral history is much easier than sitting around a campfire. You can record interviews through audio, video or both. Although videos have more depth, audio might be a better option for stories that feel very personal or hard to tell.
We'll dive into the tech details later. But before you can start thinking about lights, camera and action, make sure to reach out to the family member you'd like to talk to. Instead of springing the idea on them, let them know what you have in mind. Explain why it would mean so much to have their stories.
Then, you can schedule a good time to talk. They might need a few days to prepare good topics (or to psyche themselves up if they're camera-shy). Before the day rolls around, make sure you've set the stage for a fruitful chat.
1. Prepare ahead of time
Before they come over, prepare a good place to talk. Choose a quiet area with natural light. A blank white wall might look too stark. Have something in the background, like a bookshelf, couch or lamp. You want a cozy environment — especially if you're recording video.
Next, think about what you want to ask. Pick some general topics you want to discuss, like historical events they witnessed or how they picked their children's names. You can even ask them an open-ended question like, "Are there any stories you've ever wanted to share that you've never actually talked about with me?"
This way, you can get the ball rolling and help them get some wisdom off their chest. Many people have stories they'd love to share but never find the opportunity.
Just remember to be an active listener. Don't let the prompts and questions you prepared distract you from the conversation. You don't want to jump around from topic to topic.
You also don't want to stick to a script. Stay engaged in what your relative is saying. Follow-up questions often trigger the best stories.
Learn about family history with these 24 questions to ask older relatives
Maybe your mind is blank when you try to think of topics. If you need more help coming up with questions, here are a few examples from different categories:
| | | | |
| --- | --- | --- | --- |
| Memories | Family | Culture | News |
| What was your happiest memory? | What types of family activities did you do growing up? | Which inventions or developments changed your life? | What were the most significant events that took place during your lifetime? |
| What's something you took for granted in the past that you're grateful for now? | Did our family ever survive a disaster, financial crisis or war? | What was your favorite song when you were young? | Which events had the biggest direct impact on your life? |
| Did you have any near-death experiences? | What stories did you tell your children growing up? | Was our family ever written about in a newspaper? | Were there any specific issues that you often heard about in the news? |
| What were some of the biggest challenges you've dealt with in life? | What were your parent's occupations? | Which organizations were our family members involved in? | Which natural disasters took place during your life? |
| What activities did you and your friends do when you were younger? | Where did you grow up, and has the area changed since then? | What kinds of meals did your family eat? | Were you ever part of any political organizations? |
| Are there any products you liked when you were younger that aren't around anymore? | Did your parents ever tell you stories about your ancestors? | Were you a part of any clubs in school? | Have you ever met a celebrity? What were they like? |
You don't have to use any of these questions, of course. Think of them as inspiration. Open-ended questions like this can kick off illuminating discussions.
2. Figure out how you'll go about recording family history
There are a few different ways to do this. First, you can use your phone's native Voice Recorder app — or the camera app if you want to take video. If you're using a smartphone, find a quiet room so background noise doesn't impair the audio.
According to the Smithsonian, it's best to set down the phone at an equal distance between the two of you. This way, it picks up both of your voices equally. However, if you're going with your phone, we recommend shooting horizontally and using a tripod. Otherwise, the frame will shake after a couple of minutes.
Here are some of the best phone tripods we recommend in 2022:
While a smartphone is a good choice if you're low on cash, you'll have to sacrifice video quality. Although newer iPhone or Android flagships are good enough, you can get a 4K action camera for under $200 and add an inexpensive mic.
This way, you're preserving the past in the best possible way
A cheap mic can make a world of difference. Plus, a high-quality camera will save you from blurry images or distracting smartphone sounds in the background. Here are some affordable gadgets that will boost your production value:
Check them out and see if the quality boost is worth it. Regardless of your equipment, there are a few general rules to follow.
Aside from picking a quiet place with natural light, be mindful of your seating arrangements. Sit to the side of the camera, and have them look at you. Looking right into the camera is jarring for the person speaking and future viewers.
Now that you have all your equipment figured out, you're ready to dive into the interview. Just remember to thank them when you're done! If you want to transcribe your audio, use one of these five tools.
3. Lastly, you should organize your video and audio clips
Wrap it up on a good note by thanking them for their time. Reaffirm how impactful this will be for the future. For instance, let them know that recording family history will help the young folks of the family benefit from their wisdom.
Now that you're done recording, it's time to preserve your findings. You can use many helpful apps to edit, organize, and compile audio and video. Here at the Komando HQ, we're fans of StoryCatcherPro.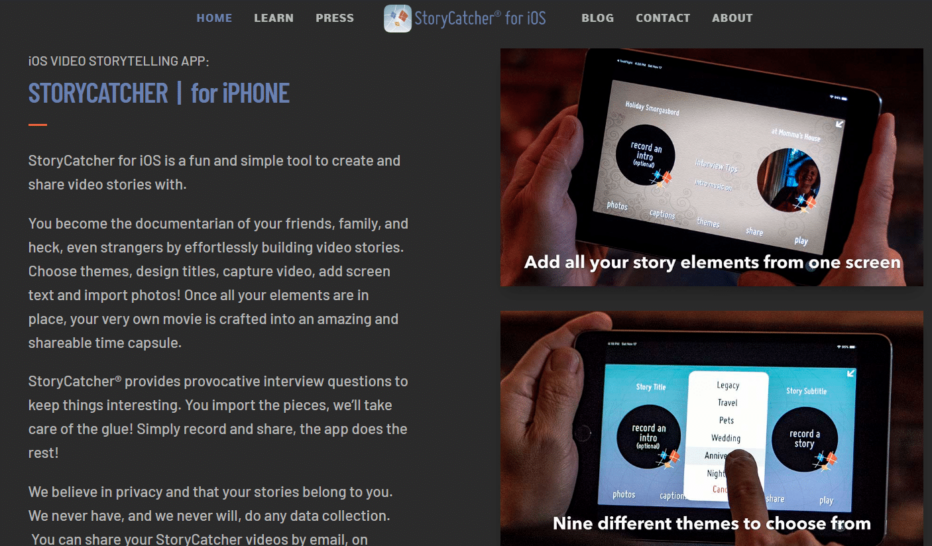 This Apple-exclusive app makes it easy to jazz up your memories. You can import photos, add captions, use themes or even add title cards. Plus, it offers starter questions to spark a creative discussion. You can then share it through email, Dropbox, YouTube or Vimeo from the app.
Not only does it exclude Android users, but it also costs $4.99. If you want a free option, we recommend StoryCorps, which is available for iPhone and Android.
It can help you prep questions, record interviews on your phone or tablet and then upload the audio. It doesn't have a built-in uploader to YouTube or Vimeo, though. Instead, you can upload audio to StoryCorps. You can also record videos, but the videos won't be archived.
This option is good for long-distance interviews since you can invite someone to a chat over the app or website. To get started, you both must log in remotely. You can then record, save and upload your conversation.
Of course, you can back up your clips on your desktop, a USB, or the Cloud. Now you have a piece of history you can all appreciate in the future!
You may also like: Mapping your family tree? Try one of these free templates
We may receive a commission when you buy through our links, but our reporting and recommendations are always independent and objective.