If you value family traditions, you should store recipes in the cloud. Replacing tattered cookbooks makes life easier and your kitchen cleaner. It's easy with recipe management software.
A cloud-based library allows you to access your recipes while away from home. This means you can pull up a recipe on your phone to get all the ingredients at the grocery store. While you're there, use these seven strategies to save money on groceries.
Storing recipes online is much more convenient than relying on stained and torn hard copies. Digitize your family cookbooks with one of these tools. We'll explain how they work and why they'll help you upgrade your dinner plans.
1. CreateMyCookbook is one of the most popular options out there
CreateMyCookbook is especially useful because it has pages already formatted to look like professional cookbooks. Plus, you can add recipes as you discover new ones (or uncover old notes that you lost).
You can even order physical cookbooks from the site. If you want hardcover or full-color photos, you can adjust your preferences. Overall, this tool is easy to use and navigate. Even if you aren't a professional editor, you'll find that it's a breeze to update and tweak your digital cookbook.
Plus, you can save yourself from transcribing handwritten recipes and order its WeTypeIt service. The first two credits for this service are free. You will need to pay for more credits. Up to $59.95 for 100 credits. No matter what you need, this site has a solution. The free CreateMyCookbook app is available for iOS and Android.
2. Check out Mixbook during your search for recipe management software
This is one of the most popular tools for home chefs. With Mixbook, it's easy to treasure your family's heritage. You can create beautiful recipe books with this tool.
As you can tell from the picture above, you can use many designs. You just have to pick a template with a layout you like. From there, you can customize it to your heart's desire.
Don't be nervous if you've never made a digital cookbook before. Mixbook has an easy step-by-step guide to follow. Some templates cost as little as $10, but some nicer designs may cost more. It all depends on your preference.
Of course, if you want to save money, you can always search for cookbook templates on Etsy. You could even commission a template from an artist on Fiverr. The options are endless, but for a quick and easy solution, we recommend Mixbook. The free Mixbook app is available for iOS and Android.
RELATED: Free printable templates: Planning sheets, sheet music, stickers, calendars and more
3. Novice cooks and pro chefs alike swear by MasterCook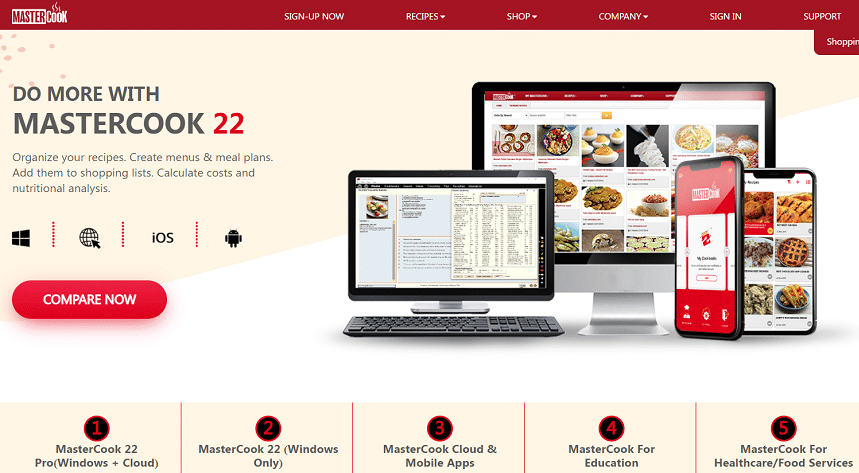 MasterCook is versatile and stuffed with helpful features. This recipe software app is one of the most comprehensive tools. Once you enter your recipes, you can sort them by ingredients, preparation times or dietary restrictions.
You can make various cookbooks in it to separate different food types. You can even share cookbooks with other people to collaborate. It also comes with a mobile app. Plus, you can store up to 100,000 recipes when you subscribe. The free MasterCook app is available on iOS and Android.
Bottom line: Recipe management software is a must for cooks
If you're sick of squinting at tiny handwritten text, it's time to digitize your recipes. You don't even have to type them yourself.
Depending on your scanner type, you could scan recipes and immediately copy and paste words from an image. Tap or click here to digitize your handwritten notes or copy text from a photo. That tip is for iPhone users.
If you have an Android, use Google Keep. Add new notes by taking photos of your recipes through the app. Then, open the picture, tap the three-dot menu and tap Grab image text. You can later edit text on your PC or desktop computer.
We also have a guide Mac users can benefit from
The macOS Monterey update comes with Live text, a feature you can use to share text from photos. Tap or click here to extract text from an image with Mac's new Live text feature.
You could take a photo of family recipes, transfer them to Mac and then copy and paste the text into your recipe management software of choice. Just like that, you brought your old family recipes into the modern, digital world. Bon appétit!