Doesn't it seem like there is a constant running tab of stories about Facebook's lack of protection when it comes to its users' data? Whether you use Facebook as a lifeline to family, friends, or as a platform for promoting your business, you must ask yourself, do you trust Facebook with your personal information?
No one is suggesting you jump off Facebook entirely as there are several steps you can take to help avoid falling victim to hackers, Facebook, and advertisers.
Any time you utilize social media, you must be cautious about how much info you share publicly. Less is best. You can further safeguard your data on Facebook by adjusting some privacy settings.
That's why we're going to show you some critical privacy settings that will help protect your information.
(Note: Instructions will vary according to your device manufacturer, model, and OS.)
Protecting with passwords
Because your password is the first step to safeguarding your information, you should always create strong ones regardless of the website, Facebook included. While it is common for users to shy away from complicated passwords out of concern of forgetting them, there are methods to keeping your passwords manageable.
Here are a few suggestions for making your password more difficult to crack:
The longer the password, the better with a minimum of 12 characters
Be sure to include symbols, numbers, capital, and lower-case letters
Mix up the characters
Do not use obvious words
Create a unique password for each account
If you are unable to come up with a secure password, there are tools available such as passwordgenerator.net. In addition, there are a few methods for keeping your various passwords safe and handy, such as an excel spreadsheet or a password manager like RoboForm.
Say goodbye to writing down passwords. Take advantage of this limited-time offer and get 50% off RoboForm password manager!
Do not use face recognition
Although not enabled by default, if you have enabled this feature, Facebook can use facial recognition to identify you in a photo or video. For desktop users click on Settings, tap on Face Recognition Settings, and select No.
If you are using the Facebook app on Android or iOS, tap the three-line menu and click Settings and Privacy. Click on Privacy Shortcuts then under Privacy section tap on Control face recognition.
Disable location tracking
Disabling your location tracking will help eliminate the Facebook mobile app, along with its other apps, from recording your location.
For an Android (Samsung S8) device, go to the three-line menu and click on Settings & Privacy (as seen above), select Privacy Shortcuts and Manage your location settings. Tap Location Access and disable Location Services.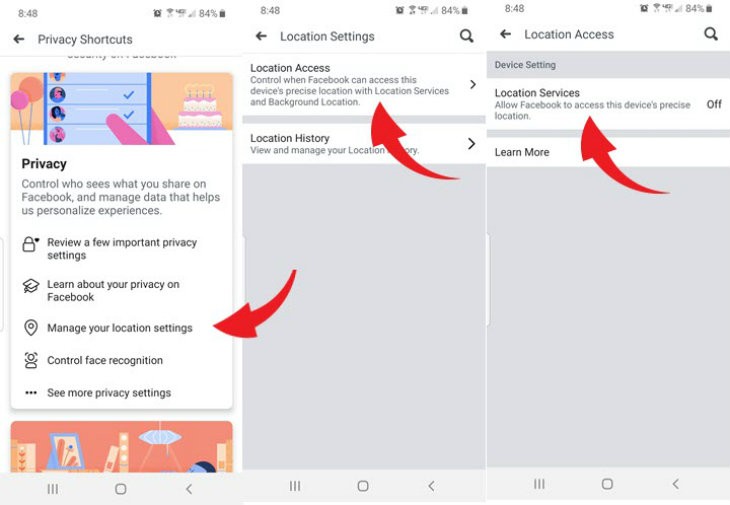 For iOS, go to Settings, tap Privacy, then Location Services. Choose the apps you want to turn off location tracking.
Prevent Facebook from tracking you
Your location is not the only data Facebook and advertisers seek. These companies can follow you around the internet either by tracking cookies or the "Share" button. To help stop this method of tracking, consider installing a browser plug-in, such as Privacy Badger.
RELATED: FACEBOOK SETTINGS YOU NEED TO CHANGE RIGHT NOW
Privacy Badger detects third-party domain scripts, images, and ads embedded in the sites that you visit. If there's a tracker or cookie that seems to be following you around, Privacy Badger will stop your browser from loading items from that source. To the advertiser, it will look like you've disappeared.
Encrypt your Messenger conversations
While taking chats to Messenger is ideal for protecting your discussions, you can further safeguard them by using Facebook's encryption. To enable this feature using Android, start a conversation, and toggle the lock icon. If chatting with an iOS device tap Secret at the upper right corner of your screen.
There is an additional option to timeout your conversations that will have them vanishing after your designated time. Available for both Android and iOS, you need to first go to Secret Conversations.
For Android:
To start a secret convo tap the "I" information icon in the upper right corner. Tap Secret in the top right. Select who you want to message. If you want to select a timer, tap the clock icon in the text box and set a timer to make the messages disappear.
For Apple:
From chats, tap the writing tool icon in the top right. Tap Secret and select who you want to message. If you want to select a timer, tap the clock icon in the text box and set a timer to make the messages disappear.
By no means is this list of privacy settings exhaustive. However, adjusting them will help prevent your information from falling into greedy or criminal hands.