Do you remember every online account you've ever made? Most people create dozens of accounts that they have only used once. Just think of how many times you've created a username and password just to read an article, play a game or download something.
That's actually very dangerous. It means your information is floating around on dozens or hundreds of websites that may or may not be secure.
Even worse, if you used the same username and password for every site, then every account you have is in danger. A hacker who gets your account from one site can get access to your other accounts.
That's why I hunt down and close any accounts I'm not using, and you should, too.
But how can you possibly find them all? Well, there's a simple browser trick you can use.
You may know that when you create a new online account or log in to an old one, your browser stores the username and password you used. This makes it easy to log back in later.
It also means you can go back and see what accounts you've created in the past. Of course, so can anyone else who gets access to your computer. I'll talk about how to deal with that at the end of the article.
First, though, I'll walk you through finding the saved accounts and passwords on your favorite browser.
Before you can start, you need to know what browser you're using. This helpful site will tell you if you aren't sure. It might also tell you that your browser is out of date – be sure to upgrade if that's the case.
Firefox
To see your login information in Firefox, go to the Firefox menu – it's the icon on the right with three horizontal lines – and click Preferences.
Under the Security tab, click the "Saved Logins" button.
Then click the "Show Passwords" button and click "Yes."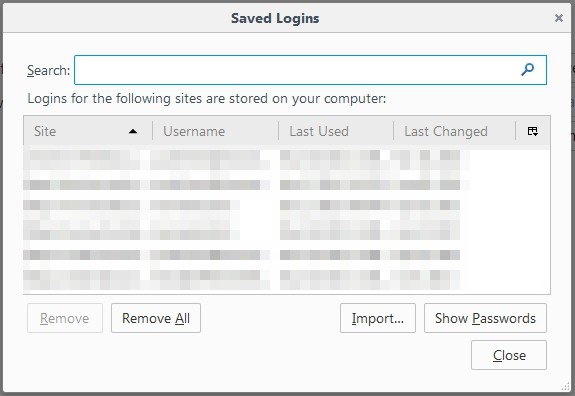 Chrome
In Chrome, click the icon with three horizontal lines in the upper-right corner and choose "Settings."
Choose "Settings" on the left, and then click the "Show advanced settings" link at the bottom of the screen.
Scroll down to "Passwords and forms" and click the "Manage passwords" link.
If you want to log back into your old account, but don't remember the password, then you can click on a password and click the Show button next to it. To see the password, you will have to enter your machine administrator or Windows account password, which does make it harder for casual snoops to get in. Click here to set up a safer Windows account.
Internet Explorer and Microsoft Edge
Internet Explorer does save usernames and passwords, but you can't view them directly in IE. To view them, you'll need third-party software like Nirsoft's IE PassView.
For Microsoft Edge, click on Menu (three dots at the top right corner) then click on Settings.
On the Settings page, scroll down and click on "View advanced settings" button.
Scroll down and select "Manage my saved passwords."
Safari
In Safari, go to Safari >> Preferences >> Auto-fill. Click the Edit button to view the saved passwords.
Next steps
Now that you know how, you – and others – can find your passwords, you have to decide what to do about it.
With your list of accounts, you can do some housecleaning. See what sites you no longer visit and go close down your accounts on those sites.
Some sites might make it easier than others. This site gives instructions for closing accounts on dozens of popular sites.
Bonus tip: If you notice your passwords are all the same, or you have a lot of duplicates, that's a warning flag that you need to make them more unique. Otherwise, a data breach at one site will give hackers access to every account. Click here to learn how to create strong unique passwords. 

To keep other people from snooping on your accounts and passwords, you'll want to keep casual snoops – like relatives and friends – off your computer.